Appreciations
View(s):

An erudite lawyer and man of many interests

Hemantha Warnakulasuriya

Everything is uncertain. So is the arrival of the damsel of death. We don't know at what time she arrives. She does not indicate when she would come. Suddenly she comes. God has allowed her to be a muddle of disorder to arrive at whatever time she chooses. That is how she embraced our precious and dear friend Hemantha Warnakulasuriya suddenly detaining him to be with her, preventing us from being with him any more. This she did on July 11 last year. Nevertheless, we, the dearest and nearest, are with him psychically every day.

Hemantha Warnakulasuriya was not only the embodiment of a learned lawyer, but also an excellent and convincing arguer on points of law as well as safeguarding the interests of his clientele. This aspect he displayed not only in courts but even publicly. He was totally committed to the safeguards of the entirety of the nation. This is a great quality he possessed as he saw it as an obligation to educate and empower the rights of the populace. This he did fearlessly and with favour to none but to uproot truth and fairness on any matter that came to his attention.

Hemantha was not a politician. But he would speak out when politicians were dishonest and corrupt. He did not fear or seek favour with any party or leader. When he found fault with them he criticized them publicly through the media and attempted to bring them back to the right track of thought and action. This he did admirably, not becoming an enemy but most of the time winning their approval. He did this through the relevant application of the canons of the pertinent laws in such reproaches.

Besides Hemantha was an imaginative and independent thought provoker, a visionary, a person with many sided erudite interests. He was fully conversant in both English as well as Sinhala and wrote in both languages. His weekly articles under the name "Mudliyar"- some 828 articles that appeared in the Sunday Times- were published as a book  He also wrote to Irida Mau Bima in Sinhala -"Keval Thiiruwal". Here too selected 102 articles comprising 664 pages were published last year. In both volumes, the humour is abundant, though the content serious, informative and interesting. The articles touched on legal matters, the arts, social, political  and historical matters.

He was very well versed in literature, theatre and cinema too. This came out in the discussions I had with him as a very close friend, almost a brother. He used to refer to volumes of  literary, critical and theatre collections that he possessed in his extensive library at home. Hemantha was highly influenced by both late Professor Douglas Amarasekera and Sugathapala de Silva when it came to literature and theatre. He thus became an avant-garde and non-conformist thinker.

Hemantha provided a home to Professor Amarasekera, a learned man, who knew 36 languages, when he was unable to live at his own home after his famous artist father's death. At this stage Hemantha invited him to stay with him at his residence looking after him for 12 years until his demise. Although this was not public knowledge, I mention it to show what a good samaritan Hemantha had been.

At one point Hemantha produced an artistic film titled, "Samanalayo" scripted by Sugathapala de Silva and comprising a cast with Tony Ranasinghe, Prema Ganegoda, G. W. Surendra and Wickrama Bogoda in the lead roles. I remember D. B. Nihalsinghe cranked the camera. This unfortunately did not come to fruition for unknown reasons. This he did even before doing law.

There's one salient feature of Hemantha's knowledge that I have to record. That was on cricket. I don't know whether he played cricket at Royal. But he was fully conversant with the game and a superb commentator and critic. He never failed to watch the game on TV or attend matches. I remember both our families watching a number of matches in England and Dubai during the heyday of our teams and how he enjoyed himself. He loved to travel and I too have had the pleasure of travelling to many countries with him.

Let Nibbana be with him.

 Namel Weeramuni
---
A beautiful human being who meant many things to so many peple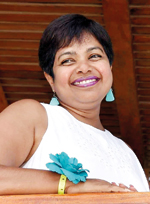 Chandima Semasinghe
"Well done good and faithful servant.  You have been faithful with a few things.  I will put you in charge of many things.  Come and share your Master's happiness".  These words from the gospel of St. Matthew (Chapt. 25 : 23) would have resounded at the gates of heaven as Chandima entered glory and walked into the open arms of our saviour Jesus Christ.
Cheerful, hopeful, affectionate, determined and magnanimous, our Chandima was all these things and much, much more.
Chandima was the wife who considered the wants and needs of Rukmal, long before she thought of her own.  She was the mother who gave her all for Reshani and Joel.  She was the daughter who adored her own parents and her father-in-law, and went out of her way to make them feel loved and cherished and was heartbroken when they entered glory.
Chandima was the sister who was always there, no matter what the circumstances were, to her own brother and sisters as well as to all the brothers and sisters she found through Rukmal.  There are 14 of us, and to her we were all brothers and sisters, not "in-laws".
To her 21 nieces and nephews, her own as well as Rukmal's, she was the precious aunt, who listened, encouraged and guided, who laughed and cried with them and who also joined them in their plans, and who also got into mischief with them when they were younger. She was their confidante and best friend, and they were assured of a great friend and strong ally in her, at any time.
To her friends and colleagues, she was the dependable, ever-present person who they could turn to, at all times and they were assured of her support with no questions asked.
To the children who lived on the streets, the elderly, the orphans, the homeless, the detainees, the lonely, persons addicted to substances and to all those who were left out by society, Chandima was the angel of hope.
More than all these she was a woman of God. She lived the Word of God. Through all she did, from the beginning of her day, at 4 a .m. until she retired for the night she served her Creator, and drew other people towards the Almighty, through her love.
Chandima, to us, you were amazing. The most vibrant and bubbly person that we have ever known, who could light up a room by your mere presence. Even in the bleakest moments, a wise word from you could ease the tension and make us smile. Your peal of laughter was so infectious, that always everyone else joined in, even though we had no clue as to why we were laughing. You were our fashionista, who was always so impeccably groomed and dressed.
To Sriyantha, you were the dependable, caring sister, who loved and cherished his brother Rukmal and Resh and Jo.
To Shriyanka, you, together with Rukmal, were his heroes.  The lives you both led, with such courage and determination was an immense inspiration to him.
To Ishani, you were a beloved team-member, as you were both Colombo girls married to Kandy boys, and she adored having you to compare notes with.
You left so suddenly Chandima, and never gave us a chance to give you one last hug and to tell you "So long, till we meet again". Our hearts are shattered and this ache will remain with us till we see your smiling face again.
So long and God speed beautiful Chandima, until we meet at the feet of Jesus!
 With all our love from Sriyantha, Imelda, Shriyanka & Ishani.
---
NW London entrepreneur and social worker is no more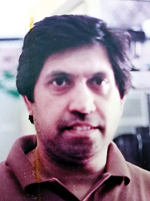 Timmy Dissanayake
The death occured recently of Timmy Dissanayake, entrepreneur in Housing, Filling Stations and  Public Launderettes in the  North-West London area and known social worker.
Having migrated to the U.K. in 1974 he built up  several businesses which he ran successfully until his retirement.
Timmy was a source of strength to migrating and visiting Sri Lankans where his guidance and assistance were readily available free of charge.
The cremation takes place next week at the Golders Green Cemetery, London NW 11.
Mr.Dissanayake is survived by his wife Lalani who worked at the Commonwealth Secretariat, London,  daughter Amila and son- in- law James who are resident in London.
---
 We see you in your two darlings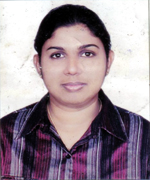 Sadanie Peries Liyanage
Ten years ago on July 1,  2009, my loving  niece Sadani Ruha left us unexpectedly.
I don't need  to write  too much about  her. All  who   associated with her  knew who Sadani was. She was full of love and joy. Her kind and warm qualities  really touched  the heart of anyone she met. Every role  she played in her lifetime, she handled  with  much care and dedication. It was her  humble and  generous personality that made her so  remarkable and showed  that she was a  true  Christian. Her modest  and graceful way of living was the secret for her to become  a sweet flower of  God.  That may be the reason why God plucked  her so early, leaving two little darlings  to fill the void  for her  sorrowful  loved ones.
Well, they are no more babies. Yohan 15 years and Yuthika 10,  are growing  up under the guidance and care of their  Achchi and  Seeya. Actually Gladwin and Mariatta would have found it impossible to carry on  if  not for the love  and  affection  of these two. The same "mother's smile" that they both have brings sweet remembrance of Sadani to all of us.
So, Sadani, although  you took the  lead in the eternal journey, one day we too  will be there together  with you in that  beautiful, precious land. Until then our memories and  prayers are with you.
Padma Manel Silva
---