The Newest Address in Colombo for Meetings and Social Occasions
View(s):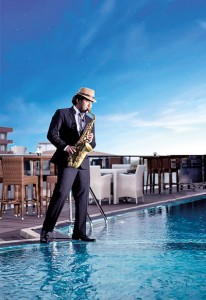 Whether for corporate meetings, conferences, workshops, or a chic social event, Platinum One Suites in Colombo combines contemporary design and smooth efficiency, with warm service and delectable cuisine to give your event the spark that it deserves.
Conveniently located at the corner of Bagatalle Road,  along the bustling Galle Road in Colombo, the luxury aparthotel offers a range of event spaces that are flexible for gatherings both small and large and adapt perfectly to your event goals.
The meeting room at Platinum One Suites hosts up to 50 guests and provides the perfect venue for various business events. Its large space is equipped with audiovisual technological support to accommodate meeting requirements, including LCD projectors and Screens, a sound system, flipcharts, easels, marker boards and wireless Internet access. The meeting room can also be converted to a private function venue for more intimate gatherings.
The poolside and lounge is an exclusive space that offers excellent flexibility – it can be enjoyed separately for smaller events of up to 40 guests or, in its entirety, for large events of up to 150 guests. Located on the 4th floor of Platinum One Suites and opening onto a private pool terrace with stunning views of the Colombo skyline, the poolside and lounge is ideal to provide guests with multiple settings to enjoy.
For the convenience of event hosts, food and beverage menus can be personalised according to preferences and budgets .
Mahesh Amarasinghe, the Chief Operating Officer of Platinum One Suites, said 'we have had numerous events at the property and the outcome has been exceptional. From corporate meetings, workshops, conferences and cocktail events to private birthdays, kids' pool parties, school reunions and many other events'.