Observing, painting and conserving wildlife
By Minnath Azeez
'Mirror': The chosen one (left) and right Thranaga, an artist and wildlife enthusiast
View(s):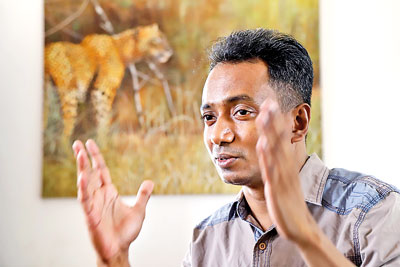 "I enjoy wildlife so much that I want to have it with me always," says Tharanga Herath, a finalist and the only wildlife artist from Sri Lanka at Russia's Golden Turtle Festival 2019, an eco-educational project and international art contest.
A self-taught artist, Tharanga's love for wildlife started from his schooldays when he used to explore the fields around his Nugegoda neighbourhood  along with his friends who also shared the same interest. Starting off with only pencil sketched scenery, he later went onto portraits, looking to depict his subjects as scientifically and realistically as possible.
"To master wildlife art you have to have a knowledge of the subject especially knowledge on the field. This art is a combination of art and science, so you can't just paint whatever you want," he says.
With a degree in fisheries and marine science from the Ocean University of Sri Lanka–formerly the National Institute of Fisheries and  Nautical Engineering (NIFNE)–and having been a instructor for the Young Zoologists Association(YZA), Tharanga, an old boy of Nalanda College, has been painting for almost 20 years now. Tharanga also has a National Tourist Guide Lecturer licence.
"I started with water colours. I believe if you start off with water colours you can work with any other medium because working with water colours is difficult. Unlike acrylic paint, you can't erase, over paint or change things."
Revisiting the story behind the painting that was picked for the international exhibition -'Mirror' – a painting of the bird known as Little Stint, he says, the bird is difficult to identify especially in its winter plumage where it takes a dull colour for camouflage. It belongs to the waders group and is commonly found at Yala National Park. This painting was the result of many photographs taken and research done, combining the subject and background details together.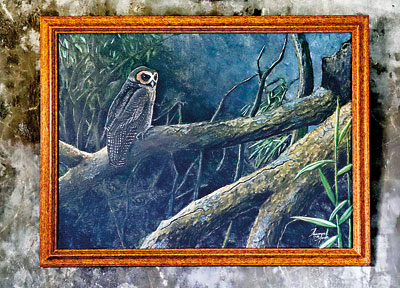 The painting that will be displayed at St. Petersburg and Moscow in autumn was picked as one of the 30 finalists at the Golden Turtle international art contest among over a thousand entries from artists from the UK, US, Australia, Germany etc. Tharanga's paintings were also displayed at the Art and Vielfalt exhibition held last year in Germany.
Tharanga feels he truly learnt about wildlife art through the annual exhibitions organized by the Young Zoologists Association which itself  he says is a great platform for young artists interested in this field.
The artist who also calls himself  a nature and wildlife enthusiast, manages his own travel company offering birding tours, cultural tours and wildlife tours. "When tourists visit Sri Lanka they tell me that they didn't realise that Sri Lanka was such an amazing country rich in nature and hospitable people," he says with pride.
Tharanga has participated in three international exhibitions and has a large customer base overseas.
"To reach an international level with your paintings they need to be done with attention to detail. Most artists simply paint the subject and apply a wash, and while that is good for a painting to be displayed in a house, to reach an international standard the paintings should be complete with a detailed background," he says.
While most of his paintings have been displayed only in international platforms, Tharanga hopes to host his own exhibition here one day with a collection of wildlife paintings.
He also looks up to artists like Daniel Smith and Gamini Ratnavira but says he learns from all and works on developing his own style.
Everything in this form of art is conservation based and if he is able to do so through his paintings that is what he deems as an accomplishment.
"Anyone can be an artist; if you love it, you can do it," he says with passion  reflected in his eyes.