Dulanga Ambegoda: Netballer on a Mission
The next in our series following the National Netball Team throughout their preparations for the World Cup, which is to be held this month in Liverpool, England, features Dulanga Ambegoda
View(s):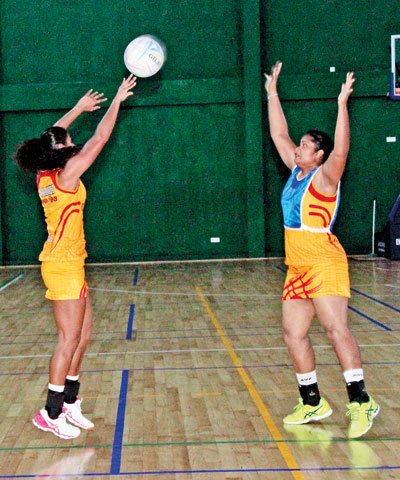 She goes about her netball in a quietly determined manner, proving that when you set your mind to achieving a goal, and work hard to get there, success is firmly in your own hands.
Dulanga is a relatively recent debutant in the National Netball Team who has steadily and determinedly mapped out her path to success. She is from Gampaha, where her mother, father, akki, and husband (who is coincidently captain of the Sri Lanka Men's Volleyball Team), still live and started playing netball in Grade 6.  Her debut on the netball court was almost accidental – the school coach went from class to class choosing taller students, and she was selected. Prior to this, she had only watched the senior students playing netball. Fortuitously for Sri Lankan netball, watching became playing, and play she did! Like many of her teammates, Dulanga is also a dual Sri Lankan representative, having been part of field athletics teams at the international level. Again, fortuitously for netball, she was selected in the U18 Sri Lanka Schools team that toured Melbourne and from this tour she remembers thinking to herself: "Wow! I should really try to get into the national team and become serious about my netball." In choosing netball over other sports that she excelled at Dulanga says "it is a true team sport. I love the team environment, and that is what I wanted to be a part of."
In 2012, she joined the Airforce, and again, very steadily and deliberately made her mark on the netball community. The Airforce had a very strong squad, however, she went straight into the senior pool, and from 2014 she became the starting GA – a key achievement. However, Dulanga did not rest on her laurels and she continued to excel, improving as a player til 2016 by which time she had collected four most valuable player awards at elite national level tournaments: The 2014 National Sports Festival, the 2015 Open Club, the 2016 Defence Services, and the 2016 Open Club. In 2015, she was amongst the World Cup squad of 18 players, however, did not make the final 12 player squad, but in 2016, with another two most valuable awards under her belt, she cracked the final 12 and was selected for the Asian Championship team.
Dulanga has demonstrated throughout her career, the ability to grow and improve – once in the National Netball Team this is what she has continued to do. In 2016, on her first tour with the National Netball team, she remembers being "a bit unsure of what to expect, but trusting myself to be well prepared," she comments later that now she "knows what to expect, is being well prepared and can't wait to play."
To go from strength to strength Dulanga, like any elite athlete, has had to put in many dedicated hours for training. Her favourite drills are shooting ones, and as someone who has built a name for herself as being extremely reliable taking long shots under pressure, the saying 'practice makes perfect' seems apt! The long hours also mean "you have to love the game, and love what you do, this is most important." The lessons she has learnt on the netball court – from the highs to the lows – have driven her to become a well-rounded person today, and she has a sense of confidence that comes from her success on the netball court. Equally importantly, she says "support from my family has been vital in helping me to achieve my goals."
To achieve goals, Dulanga firmly believes you must "set targets, push yourself, commit yourself, train hard, work towards the targets, and appreciate the hard work when you do reach a goal." In preparing for her matches, Dulanga ensures she is in a positive mental mindset and tells herself "I am the best shooter." She then remembers matches when indeed she was the best shooter. Once on court, she varies her strategies depending on instructions from the coach, and the combination of her teammates but she always ensures she is ready to create opportunities, and to make the long shots that she is famous for. Speaking on the recent Botswana tour that was held in preparation for the World Cup, Dulanga says "the whole team benefitted from this experience, we gained a lot of court time against a quality opponent who plays a different style of netball to us – this is exactly what we need before the World Cup." Dulanga currently has 18 caps for Sri Lanka. She is grateful to to her family – her mother, father, sister and husband – for their tireless support. She would also like to extend her thanks to her friends, her past netball squads, the Airforce, and her school where her career began.