Twilight – a shade Slinger Malinga never sights
By Champika Fernando in Headingley, Leeds
View(s):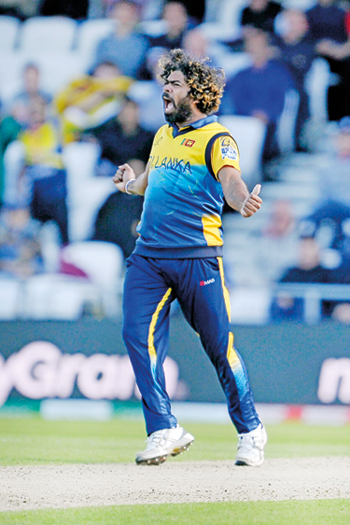 After executing a perfect yorker that felled the last Afghan wicket and led Sri Lanka to their first victory in the World Cup, seamer Lasith Malinga fell to his knees. His relief was understandable. On the one hand, it was also Sri Lanka's first win after several attempts against a top team. And on the other, Malinga had a point to prove.
In December, cricket selectors led by Asantha de Mel appointed Malinga as captain of the limited-over side. He replaced Dinesh Chandimal and hoped to take the team to the World Cup. But an internal revolt forced selectors to choose a compromise candidate. While they were in favour of Malinga—a man with good cricketing brain—there was too much pressure within to have him removed.
It was a bitter pill for a man who played with passion and dedication throughout his near 15-year international career. But Malinga, being Malinga, was unshaken.
"This is Sri Lanka," said Malinga, who is now playing his last World Cup before imminent retirement during the next home series.
"We have to be surprised only if these things don't happen. I am not disappointed to have lost the captaincy. But I believe there should have been a proper process in selecting the captain. They have set a bad precedent."
After their tour of New Zealand in January, all-rounder Thisara Perera wrote to Sri Lanka Cricket's Chief Executive Ashley de Silva asking him to change the captaincy saying the team was a "laughing stock of a whole country all because of one person's personal vendetta.
He was referring to Malinga, whose wife had a social media spat with Perera, during the series. During the tour Malinga's wife, Tanya, posted a message on Facebook accusing Thisara of getting Sports Minister Harin Fernando's help to secure national team captaincy.
"There are some players and coaches who didn't want me as captain and I know they worked really hard to get me out," Malinga said.
"But I am not the loser. I am still at the top in my game whereas those who worked behind my back are struggling. They are either not in the team or struggling to get runs or wickets."
Malinga's 4-43 against England on Friday was a masterstroke that set up an unlikely win over world number one-ranked England in their own conditions, with Angelo Mathews also playing one of the best limited-over innings of his career under difficult conditions.
"When I started, I never had plans to play this long but I am really proud of what I have done and what I continue to do, wherever I play," Malinga said.
"I don't know anyone in the selection committee, not anyone at the Board. I have not been to a posh school. But my performance speaks for what I am. I can proudly stand on my own and be happy. At the end of the day, this is all what you need."
Malinga is a cricketing genius, a legend in his own right. While he was loved by fans around the world for his on-field brilliance, he has cultivated enemies within the team and in media due to his hostile attitude. But that is Malinga, the man from a village in the deep South.
"I have never played cricket to please the captain or the coach," he said.
"If you can't take wickets or score runs, it's not anyone's faults but yours. What happens now is they pass the buck to someone else in order to save their face. I take the responsibility for all my actions and I am not sacred to call a spade a spade," Malinga, who is making his last appearance on the world's biggest stage, said.
Malinga was referring a leaked video after Sri Lanka beat South Africa in Test by 1-wicket to pull off a sensational win on the back of an unbeaten 153 off Kusal Janith Perera. In it, players were seen singing praises to Head Coach Chandika Hathurusingha, who is under tremendous pressure after he failed to turn Sri Lanka's fortunes around since his much hyped arrival in January 2018.
"With over 15 years of international experience, I know how to handle a team in the middle," Malinga said in a scathing attack on Sri Lanka's underperforming cricketers.
"But I can't teach them to score runs or take wickets. That responsibility lies with them. Can you blame the captain for going to the middle with a bunch of cricketers who can't bat the full 50-overs in a game or take wickets to win a match?"
The Sri Lankan team has been in complete turmoil during the last two years. They are currently ranked ninth in ODI cricket and eighth in T20 cricket. Since January 2018, Sri Lanka has had four different captains leading 30 limited-over internationals, a record no international team should emulate.
"This is why we are number nine in ODI rankings and number eight in T20 rankings," Malinga said.
"I have seen people coming out at press conferences and claiming they have done so much to develop the game but where are we today? This is the bitter truth that many people don't want to hear and see, but the truth I have spoken right through."
Two years ago, Malinga alleged that local curators were fixing pitches, an allegation promptly dismissed by cricket administrators. A few months later, International Cricket Council (ICC) Anti-Corruption officials are conducting investigations and have since charged four cricketers. One is banned for two years after he admitted to not cooperating with ongoing investigations.
"I have spoken of match-fixing and pitch-fixing in the past," he said.
"But they dismissed this and put me out of the team for one-and-a-half years. Today, the whole world talks about it. There are ongoing investigations. I know I have spoken the truth. I don't care who leads the side. If I take wickets, I will remain in the side and I have proven it over and over again. I trust no one but my skills."
Malinga maintains he would hang up his boots during the next home series.
"I want to go in front of my own people and, if I am selected for the next tour, it will be my last. I will leave with my head held high."
But this seamer never plays like he has reached the twilight. He may not put the hard yards at the gym, as his pot belly suggests, and may not be the safest fielder in the squad. But with the ball in his hand, he is as deadly now as he was at his peak.
| | |
| --- | --- |
| Farbrace on Malinga | |
| "I think he's been a legend in Sri Lankan cricket. You know his passion for the game, his enjoyment for the game is unbelievable. He, in many ways sums up Sri Lankan cricket. You know he's slightly unorthodox in the way he bowls the ball but he played with a smile on his face. He's passionate to win. He's driven to win for Sri Lankan cricket. So I think he sums up everything that's good about Sri Lankan cricket. He's passionate. He is the most passionate Sri Lankan I've come across. He could have finished a few years ago but he's still playing because he wants Sri Lankan people to enjoy watching the team play and that's so important. | |