Sri Lanka upbeat after famous World Cup upset on Friday
By Champika Fernando in Headingley, Leeds
View(s):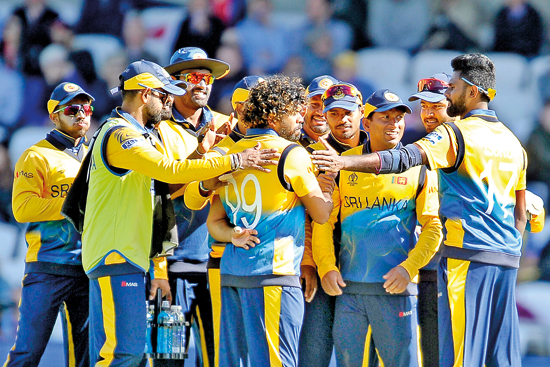 Sri Lanka were deflated after their 87-run defeat at The Oval against Australia. Disunity that cropped up every now and then in the team, and which played a key role in Sri Lanka's slump in ODI cricket, seemed to be raising its ugly head.
The headquarters in Colombo was alerted. And Sri Lanka Cricket (SLC) President, Shammi Silva hastened to Leeds just a day before Friday's encounter in a bid to defuse tension and bring some sanity. In a meeting with the players, he reminded them of their responsibilities–starting with singing the national anthem before the start of the match to putting their hearts and soul into the game on the pitch.
Sri Lanka went on to produce a stunner against the Englishmen, beating them by 20-runs to make a huge upset. This has kept our semi-final hopes alive on the back of some magnificent individual performances by a few players. Veteran Lasith Malinga stood out with his 4 for 43. But Avishka Fernando, Angelo Mathews and Dananjaya de Silva deserve their places in the sun.
Avishka, 21, playing his first World Cup game against probably the toughest opposition of the tournament, produced a gem of an innings that helped Sri Lanka recover from some early blows. His brisk 49 off 39 balls had all the characteristics of a champion in the making. He took the pressure off Kusal Mendis, and met the English seamers fearlessly. His innings, after being two down for just three runs, is a statement of his class and positivity.
His exit at 62, the third wicket in Sri Lanka's innings, saw Mathews striding into the middle. Having collected two pairs in the opening two games and just nine runs against Australia at The Oval, Mathews was under considerable pressure to climb out of the pit he was in. An experienced campaigner who made his career best Test score of 160 at the same venue in 2014 (leading Sri Lanka to a famous 100-run victory against the Englishmen, he carefully constructed his innings.
We may not have seen the elegance of Mathews of the past, but he played the best innings of the day, given the slowness of the pitch. He toiled his way to a painstaking 85 to help Sri Lanka reached a total of 232 for nine at the end of their allotted overs.
"He is a good finisher and did a really good job," said skipper Dimuth Karunaratne, of the former captain. "He read the game very well on this track. Angelo told us it was a getting slower and slower. He said we couldn't get to 280-300 but we could get to 240 and that would be a good total."
Meanwhile, Malinga may be at the twilight of his career but his performance on Friday, when he ripped through the England top order, shows he isn't done yet.
With 232 on the board, Sri Lanka might not have–even in their wildest dreams–expected to beat the England who became the world's most improved ODI side during the last four years. But Malinga struck at regular intervals to hurt the hosts' chase. His four wickets changed the complexion of the game and, with part-time spinner Dhananjaya de Silva playing a supporting role with three wickets (including two in the same over), the writing was on the wall for Englishmen.
Malinga has flown home twice during this tournament after his mother-in-law passed away and his commitment to the national cause was questioned by critics. But the 35-year-old amply replied with an authoritative performance.
"He knows what he has to do," said Karunaratne, heaping praise on his veteran seamer.
"Whatever he does, we know he is giving his best. So that is why I said to him, if you want to go home and come back that is fine. He did that, returned and set a good example to the other guys."
"He just keeps doing what he does best, that is the main thing," he said.
"We want him to set an example to the youngsters and he did a really good job. So, too, did Dhananjaya. They both did a really good job and turned the game. Those are the sort of performances that turn games."
Sri Lanka now meet South Africa on Friday in Durham, their seventh game in the tournament. If this momentum could be continued in their remaining three games, a semi-final spot is within reach.