Appreciations
View(s):

An illustrious man of a bygone era who served the people

Godfrey Edward Madawala

Our grandfather Godfrey Edward Madawala's birth  anniversary falls today, June 23.

Godfrey Edward Madawala was the son of Madawala Basnayaka Nilame, Notary Public and landed proprietor of Madawala in the North Western Province and Ranmenike,  daughter  of Chandarasekera Goonaratna Tennakoon Herath Mudiyanselage of Walgama. He was born on June 23 1878 and was educated at S. Thomas' College and Trinity College where he passed first in the Arts Examination in 1897.

He then studied law under the Council of Legal Education and was admitted as a Proctor of the District Court of Kurunegala in 1901 and practised thereafter having been appointed as Crown Proctor and JPUM. He owned the Mahakeliya coconut estate, and several hundred acres and tracts of paddyland in the Kurunegala District. In 1903 he married Frances Alexandra Elsie, second daughter of  C.E.Tennakoon, Rate Mahaththaya of Wanni Hath Paththu and they lived at Florinda House Kurunegala. They had three children, one son and two daughters.

Godfrey Madawala represented  the North Western Province- Eastern Division , Narammala  in the Legislative Council from 1920-1924 and again from 1925-1930. During this period Sir William Henry Manning was Governor.  He thereafter represented North Western Province- Narammala in the State Council, being one of the 37 unofficial members from July 1931 till his death in September 1932. He was elected to the first State Council which was constituted under the Donoughmore Constitution  and elections were completed in June 1931. He had an illustrious career  as a member of the Legislative Council and the State Council.

He was also very interested in education and took the initiative in fulfilling the dire need of a good Buddhist school in the Wayamba District. To achieve this he donated his own residence,  Godfrey Villa and several acres of land in the heart of Kurunegala town to start Maliyadeva Boys College. Today how proud and happy he would  have been to see the number of doctors, engineers, judges and other  professionals who have passed through the portals of Maliyadeva. His photograph in the College Hall is the only tribute that has been bestowed   on him as a mark of gratitude.

His main interest was agriculture, particularly in the North Western  Province. He gave the green light for the construction of the Ridibendi Ela anicut across Deduru Oya. People of Wanni Hathpaththuwa and other districts of Kurunegala benefited by the irrigation works which were restored under his guidance. Drought was a severe problem in the area always and people suffered throughout without water- thus his contribution was greatly appreciated. He was interested  in the welfare of the poor people and one special example where he spoke on their behalf   was  the operation of the elephant kraals where people as well as elephants lost their lives in herding the animals.

He worked for the betterment of the lives of the people in Wayamba, not  expecting anything  in return. He is indeed a fine example for politicians of this era to emulate.

May he attain Nibbana.

Chintha Udalagama Neangoda, grandchildren and great grandchildren
---
I will carry on the legacy you left behind
  Linnette de S. Wijeyeratne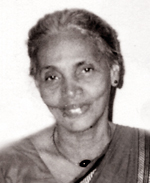 It's three months since God called our Queen to rest
They say you take things for granted until they're gone
But no one will know the silent tears I shed
Each day and night to hold you one more time
Lord forgive me for weeping for a Mum I long to keep
It's painful to watch her special child whisper quietly
Mum why won't you answer me, Mum please come home
Dear Lord, give me patience to play Mum's role
Thank you Mum for all what you have done
You showed me the right way to do things.
All what I am today is what you inculcated in me
Without your love and guidance where would I be?
Your love and warmth with that heart of gold
Reflects in things I feel, think, say and do
No words could express the happiness you brought
Thank you Lord for giving her to me for so long
Thank you Mum for believing in me when I gave up
Your courage enabled me to overcome hurdles
You were such an awesome Mum, and I miss you so much
Wish I could turn back the pages and give you one more hug
God wanted you in heaven and he whispered
Come on my child it's time you took some rest
Rest easy Mum as you never could in life
I will carry on the legacy you left behind
Vinodini Jayawardena
---
She was a mother not only to her four children
S. Jayasundera
Writing a few words of tribute to late Mrs S. Jayasundera, fondly known as Aunt Sommie, was an idea which came to me when she departed from this world just four months short of her 100th birthday.
She was the beloved wife of Dinapala Ukwatte Jayasundera and  adored mother of four children – three daughters, Kusum, Sarojini and Dushyani and son Lalith.
Uncle Dinapala, who initially served in the Health Department and later at the Sri Lanka Foundation Institute, died on June 3, 1969, while Aunt Sommie's death occurred just three days before her husband's 50th death anniversary.
Ever since Uncle Dinapala's untimely death, the burden of shouldering the responsibilities of the family fell entirely on Aunt Sommie's shoulders. She courageously met all demands of the unexpected situation, and providing education to her young children. Making them responsible citizens was her focus and greatest priority.
The Jayasundera family lived down Fife Road, Colombo 5 and their house became a place we frequented during our schooling days, Lalith being a schoolmate.
In addition to caring for her children, Aunt Sommie was a super host, whenever we dropped in at their house. In fact, it became a favourite haunt for us especially after sport practices. She knew the days and times we would come to her house and we were never allowed to leave without being served tea, or at times, vegetable soup. Occasionally, she also used to share a joke with us or provide motherly advice if she had heard that we had been naughty.
She was also a popular personality amongst her neighbours. She never hesitated to get involved with any important activity taking place in the neighbourhood, if she felt she could voluntarily make a worthwhile contribution, to ease the burden of the organizers.
Her children and relatives were looking forward to organizing a simple ceremony to celebrate her 100th birthday, when she breathed her last on May 30, dashing the hopes of the family members and loved ones.
Aunt Sommie will be greatly missed by family, neighbours and loved ones.
May she attain the supreme bliss of Nibbana.
Nimal L
---
Your exemplary life will lead us a long way
Muttan Thambipillai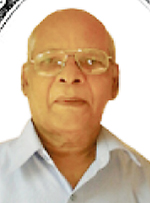 Appa, you hailed from a poor family, but you came up with determination, wading through a class conscious society, and getting through the English SSC with flying colours. You entered the clerical service when you were 19 years old. You served all around Sri Lanka in various capacities and finally became the Assistant Government Agent of Point Pedro. When we were small we happened to search your cabinets for fun, and were fascinated by your neat arrangement of files and folders.  You were very systematic in your work.
When you were working at the Ministry of Planning & Implementation, you were appreciated by the Director for translating a document in pure Sinhala. There was no doubt in your capacity to work in all three languages fluently. I know you were a voracious reader, having a collection of thousands of books at home. You always told us to read more and to become future writers. You yourself proved it by getting your collection of short stories released at the age of 79. You wrote to many newspapers under various pen names.
When we lost everything during the 1983 riots in Colombo, you used your willpower and discretion to shift us safely to Jaffna. After retirement you tirelessly served society as a Justice of Peace and a sworn translator. Even today I find people from all walks of life knocking at the door for a translation or authorization of their documents, unaware of your demise. Recently I got a letter from a famous institution in Vavuniya addressed to you, requesting your services as a translator. My eyes welled with tears when I went through the letter. Appa, your ambition has come true. Your granddaughter has been selected to the Medical Faculty, Colombo.
Nothing will replace you. But your exemplary life will certainly lead us a long way.
            Thambipillai Mohan
---