Samaritan driver helps one trainload but thousands left in chaos
By Kasun Warakapitiya
No free bus rides during strike, SLTB warns
View(s):
Passengers on an Ambepussa-bound train from Colombo Fort became some of the first victims of the railway strike that left tens of thousands of commuters in chaos and others stranded.
Then their driver walked away even before the strike was due to begin.
He, like some other drivers, claimed they had to leave their posts early because their trains were scheduled to reach their destinations after midnight. The strike was for two days from Thursday midnight to Saturday.
Fortunately, passengers on this Fort-Ambepussa train had a saviour in another driver who sympathetically intervened, taking over the engine and taking the frantic people on board to their destination.
"I noticed people were rushing out to find alternative transport, but I knew it would not be easy for them to find buses, so I took over the train," he said.
Other long-distance commuters were left in misery when their trains stopped partway through the journeys home, with drivers leaving to join the strike. These passengers had to get off the trains and find alternative transport.
There will be another strike in weeks if salary demands are not met, the Locomotive Operating Engineers Unionist (LOEU) threatened.
If that happens, commuters will again be out of pocket as the Sri Lanka Transport Board (SLTB) said it will again charge rail season ticket-holders fares for bus rides home in the emergency as it did this week.
This week, hundreds of extra buses were pressed into service to rescue the stranded rail commuters, and while the same arrangements are bound to occur next time, there will be no free rides, the SLTB warned.
SLTB Deputy General Manger (Operations) C.H.R.C. Chandrasiri said that decision had been taken because the Railways Department had not reimbursed the SLTB for the emergency buses that had been put on during the last rail strike, in 2018.
"We are targeting a revenue increase of Rs. 8 million per day," Mr. Chandrasiri said, referring to the profits from fares charged this week to stranded rail commuters using bus transport.
SLTB bus drivers' and conductors' leave was cancelled this week so that extra long-distance buses could be deployed during the strike.
The SLTB put 400 extra buses on the roads on Friday, making a total of 5800, and added 750 more buses – normally used for school transport – for added services on the weekend, partly for rail commuters left stranded in Colombo on Friday.
Mr. Chandrasiri said the SLTB had been prepared for the emergency as the railway authorities and unions had given notice of the strike.
Railways managed to run 10 trains on Thursday and Friday for people travelling to work.
Railways General Manager Dilantha Fernando said trains for office workers operated from Matara, Galle, Chilaw, Anuradhapura, Mahawa, Rambukkana, Kandy and Avissawella and an inter-city train was also deployed.
He said he could not independently resolve the train drivers' complaints.
"The issues of salary anomalies of Railway employees such as engine drivers, guards, station masters, administrative officers and even the signalling sections can only resolved by the Finance Ministry," Mr. Fernando said.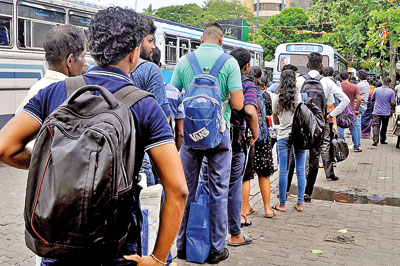 LOEU Secretary Indika Dodanwala said the strike had been called over three demands connected to grading.
"The government has not increased our salaries even though it is promoting us. The salary of a promoted railway employee is lower than the previous salary," he said
He also said some senior retired engine drivers and other employees had not been able to receive pensions due to problems created by the grading issue.
Another complaint concerned a suspension in recruitment of engine drivers.
Mr. Dodanwala said the union had met Finance Minister Mangala Samaraweera on Thursday and had been told a response to its demands would be provided in about six weeks.
"We talked with Mangala Samaraweera and told him to implement a salary scheme that we have been requesting from 2015. The last time we protested, in August 2018, the president and finance minister requested a three-month period to meet our demands but failed to do so in the 11 months to date," the union leader said.
"The minister replied that if our salaries are increased then the other sectors will also need increases.
"A presidential committee recommended a new salary system in 2018 but this has not been implemented.
Meanwhile the trade unions last evening said they may call for strikes every Friday.