Modified 'Banjo Mandaline' by Aelian Thilakeratne
View(s):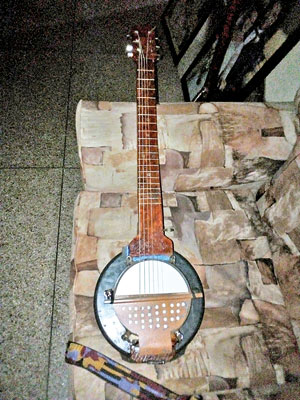 The pounding sound of the Banjo is at the core of many elegances of lineages in music. It started with basic chords, improvises, and fingerings, accompaniment patterns and moreover Banjo is a universally familiar five string musical instrument.
As a performing singer, music director and composer, Aelian Thilakeratne brings a deep knowledge, intense virtuosity, and contagious passion to all effects of the guitar. With the music career that spans over four decades, Aelian fruitfully bonds old-style and current sounds and playing techniques. His creating music firmly within the new acoustic music movement and traditions while drawing on a wide-ranging data of classical, jazz, and world music.
Over the decades, Aelian had entertained audiences with the instrument guitar only. However he had achieved something that had haunted him for some time for producing his own instrument the modified version of the Banjo which is named as 'Banjo Mandaline' having the same appearance as the original Banjo.He has conceived this idea of modifying the Banjo after seeing a piece of plastic device at a shop junk yard.
Alien had thought of consuming this device as the base for his project inaugurated a few months ago. Aelian had performed various tests to acquire the product he had in mind specifically the loudness, diverse tones etc. A distinct quality and feature of this instrument is that one could play rhythm on it as in a typical acoustic guitar.
Aelian further states that he can turn out the same using complete wood.
- Sunil Thenabadu in Brisbane