'Lil Enza' Sinhala rap on top
View(s):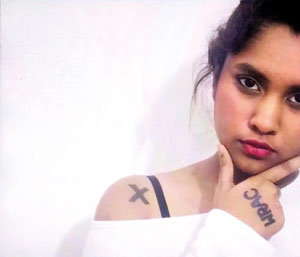 'Lil Enza' is the newest singing sensation in the Sinhala music world. Rappers are rare in the Sinhala scene and specially female rappers very limited to Colombo only.
But Ardithya Rathnayaka popularly known as 'Lil Enza' is a very young, talented singer / rapper from Anuradapura. Ardithya has just finished her O/L's and got few new songs to her credi9t already. She has already featured on couple of popular Sinhala songs as well as few of the cover versions by Taylor Swift and Rihanna.
We sat down with her and asked a few questions about her journey in music so far.
How did you start to get in to music?
I met a friend on Facebook, named Harin, who is really crazy on hip-hop music genre. He has done several hip- hop tracks too. He is the person who inspired me a lot. He taught me about the music field and introduced me to several artistes and bands in Colombo. That's how I break into this field.
How is the journey being and what have you achieved so far?
Actually the journey was really amazing. This is my second year of the field and I think I had achieved the highest place for this age. I had made my own fan base and I'm really happy about myself.
What do you think about the current state for rap music in Sri Lanka and where do you think we need to improve?
Actually I'm not happy about the current situation in our country. I don't know about others, but this is my personal idea. As Sri Lankans, since ancient times we had built up our own Sinhala culture. So as Sri Lankans, we have to respect our culture. I don't think that we should do thing over the limit. This is not the West but some artistes are crossing the border line, not concerning the cultural bonding of the society.  Yes we have to develop as a country but should keep in mind about our culture too. Other thing is drugs.  Many think that music go hand in hand with drugs. It is totally a wrong perception. Rap music is totally a method of communication and there are nothing to do with doping and drugs. Anybody is free to embrace their favourite genre but it should be in alcohol and drug free environment.  At first, we have to give a good impression and a good message to the society. Then I think the society will accept us and that will help to improve the industry.
What are in store
for you all fans
in the future?
Stay tuned. It will be a surprise. I got few songs coming up real soon
Any one in particular you all want to say thanks to?
Firstly, I have to thank my parents. They are doing a great role by staying behind me. And also I'm specially thanking to Cairo Rich. He gave me a great opportunity to join with his new EP 'yellow love'. Also there are some artistes who are always motivating me- 'Kayoti' and 'D sir'. Thank you everyone who are encouraging me for my success. And also have to thank my fans very much for staying with me.