AYU presents a new dinner buffet
View(s):

There is something about the endless spread of goodies, all laid out and ready for the taking that brings the urban grocery store concept.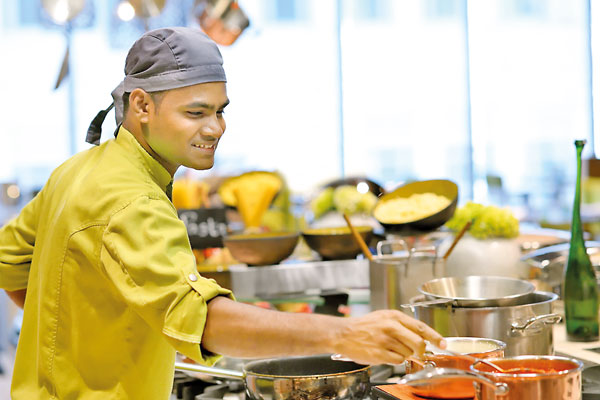 AYU the Mövenpick Hotel Colombo now introduces a brand-new dinner buffet, offering a range of creative concepts every Friday and Saturday.
Making use of local produce such as coconut, jackfruit and an arsenal of spices, AYU now delivers an abundance of incredible local dishes. From sleek seafood counters to fiery Sri Lankan rice and curry ranging from the crunchy yet spicy 'devilled beef' to 'cuttlefish beduma', jackfruit curry, manioc, chicken curry, 'fish ambul-thiyal' and the famous mouth-watering black pork curry, are a few items that Sri Lankan fans should not miss when they visit AYU. That's not all; don't forget to check out the action stations featuring hoppers and seeni sambol, chicken koththu and string hoppers.
AYU also boasts a separate counter featuring the finest Indian dishes in town. From Aloo channa to chicken malai Tikka and mutton rogan josh, even the samosa and pakoras are cooked up on the spot in the action stations.
'Guests can stack their plates from various stations and action counters but make sure to always save some room for the mouthwatering desserts, especially when they're equal parts melt-in-your-mouth and absolutely good-looking. You can sample as many as you like from cheesecakes to Nutella puff pastries and the best creme brulee. From irresistable plates of Apple pie to velvety scoops of ice cream, indulge in the endless sweet treats at the AYU dinner buffet' said Nadia Issadeen, PR and Communications Manager  of Mövenpick Hotel Colombo
The brand-new AYU dinner buffet is priced at Rs. 3,350/= nett