Swinburne sets a Precedent in the Use of Artificial Intelligence
View(s):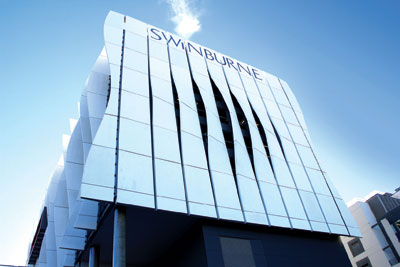 Criminal sentencing could be fairer with the help of machine learning, according to Professor Dan Hunter. The Foundation Dean of Swinburne Law School, Hunter observed that sentencing generates a vast store of data, and the process is expensive for individuals and the system, making it the perfect candidate for a technology upgrade.
Artificial intelligence (AI) could also use the enormous volume of data available on sentencing decisions to identify bias and give guidance, he said.
"With things like bail decisions and sentencing decisions, we haven't come to grips with the fallibility of human decision-making," Hunter said.
"AI might suggest, 'This particular offence looks a lot like these five others that other courts have seen, why are you sentencing the offender so differently from those?'"
"Or, it could question why a non-custodial sentence is given for crime that has always previously been punished with incarceration.
"One of the huge benefits of using data-driven machine learning for criminal justice is to start unpacking those biases and making it clear that they exist."
New machine learning algorithms mean that AI can be taught to produce new answers by learning from existing data. In fact, AI programmes are already hard at work in the legal system, with platforms including Neota, Logic, Kira and RAVN helping to streamline everything from compliance advice to contract review in large due-diligence projects.
It's likely that there will be some backlash against the idea of humans being sentenced by machines, said Hunter, who has been exploring the use of AI in law for more than 20 years. However, he noted that society has readily accommodated many similar technologies. Speed cameras, for example, are a form of automated sentencing that is now widely accepted.
The Nawaloka College of Higher studies
NCHS has partnered with the Swinburne University of Technology, allowing Sri Lankan students to be a part of the groundbreaking innovation.
The Nawaloka College of Higher Studies (NCHS) is a provider of globally recognized higher education qualifications. Located in the heart of Colombo, the NCHS campus consists of modern facilities, providing students with a learning environment on par with international standards.  With a strong commitment to provide high quality education, NCHS offers distinctive benefits that are tailor made to suit the needs of each individual student.
Global Reach
NCHS has also  partnered with the global leaders in education, Ulster University , UK , the California State University Monterey Bay, California State University San Marcos, California State University Bakersfield, California State University Sacramento, California State University Northridge, California State University Fresno, California State University Humboldt and the State University of New York at Albany.
Student Endorsement
"As NCHS is an affiliated college you are basically students at Swinburne, Ulster or Calstate, but you have the advantage of getting more help with your studies with one-on-one help from the excellent teaching staff and the smaller class rooms. This also means that you have full access to the blackboard online system from the start. All of this helps to make the transition as smooth as it can be" explained Senal Ranaweera who transferred to Melbourne in order to complete his degree in International Business.
Tailor Made Study Programmes
The study programmes conducted at NCHS are identical to that of Swinburne, Australia and CSUMB and follow the same curriculum, methods of teaching and evaluations, ensuring high quality and international standards. These identical industry-informed and industry-engaged study programmes at NCHS are specially designed to combine rigorous academic studies with practical knowledge essential for the academic and career success of the students.
To find out more on how you can be a part of the next intake at NCHS, call 0777 899 998/ 011 5 899 998 or email info@nchs.edu.lk