Open day for after London O/L&A/L students
View(s):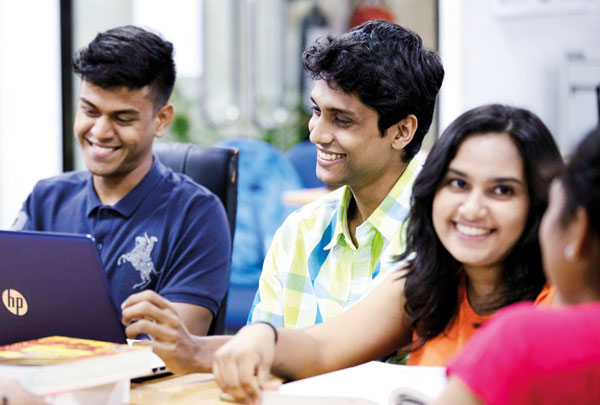 What's next after London O/Levels and A/Levels? The role that higher education plays in grooming young minds to become excellent thinkers, problem solvers and innovators of tomorrow while being better-rounded and job-ready professionals is incomparable in today's knowledge driven, globally connected world. Todays' students desire to pursue a field that fuels their passion, to live with a purpose and to reach their highest potential, and the path to this goal is higher education!
ANC OPEN DAY is the place for after London O/Level & A/Level students and parents to explore a variety of higher education pathways that is now available for the first time in Sri Lanka. ANC has partnered with U.S / Canadian universities to bring forth the best in education to local students and offer new fields of study in high demand around the world. This includes STEM pathways and over 100 majors to choose from in Aerospace & Aviation, Creative writing & illustrations, Business Analytics, Digital Marketing, Cyber Security, Arts & Humanities, Health Sciences, Physical Sciences, Child & Clinical Psychology and the list is endless. You can choose a study path that's takes you to your dream career.
The Open Day will also feature a Career Guidance Session conducted by Mr. Suresh Rodrigo, Deputy General Manager of MAS Holdings to shed light on the emerging markets of the future, what employers are looking for in new graduates, the in-demand fields to boast your career progression and how to be ahead of the game and ahead of the competition, having a mind-set of always being career-ready while pursuing your higher education in Sri Lanka or abroad.
Furthermore, students will get to discuss their interests, preferred majors and have one-on-one counselling to guide them with choosing the right academic pathway based on their interests, skills and job market. You can find out more information to secure up to US$ 10,000 worth of scholarships to study in U.S/Canada, the eligibility criteria to get into the Top universities and get a brief rundown of the SAT examination which is a prerequisite for entry into U.S.
ANC has always been at the forefront of excellence when it comes to higher studies, and it is with this vision in mind that ANC has been 'making thousands of students dreams come true' with over 5000 successful graduates since 2002. ANC is the NO.1 American & Canadian education provider in the country and their proven continuous assessment education system is the best in the world.
2+2, 3+1 American University Transfer programme
1+3 Canada University Transfer programme
U.S Business Degree Completion
U.S Psychology Degree Completion
Direct Transfer to U.S & Canada Universities
You can learn all about our degree programmes at ANC and how to leverage your chosen degree major to develop your career in U.S/Canada or anywhere in the world. ANC degree programmes feature a broad curriculum that enables students to build a well-rounded academic foundation and develop essential soft skills such as critical thinking and analytical skills to be a globally career-ready graduate.
Students that decide to register for our programs pending results at the OPEN DAY will be given Special Fee waivers for early registration. ANC Scholarship programme provides deserving students Merit based Scholarships for their academic and extra-curricular achievements and exemptions (credit on entrance) are granted for satisfactory performance on A-Levels. Also, low interest student loans and easy payment plans are available for any student seeking financial assistance.
ANC invites after London O/Level and A/Level students and Parents to join us at the OPEN DAY on 29th of JUNE 2019, Saturday 10am to 12noon at ANC to make the right choice for your Childs future.
For more information, please call 0772 932 587 or visit us at www.ancedu.com| No.308 – 310, R. A. De Mel Mawatha, Colombo 03, or follow us on Facebook: https://www.facebook.com/ancedu/ and "ANC_Education" on Instagram.
ANC OPEN DAY
Date : 29TH JUNE 2019
Time : 10:00a.m – 12.00 noon
Venue : ANC Education
(No.308 – 310,
R. A. De Mel Mawatha,
Colombo 03)
Registrations : 0772 932 587