Sajith-centric manoeuvres seen in Hashim, Haleem reappointments
View(s):

Former Minister Rishad Bathiudeen, at the centre of many a controversy after the Easter Sunday incidents, rushed for a hurried meeting with Prime Minister Ranil Wickremesinghe on Wednesday.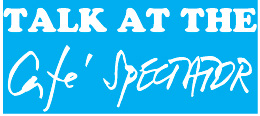 This was soon after a meeting of former Muslim ministers, state ministers and deputies had ended inconclusively. He told the Premier he had information that two former ministers – Kabir Hashim and Mohamed Haleem – were to go before President Maithripala Sirisena to take their oaths. This was to become ministers again – Mr Hashim as Minister of Highways, Road Development and Petroleum Resources Development and Mr Haleem as Minister of Postal Services and Muslim Religious Affairs.
Mr Wickremesinghe reached out to his telephone and spoke to Mr. Hashim. He was his normal self and said President Sirisena had asked him to come but not sure what it was for. If it was to take oaths as a Minister, the Premier said, they would all have to take a decision and do so jointly. The conversation ended and both Mr Wickremesinghe and Mr Bathiudeen let things be.
The next morning (Thursday), the United National Party's (UNP) Working Committee was in session presided over by Premier Wickremesinghe. During his speech, he touched on the resignation of Muslim parliamentarians from their portfolios and declared they would all take their oaths again together at some point of time.
A few moments went by. One of those present hurriedly pointed out to an SMS put out by a media network and said that two had already taken their oaths. At least officially, Premier Wickremesinghe was unaware.
It was only Mr Hashim who was to be sworn in. An advisor close to the President sought the inclusion of Mr Haleem's name and that was how both were sworn in.
Paving the way for their re-entry was UNP deputy leader and Minister Sajith Premadasa. He said in a statement early this week that the country needed experienced, educated professionals like Mr. Hashim to develop it.
If that was a sign that major cracks were developing in the UNP, since Mr Hashim is its Chairman, there was more. Justice Minister Thalatha Atukorale declared on Friday that Mr Premadasa should be the party's presidential candidate.
It was mea culpa or through my fault, Mr Hashim declared at a public meeting in Kegalle. "A large group of Sinhala people voted for me to come to power and I have had great pain of mind since I resigned my ministerial portfolio without consulting my voters." Little wonder his other colleagues were aghast.
Earlier President Sirisena swore in three UNP Deputy Ministers as acting ministers. They are:
Buddhika Pathirana – Acting Minister of Industry and Commerce, Acting Minister of Resettlement of Protracted Displaced Persons and Co-operative Development and Vocational Training; Skills Development; Lucky Jayawardena – Acting Minister of City Planning, Water Supply, Acting Minister of Higher Education and Anoma Gamage – Acting Minister of Highways, Road Development, Acting Minister of Petroleum Resources Development.
The last portfolio now ceases with the appointment of Mr Hashim.
This drew a protest from Premier Wickremesinghe. In a letter to President Sirisena, he pointed out that the appointments were not legally carried out.
Former Minister Bathiudeen also had a meeting with President Sirisena on Thursday.
He was told to take his oaths together with the other Muslim parliamentarians. He, however, replied, "I will wait till my name is cleared."
---
Protests and presidential plans: Pompeo cancels Lanka visit
The cancellations came one after another.
The first was from the United States Embassy on Wednesday. It said that  Secretary of State Mike Pompeo's visit to Colombo has been called off "due to unavoidable scheduling conflicts during his upcoming visit to the Indo-Pacific region that includes accompanying President Donald J. Trump to the G20 Summit in Japan."
Within barely hours, President Maithripala Sirisena directed officials to re-schedule his planned visits to Cambodia (June 25) and Laos (June 26 and 27). In other words, President Sirisena would not have been available to meet Mike Pompeo when he was in Sri Lanka.
The trip to Cambodia was official. However, the trip to Laos was private to see places of Buddhist interest, but the government there had converted it to an official one.
Mr. Pompeo's visit lasting just over three and half hours was to include a trip to a demining area in Trincomalee. He was due to fly direct from New Delhi and travel thereafter in his special aircraft to Japan.
Opposition groups had planned two protest meetings in Colombo, one at the New Town Hall and another in an unknown location in the City. They had also arranged for the closure of shops and hoisting black flags when he visited Trincomalee.
A US Embassy statement said, "Secretary Pompeo regrets that he is no longer able to visit Colombo at this time.  He hopes to travel to Sri Lanka at a later date to underscore our strong partnership with Sri Lanka, which is rooted in a commitment to democracy, economic growth and a free, open Indo-Pacific region."
---
Dayasiri sees four governments in Sri Lanka
Dayasiri Jayasekera, General Secretary of President Maithripala Sirisena-led  Sri Lanka Freedom Party (SLFP), did not mince his words.
He told a news conference, somewhat cheekily, that there were now four governments in Sri Lanka: One led by President Sirisena, another by Prime Minister, Ranil Wickremesinghe and a third by Mahinda Rajapaksa. Now, he said, there was a fourth with Speaker Karu Jayasuriya inviting diplomats for meetings over matters that did not concern Parliament but were issues for the President and the Foreign Ministry.
---
Constable cook puts top cop in soup
A Superintendent of Police, who earlier served in the Southern Expressway Police Division and is now stationed in Colombo, is in a soup over an assault incident.
The allegation is that he assaulted a police constable who is being illegally used as a cook cum aide to clean up his residence at Kotikawatte in the outskirts of Colombo.
The complaint says that the officer had made use of the PC claiming that he was deployed on other duties.
As the PC was recovering from his injuries at a hospital in the Mulleriyawa area, efforts were underway to pursue the victim to settle the matter by withdrawing the complaint lodged with Police headquarters.
---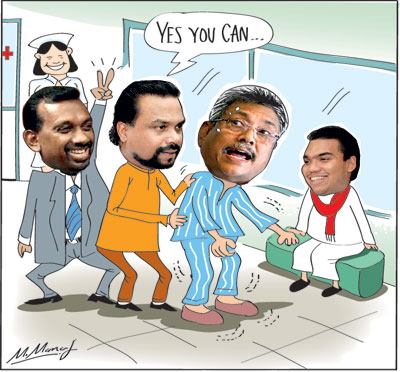 Gota fit to stand as presidential candidate, says Wimal
Former Defence Secretary Gotabaya Rajapaksa has made very good recovery and will be ready for the presidential election campaign as opposition candidate, National Freedom Front (NFF) leader Wimal Weerawansa said yesterday. Mr Weerawansa, MP, was speaking from Singapore where he had gone to see Mr. Rajapaksa recuperating.  He was accompanied by Mahindananda Aluthgamage.
"He is quite fit and does his walking exercise every evening," Mr Weerawansa said. He said he was in a jovial mood as he spoke to them.
Parliamentarian Namal Rajapaksa also travelled separately to visit Gotabaya Rajapaksa.
---
Northern Province Governor  seeks meeting with Ava
Tamil newspapers ran front page reports that Northern Province Governor Suren Raghavan had invited the so called "Ava" group, suspected for violent activities, to come for talks with him.
He said he would meet them "anywhere, anytime" and would come along without any of his security escorts.
A group claiming to be "Ava" responded this week.
The statement said even a secret meeting was not possible since some of their members were still in jail.