Even Sangakkara's four successive 100s could not help in 2015
View(s):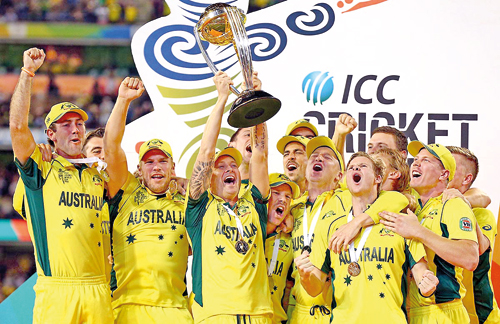 The 11th Cricket World Cup was jointly hosted by Australia and New Zealand from 14th February to March 29th March 2015. Fourteen teams were divided into two Pools of seven each. 49 games were spread out over 14 venues and played on a round-robin and a knock-out basis. Australia staged 26 games while New Zealand hosted 23 matches. This was the second occasion when the tournament was held in Australia and New Zealand, the first being in 1992 when Pakistan became champions and England ended runners-up. Not surprisingly, this time the two hosting nations entered the final with Australia winning the title for the fifth time.
The final was played at the Melbourne Cricket Ground between the two co-hosts in front of a record crowd of a tad over 93,000 spectators. This edition of the World Cup was viewed by 1,016,420 fans despite the game between Australia and Bangladesh being washed out completely. The TV viewers were estimated at 1.5 billion fans. A total of 42 matches were played throughout the group stage of the tournament, the top four teams being billed for the quarter-finals.
In Pool A, New Zealand headed the group in the quarter finals having won all six games followed by Australia, Sri Lanka and Bangladesh while in Pool B, India followed suit winning all their games, with South Africa, Pakistan and West Indies bringing up the rear. One of the biggest upsets in the history of the World Cups took place in a small ground holding a bare 6000 fans when Ireland beat the West Indies by 4 wickets with over 4 overs in hand.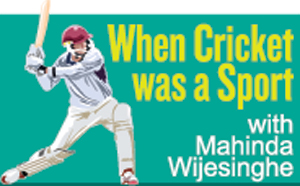 The semi-finalists were New Zealand and Australia, followed by South Africa and India. However, New Zealand 299/6, Grant Elliott 84*,McCullum 59 and Anderson 58 were the chief scorers, beat South Africa 281/5, Faf de Plessis 82, A.B.de Villiers 65*, by 4 wickets in a high-scoring game the result based on the DL method with one ball remaining, while in the other semi-final, Australia328/7 made in their 50 overs, with Steve Smith 105 in 93 balls, and Aaron Finch 81, crushed India 233 in 46.5 overs, only M.S.Dhoni contributed a fighting 65.
Now for the home and home final between Australia and New Zealand which proved an anti-climax, New Zealand being dismissed for a paltry 183 in 45 overs and Australia186/3 in 33.1 overs, M.J.Clarke 74 in 72 balls, Steve Smith 56* cruised to victory in 33.1 overs by 7 wickets and claiming the coveted World Cup for the fifth time.
Now for some of the highlights:
 As mentioned above, one of the biggest upsets in the history of World Cups was when Ireland beat the mighty West Indies. Despite the West Indians posting an imposing total of 304/7 in their 50 overs, the never-say-die Irish passed that total with 4 wickets and 25 balls remaining, the main contributors being Paul Stirling 92, Ed Joyce 84, and Niall O'Brian 79*.Previously too the Irish, chasing 300+totals e.g., beat England, 329/7 and Netherlands in the 2011 World Cup.
 New Zealand demolished England with 37.4 balls to spare. Having dismissed England for 123 runs in 33.2 overs thanks to paceman Tim Southee 7/33, the New Zealanders rocketed to 125/2, led by the hard-hitting opener Brendon McCullum who smashed 77 runs in 25 balls with 8 fours and7 sixes and finished the game without raising a sweat.
 Not to be outdone, Sri Lanka too trounced England – by 9 wickets. Chasing a total of 310 run, for the Sri Lankans "seemed like a weekend stroll in the park "as Kumar Sangakkara unfurled a majestic hundred 117* in 86 balls, his second of the tournament", alongside Lahiru Thirimanne's 139* in 143 balls. Yet the semi-finalists were Australia, South Africa, New Zealand & India.
 In the first semi-final, New Zealand 299/6 in 42 0vers, Grant Elliott 84*, Brendon McCullum 59 and Corey Anderson 58, beat South Africa 281/5, Faf de Plessis 82, A.B. de Villiers 65* on the DL method with one ball remaining, while in the second semi-final. Australia 328/7, Steve Smith 105 in 93 balls and Aaron Finch 81, comfortably stifled India 233 (46.5 overs) by 95 runs with Faulkner capturing 3/59.
 The final was a "one horse race". New Zealanders were dismissed for183 runs in 45 overs with Elliott contributing a fighting 83. Australia sauntered to the target in 33.1 overs with Michael Clarke 74 (72 balls) and Steve Smith 56 (71 balls) being the main scorers.
 Despite Kumar Sangakkara who made four successive centuries – against Bangladesh 105*England 117*, Australia 104 and Scotland 124, Sri Lanka were not able to get into the last four. However, this feat of four successive hundreds in a World Cup by Kumar Sanagakkara will be a feat hard to beat. Reminds one of the 2007 World Cup when Malinga captured 4 wickets in 4 successive deliveries – against South Africa – but still lost the game.
During the second quarter-final match between India and Bangladesh, Rubel Hossain bowled a full toss to Rohit Sharma who was caught at square-leg. The umpire thought the ball was too high and declared it a no-ball. However replays showed the ball was actually waist high and hence a legal delivery. President of Cricket Board objected the decision of the umpire and even the Prime minister of Bangladesh intimated that India won the match due to the umpire's error. However, ICC Chief Executive David Richardson claimed the incident was a 50-50 call and the decision belonged to the umpire and as such the accusations were considered baseless.