Appreciations
View(s):

A soft-spoken, loving and generous sister

DONA SANDHAWATHI HEMALATHA GUNASEKARA

I write these lines with profound sadness for my dear eldest sister Warahena Liyanage Dona Sandawathi Hemalatha Gunasekera, who passed away on March 21, 2019 at the age of 91. She hailed from the de Alwis Goonetilleke family in Bentota and was the precious life partner of late retired school principal C. E. Gunasekera of Galthota Place, Waragoda, Kelaniya.

My sister was the eldest of ten siblings in the family of Warahena Liyanage Don Henricus Arthur De Alwis Goonetilleke of Bentota and Bogoda Arachchige Dona Malini Gunasiya of Meegahathenna. Loku Akka, as we all affectionately called her was born in Robolgewatte, Bentota in August 14, 1927. She started schooling at Rippon College, Galle and later went to Sri Sumangala Girls School, Panadura for higher studies.

After leaving school, she joined the government service as a school teacher and started her teaching career in Pothuwila Maha Vidyalaya, Payagala. It is here that she met Charles Edward Gunasekera of Godagama, Matara, who was the Headmaster of that school. They were happily married and settled down at Payagala. After a short period her husband was transferred to Gamini Maha Vidyalaya, Kalawana as Principal. Subsequently they were transferred to Gangabada Sivali Vidyalaya, Ratnapura and later to Denipitiya Maha Vidyalaya, Weligama. All through they were employed in the same school and her husband was her pillar of strength. She in turn, supported him in all his endeavours, their bond heightened by understanding and trust.

She joined the Government Training College in 1971 when it was situated in Maharagama passing out as an English trained teacher. After, she taught for a short period at Kudabudgamuwa Dharmapala Vidyalaya, Kotikawatte, Angoda and at Heenkenda Maha Vidyalaya, Ragama. When her husband retired, they decided to settle down close to her brother, the late Vincent de Alwis Goonetilleke of Gonawala in Kelaniya.

She devoted 10 years of her teaching career to Pamunuvila Maha Vidyalaya, Kelaniya, joining the staff in 1972 and retiring in 1982. As a teacher, she was well known for her dedication and commitment towards her students, rendering almost 35 years in the cause of education. She never sought publicity but always went on with quiet efficiency giving her best.

Loku Akka was the mother of four – one daughter and three sons. Her unconditional love and understanding allowed her children to make their own way in life. 1989 was one of the happiest years when she saw her daughter as a bride. But her joys were very short lived when a few days after the wedding her husband, Matara Aiyah, as we all called him succumbed to a major heart attack.

Simplicity was the hallmark of her Loku Akka's personality. She possessed many admirable qualities such as patience and honesty. In the last decade of life of our mother, Loku Akka took her in and looked after her with so much love until her death at the age of 92. Loku Akka was a true Buddhist and lived by her principles. She spent the last few months of her life with her youngest son at Pahala Thalavinna in Kandy.

Goodbye dear Loku Akka, a generous, unassuming and loving sister. May your journey in Sansara be very short and may you reach the supreme bliss of Nibbana.

Pathman de Alwis Goonetilleke
---
Many were the lessons he taught us all, not just his students
Dr. Tissa Rajapatirana
We are profoundly saddened by the passing away of  Tissa whom the family  called "Bunji". We had known that he had been very ill, but we thought he would make a good recovery. So the news of his passing came as a tremendous shock. While we grieve for his passing away we must also rejoice for the life of an extraordinary person who had an extraordinary life with a loving wife, four sons and daughters-in-law and grandchildren.
Tissa was a wonderful brother to his three sisters, Malini, Indrani and Ranjini and his brother, Gamini who was more a friend to him than a brother. They did everything together. Students of Royal College, they played billiards at Mount Lavinia Hotel, went about on their bicycles and played tennis at the YMCA tennis courts.
Tissa offered Latin, Greek, Pali and Sanskrit for his university entrance examination. It was an unusual combination to be able to straddle ancient European and Asian languages. He was always a scholar writing down the meaning and origin of words in all four languages on index cards– a knowledge building system that I copied from him in my later school and university career in a different subject.
He entered Peradeniya University in 1952, the first batch of students and took residence at Arunachalam Hall. He specialized in Sanskrit and read for an honours degree in it, completing it in 1955. He was not a "crammer" or "book worm" but well-read outside of his field. He  played a lot of tennis, billiards and was a very popular figure at Arunachalam.
My teachers in high school who had been contemporaries of Tissa told me that he made jokes out of everything. He called the loud radio in the hall as too "voluminous". A former teacher of mine in the Economics Department at Peradeniya who had become the student President of the hall,  a Trotskyite (as it was the favoured  ideology at that time) told me that Tissa disrupted his hall meeting by cracking jokes and asking deliberately silly questions. Tissa  revelled in those disruptive activities. He never took politics seriously, of whatever ilk.
Another quality was his generosity. Once he had paid the hall fees of a fellow student who had no funds. Tissa's parents  had to pay double the fees for that term. Tissa's  friends called him "Vessantara". After completing his degree he took a job in the  "Buddhist Encyclopedia Group" also at Peradeniya.  He had spent more than six years at Peradeniya. As an income earning person at the time, he had taken many of his hallmates for meals in Kandy and to the famous nearby "Hindagalakade" where corned beef and bread were eaten with relish.
He was very generous with his relations too. My late twin  sister Lucky and I were students at Peradeniya, having arrived there together in 1960, five years after Tissa had graduated. Tissa drove Lakshmi  to Peradeniya when she started there on June 23, 1960.  I could not go as I had the flu.  He drove me to Peradeniya four days later. He thought nothing of driving to Peradeniya and back twice in a week.  This was his way  to be of maximum help to everyone, not only to members of the family. When we were in school and had to  take an examination he would lend his watch, pens or any other needed paraphernalia to get us best prepared. We did not have to ask him.
After working with the  Buddhist encyclopedia group, he moved to Vidyodaya University as an assistant lecturer to teach Sanskrit. Some months later he started  his graduate studies at the School of Oriental and African Studies at the University of London and later moved to the Australian National University where he started teaching with a Master's  degree. It was also at this time he began his PhD studies. His main supervisor was Professor  J.W.de Jong. Professor A.L.Basham and Mrs. Hercus substituted as supervisors when  Professor de Jong was away from Canberra. His thesis was translation of "Survarnavarnvadana"into English with a commentary. He compared  the Sanskrit version with the Tibetan and Chinese versions to get at the proper meaning of the contents. It was like an advanced code breaking exercise and his thesis gives comprehensive index of compatibility. The Sanskrit manuscript corresponded closely with the Tibetan and Chinese versions of the avadavat  in 1974.  In the preface to the thesis, he says he gave greater priority to accuracy over presentation. I believe that his main contribution to research in this field was his supervision of other researchers. Rather than collecting academic points he seemed to have concentrated his effort in helping the PhD students he supervised.
As a teacher Tissa was both respected and loved by his students. When I wrote of his passing to Professor Paul M. Harrison,(George Edwin Burnell Professor of Religious Studies at Stanford University),  here's  what Professor Harrison wrote: "It was with great sadness that I received your news this morning that my beloved teacher has passed away. In fact, I am not ashamed to say that I wept when I read your email, such is the depth of my abiding affection for Tissa. All of us who were his students at Australian National University have the warmest memories of him as a teacher and as a friend, for he was the kindest of men, and the most patient. I am not at all surprised to hear that his fellow-students nicknamed him Vessantara, since he was always the embodiment of generosity, and of patience as well, and even nowadays when my students ask me, as they occasionally do, if there are bodhisattvas in the world, or whether liberation is truly possible, I think of Tissa. To him, things did not matter in the slightest, only people, and I remember during my time in Canberra he returned from a trip to Europe with his family with a new Peugeot car which they had driven back overland. The car arrived in Australia somewhat the worse for wear, since his boisterous children had more or less reduced the upholstery to tatters. "My kids have ruined my car!" Tissa told us, laughing so cheerfully that it was clear he did not care in the slightest. He also loaned me an older car of his, a Morris Minor, which, not being the world's greatest driver, I backed into something, puncturing a hole in the rear. Tissa's reaction was the same good-natured laughter. He was the most excellent of teachers, always concerned for his students' welfare, and although I cannot match his selflessness, I have tried my best to emulate his example throughout my own career (I am 68, and still teaching, so his legacy continues). I send my condolences to you and the rest of Tissa's family. His passing is a loss for us all, but the memory of his warmth and generosity remains".
All of us have lost a wonderful relative. He was a great husband and father and a loving brother to his sisters and brother. As Buddhists we pray that his samsara journey will be short and we also would be so lucky to be his relatives again and again.
Dr. Sarath Rajapatirana
---
The shy medical student who turned into a brilliant doc
Prof. Mohan Sivananthan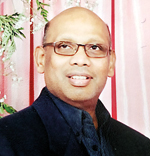 If there was any doubt as to the world class nature of the training provided at the Medical Faculty, University of Colombo, it would be dispelled by the remarkable career of Professor Mohan Sivananthan who sadly died in the UK in April this year.
Professor Mohan Sivananthan was born in Uduvil, a village near Jaffna in October 1956. He attended St John's College, Jaffna and became an undergraduate at the Colombo Medical Faculty having secured the top position nationwide in the Tamil medium, Advanced Level examination at the relatively young age of 17.
We met as undergraduates in 1974 and were in the same group in most, if not all, clinical placements. However, I can recall very little of him apart from a quiet and subdued colleague who rarely spoke in group teachings. If I remember correctly, whilst he did not excel in undergraduate examinations, he passed them with minimal effort. After qualifying in 1979, he did his internship at the General Hospital, Badulla and emigrated to the UK in 1981.
Having obtained his Fellowship of the Royal College of Radiologists, he entered higher training as a Senior Registrar and became a Consultant a year later in 1994. From then on he rose meteorically, to become a Professor of Cardiology at Leeds Teaching Hospitals, UK in 2005.
Professor Sivananthan dedicated his life to research, training new cardiologists in both the UK and Sri Lanka, and supervising Ph. D and MD students in Cardiology. He is credited with designing a new cardiac Magnetic Resonance Imaging scanner and had published over 100 research articles including in the prestigious medical journal, The Lancet.
His funeral this month was attended by a distinguished group of past and present cardiologists from Leeds, UK who described his extra-ordinary achievements. He set up a cardiac imaging centre, organised a nationally reconised training course in interventional cardiology and brought significant grants to the department. One cardiologist described him as inspirational, having arrived in the UK with nothing but his medical degree from Sri Lanka and building a career second to none. Another described how he demonstrated his remarkable dexterity during difficult cardiac interventional procedures and how most colleagues sought his skills and advice. Many described him as the most intelligent person they have met, a rare priceless tribute from a group of elite cardiologists.
In his personal life he was described as a generous and fun-loving individual, a far cry from his medical student days. Listening to the speeches I realized that the shy teenager I met as a medical undergraduate had metamorphosed into a brilliant and highly skilled interventional cardiologist about whom none of us, his peer group knew during his lifetime.
He will be greatly missed by his family, friends and colleagues and we can be immensely proud that Jaffna, Sri Lanka, produced Professor Sivananthan, an internationally acclaimed cardiac interventional radiologist.
Dr. Manouri Sannasgala
---