Lights out for pandal-makers gone broke by security edict
By Kasun Warakapitiya
View(s):
Dejected pandal-makers who found they had laboured for nothing when the government blocked the erection of Vesak pandals for fear of terrorist attacks on crowds viewing the popular illuminated structures are calling for compensation.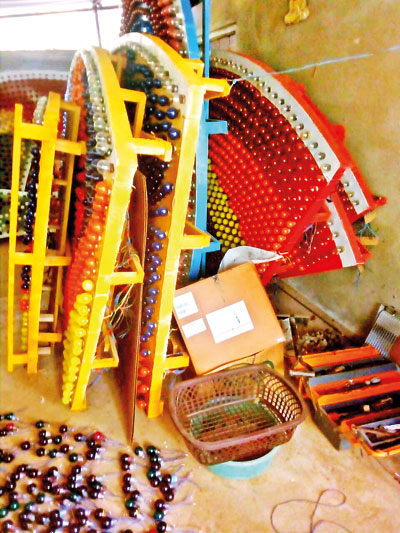 The government has signalled that it will not allow them to recoup losses by mounting pandals for Poson and Esala Poya. The Sri Lanka Pandal Creators Association said it was planning to write to the Minister of Buddha Sasana and Wayamba Development, the Cultural Minister and the Minister of Finance for permission to erect pandals during those holidays.
Association Secretary Asanka Udaya Nayanajith, on Thursday, asked President Maithripala Sirisena to grant compensation for their losses.
"This year's Vesak celebrations were cut short as pandals, Vesak lantern exhibitions as well as dansalas, which provided refreshments and food at the roadsides, were prevented from being set up or visited, and therefore people who earned a living out of these things were badly affected," Mr. Nayanajith said.
Pandal creators lamented that they had borrowed money to build their massive illuminated displays for the Vesak celebrations and had lost heavily as they had been unable to erect pandals. Some of them had completed 90 per cent of their pandals by the time the government decided to restrict the erection of the structures.
A young pandal-maker from Balapitiya, 29-year-old N S Ajith Kumara, said he was Rs900,000 in debt after being unable to erect two pandals in Galle and Kelaniya.
"I took loans from people to build pandals. I never thought the government would stop us from erecting them. My plan was to build pandals on credit and pay the loans back after exhibiting the pandals but the plan backfired due to the government restrictions," he said.
"I'm unable to pay back the loans and I'm so deep in debt that I don't even have the money to pay my household bills. On top of that, I can't face the labourers and artists who worked for me and who depend on pandal-making for their livelihood," he said.
"We had a 30-year war but pandals were never stopped. Yet this year, for the first time, the government imposed restrictions and also encouraged people not to venture out to view pandals for security reasons," Mr Kumara said.
Another pandal constructor, N G Karunatilleke, 37, pointed out that a single pandal supported the livelihoods of more than 20 families, with artists, labourers, electricians working on the structures. There were also voice actors, announcers and poets who worked behind the scenes.
"I completed two pandals but I was unable to pay my employees," he said. He said the cost of a newly-built 50 by 50-foot pandal was about Rs3.5 million while one made with second-hand materials cost around Rs1.5 million.
Mr Karunatilleke said he had bought equipment and materials on credit as youth groups organising pandals only paid advances of Rs150,000-250,000.
"At the end of Vesak week, we get money from the pandal sponsors and youth groups. Then, during Poson, we sell the pandals to businessmen in the Polonnaruwa-Anuradhapura area and get our money. This year, none of this is happening as we were unable to build our pandals," Mr Karunatilleke said. Like Mr Kumara, he pointed out that the 30-year civil war had never blocked traditional Vesak pandal activity.
The Minister of Buddha Sasana and Wayamba Development, Gamini Jayawickrema Perera, defended his move to halt the erection of pandals as a security measure, saying the Mahanayake Theras and the security forces had advised him that crowds would be targeted.
The minister said he understood that pandal creators had suffered losses and was prepared to offer them support if he received a written request for help. "As the Minister of Buddha Sasana I only have funds to improve temples and carry out renovations, so I am unable to directly help them, but I would be able to take their matter to the Prime Minister and help them that way," Mr Perera said.
He emphasised, however, that his decision against pandals this year remained unchanged because his priority was to protect people's lives and to maintain national security.
Thus, he said, Poson celebrations would face similar restrictions. "We cannot put people's lives in danger by allowing them to gather at junctions and streets where pandals are usually erected," Mr Perera said.