CTF organises a discussion on documentary film
View(s):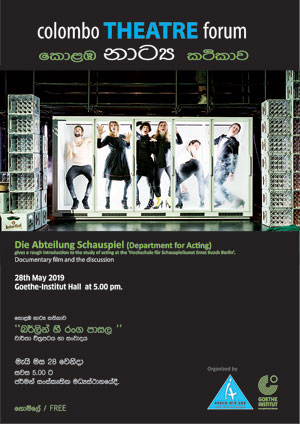 Colombo Theatre Forum has organised a screening  of documentary film "Die Abteilung Schauspiel" (Department for Acting) and the discussion at 5.00 pm on May 28 at the Goethe-Institut Hall, Colombo 7.
"Die Abteilung Schauspiel" (Department for Acting) gives a rough introduction to the study of acting at the 'Hochschule für Schauspielkunst Ernst Busch Berlin' and the curator of the event is M. Safeer.
As every lesson is mandatory the students learning process is started with basic improvisation drills and speech exercises as well as body movements experiences. The schools philosophy is, that the accepted students are all talented, so in the first years they do not get any special, individual support but have to follow the strict course plan since acting is seen as a craft. Just as they start into their third year of studying suddenly personal genius and the by-hard learned acting skills have to be put together as acting students and students from the direction department work together on their first productions.
Colombo Theatre Forum is a space created for those who are seeking new dimensions in Sri Lankan theatre. Scholars, Directors, Script writers, Actors & Actresses, Critics, Lighting Directors, Back stage creators, Stage managers, students and spectators can join this forum in order to widen their horizons in the field of theatre.
Colombo Theatre Forum organized by Inter Act Art theatre and Goethe – Institut Sri Lanka was recommenced 2017 with the Participation of many young theatre lovers and foreign delegates.
The forum will be held last Tuesday of this month at the Goethe Institut Hall from 5.00 pm onwards.