Fixing date for No-Confidence Motion more contentious than their debates
By Sandun Jayawardana
View(s):
After heated arguments and even a protest in the Well of the House, the No-Confidence Motion (NCM) on Minister Rishad Bathiudeen will be taken up for debate on June 18-19.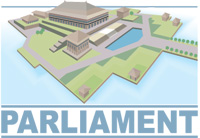 Earlier this week, the United People's Freedom Alliance (UPFA) mounted a vociferous campaign demanding that the NCM be debated during sittings in the 1st week of June. Leaders of the UPFA's constituent parties had proposed that it be held on June 6-7, with all motions on the agenda on those dates shifted to June 4. The Government refused, leading to angry exchanges between the two sides.
Even a Party Leaders' Meeting on Thursday (23) failed to resolve differences, after the Government insisted on sticking to the June 18-19 dates.
Speaker Karu Jayasuriya was forced to adjourn sittings only two hours into proceedings on Wednesday (22), after some Opposition MPs held a protest in the Well of the House, demanding that he set an earlier date to debate the NCM.
The Speaker urged the Opposition to accept the June 18-19 dates, as it was up to the Government to fix dates, in consultation with party leaders. "Dates in July were proposed during the Party Leaders' Meeting, but I suggested the debate be held in June, at the earliest," he added.
Opposition MPs see the debate being pushed back to the second week of sittings in June as a sinister attempt to exonerate Minister Bathiudeen from allegations of complicity with the Easter Sunday terrorist attackers, that had been raised through the NCM. This is in light of the Government's proposal to investigate the allegations against the Minister through the Parliamentary Select Committee (PSC) appointed to look into and report to Parliament, regarding the April 21 terrorist attacks. It has also proposed to submit an interim report on the allegations against Minister Bathiudeen in 2 weeks.
Prime Minister Ranil Wickremesinghe meanwhile, opined that the NCM submitted by the Janatha Vimukthi Peramuna (JVP) against the entire Government should be debated first, according to Erskine May's principles of Parliamentary practice. JVP Leader Anura Kumara Dissanayaka immediately rejected the PM's contention. "We have so far not requested a date to debate the NCM submitted by us, precisely because we also believe that the NCM on Minister Bathiudeen should be debated first, as it was submitted before our NCM," the JVP leader insisted.
Opposition MPs also emphasised there should be no confusion between the NCM on Minister Bathiudeen and the investigation conducted by the PSC into the April 21 terror attacks.
There were angry scenes when Minister Bathiudeen spoke to defend himself against allegations levelled by the Opposition. He vehemently denied allegations in the NCM, that a Moulavi who functioned as an adviser to his ministry and one of his coordinating secretaries, had been arrested over the terror attacks. "Allegations that one of my brothers was arrested are also completely false. I even got a letter from the Inspector General of Police saying so."
He further denied that he had tried to exert pressure on the Army Commander to release a suspect. "An adviser to the Muslim Religious Affairs Ministry called me and said his son had been taken away by a group of men wearing black and had their faces covered. He asked me to help find him. I went to the police, but they had no information and said to ask from the Army. When I called Minister Ruwan Wijewardene, he too said to ask the Army Commander. I only asked the Army Commander about the individual, to find out if he had indeed been taken away and what happened to him. I never asked for him to be released," he claimed.
In a highly charged speech, punctuated by interruptions by Opposition MPs, Mr Bathiudeen blamed the "media mafia" for allegedly tarnishing his image, by claiming he had links with the terrorists.
Finance Minister Mangala Samaraweera, who had also come in for severe flak recently, over his comment that Sri Lanka was not a Sinhala Buddhist nation, stuck to his guns in Parliament. "I was abused in raw filth over this, but I say again, it is true that the majority in this country are Buddhists, but the country belongs to all Sri Lankans," he remarked.
Mr Samaraweera said he was a follower of Buddhist Philosophy and it was wrong to call Buddhism a religion. "Lord Buddha's teachings do not belong to one country, people or caste," he stressed. "As Buddhists, we should be ashamed that certain Buddhist Monks are profiting by calling Buddhism a religion and creating so much trouble."
He also denounced the hate campaign being conducted against Muslim-owned businesses, noting that they bring US$ 3 billion to Sri Lanka each year. Mr Samaraweera pointed out that 95% of the employees of a pasta factory owned by a Muslim, that was recently burned down in Minuwangoda, were Sinhalese. "Out of 48,000 employees in Brandix, 75% are Sinhalese. A total of 80% of employees at Hameedias are Sinhalese, 90% of 10,000 employees at Timex Garments are Sinhalese, and 90% of 10,000 employees at Maliban Garments are Sinhalese. The list goes on," Mr Samaraweera stressed.
On Friday, Parliament approved the extension of the State of Emergency by another month, by 22 votes to 8. The vote was taken on the request of the Tamil National Alliance (TNA). The TNA's 8 MPs, who were in the chambers, were the only ones to vote against the motion.
PSC to investigate and report on Easter Sunday attacks

A Parliamentary Select Committee (PSC) under the Chairmanship of Deputy Speaker Ananda Kumarasiri was appointed this week to look into and report to Parliament, on the terrorist attacks that took place on April 21.

Other members of the PSC are Ministers Rauff Hakeem, Ravi Karunanayake, Dr Rajitha Senaratne, MPs Field Marshal Sarath Fonseka, Prof. Ashu Marasinghe, Dr Jayampathy Wickramaratne, M.A. Sumanthiran and Dr Nalinda Jayatissa.

UNP MP Kavinda Jayawardena, who had earlier been appointed as a member, withdrew from the PSC.

The UPFA has announced that it would not participate in the PSC and, as such, have not nominated members to the PSC.

The PSC is tasked with investigating and reporting back to Parliament, whether the Law enforcement authorities possessed prior intelligence relating to the attacks; whether there were deficiencies in the State machinery that led to the inability to prevent such attacks or mitigate their effects; whether any other factors contributed to such terrorist attacks; what action should be taken to prevent such attacks in the future; any other matters connected or incidental thereto.

It will present its report to Parliament within 3 months of the date of its first sitting or, as such other or, further time period as Parliament may grant.