Music that heals
This week the Mirror Magazine features the different musical tributes being put together in a bid to spread unity and comfort in these trying times
View(s):
In these times, one of the best remedies to connect and heal people is music. It is a language understood by many, regardless of culture or religion. This week we spoke to several artists who had shared tribute videos for the victims and their families of the Easter Sunday attacks, hoping to spread unity and comfort those who are suffering.
'Me Ape Deshayai' a cover by EventX
We've experienced several social media bans this month, owing to the hatred that is being spread around. Yet, there are also those using the platforms to unite people.  The unique feature about this video is that it's made up of several short selfie videos from strangers around Sri Lanka who call for unity and peace.
Tharaka Siyambalapitiya, with the rest of his team who are all University students, brought everyone together by creating a group called EventX. "This song has been close to our hearts ever since it was released after the Tsunami. It brings back memories of how we were able to rebuild ourselves after a terrible tragedy," he tells us.
By requesting ordinary Sri Lankans to sing in the video, they wanted to send out the message that every citizen has a role to play in preserving peace and harmony in the country. The message is stronger because the song is sung in all three languages and thus represents unity and hope.
The video was created in a week, we are told. A karaoke track with the music was produced and uploaded on YouTube. The team also circulated a WhatsApp message about the project and a video with instructions on how to be a part of it.
Each of the clips they received were cropped and synced. "This was especially challenging in sections where we had many people singing at the same time. It surely was a labor consuming task," Tharaka recalls.
The team hopes it will foster ideas of peace, sanctity and unity in the minds of people and especially the youth.
Avi Mendis 'Red Roses'
The initial draft of Avi Mendis' tribute song 'Red Roses' was a response to the Christchurch shooting. He couldn't possibly have known that in the coming weeks, his home country too would suffer a similar tragedy.
He was saddened after hearing about the attacks, followed immediately by the realization of how much we had taken our peace for granted. Avi was struck by the number of children who lost their lives and families which were torn apart. Most of all, he realized how defenseless we are when our time comes. "It did not take much to put all those feelings and channel them through the outlet that is songwriting," he says.
"We are so much alike – both attacks claimed the lives of civilians going about with their daily routine and both groups were made targets because of their faith or culture," he tells us.
He started off by writing the bridge and chorus – "Our father who art in heaven" transitioned to "Red Roses on the ground", which had him tearing up. He tells us his favourite line from the song is "We're preaching Dharma, want to reach Nirvana but there's so much hate within," as Avi believes the insecurities of modern man have made us targets of influence.
He was careful not to retaliate with hate because he wanted 'Red Roses' to be bursting with emotion. So he poured in compassion into the melody and tone.
"I think the journey of this video probably ends here," he tells us.  All he wanted was to have a small audience hear his music, without making any personal gains from it.  He is thankful to Joshua Perera (who recorded, mixed and mastered 'Red Roses') and Eshan Denipitiya. "We recorded while away from home, family and friends during the crisis – To some extent I think all of us dove into the project as a way of collectively coping with everything that was going on back home."
Sound Scope
The team at Sound Scope, led by Tilanka Jayamanne released a tribute video that features a live performance of 13 musicians who are well established in the industry. They performed a mash-up of the songs – 'You'll never walk alone' and 'Imagine'.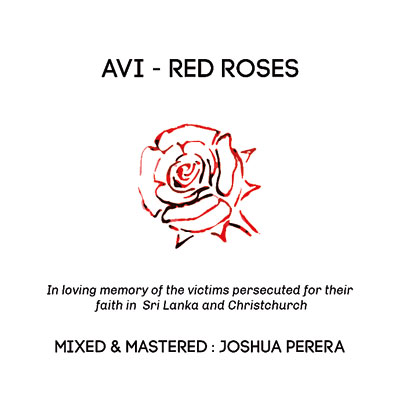 Picking the songs that they wanted to perform was key, Musical Director Nishantha Warnakulasuriya tells us. After brainstorming, they were happy with what they chose, since the music delivered a strong message.
'You'll never walk alone' inspires people to get through tough and stormy periods with hope and determination. 'Imagine', a classic by John Lennon, shares the theme of peace and harmony if all of us looked beyond race, religion and possessions.
Nishantha tells us it was an amazing and unique experience for all of them, since "it is rare to have multiple artists from different musical backgrounds working as a team." But the result was better than what they expected it to be, since all the artists contributed with their ideas and energy. "It was a truly inspired performance."
The track features Chrishantha De Silva (CC, from 'Salvage'),  Nathan Eardly (from 'Funky Loops'), Monique Pallegama (from 'Gypsies'), Minesh Dissanayake, Melissa Pereira, Laknath Seneviratne and Daniella Perera on vocals.
It also brings in Nishantha on Piano, Shobi Perera on Bass, Lydia Goonetilleke on Violin, Pradeep John on Guitar, Christo Prins on Drums and Tilanka on Flute.
Collectively they look to spread the message of hope, unity and love by way of making good music. "We also hope to make people feel more at ease, and to give them strength during challenging times," Nishantha adds.
Voice Print- 'Nearer my God to thee'
Voice Print has always been a group that traces its roots to hymns and songs of praise and worship. Following the bombings, their first reaction was to try and connect to the people suffering through their music.
"Nearer My God To Thee" was picked by the group as a call to God to be beside everyone who lost a loved one through these traumatic events.
Once they picked the hymn, they started giving it their own musical touch. This included singing it in all three languages. From the very beginning, the guys had decided they wanted the tribute to be for everyone who was hurting and in despair.
Their hope for this video is that it brings comfort to those who are grieving the loss of loved ones. To reassure them that God has never left their side and will provide them strength to overcome their sorrow. "And to mostly continue believing that God will help them find the comfort of heaven their departed loved ones have now found."
Voice Print humbly requests everyone to be empathetic and to unite together to overcome the trauma. "We are a country that has suffered enough through war and hate towards communities and races. We are a generation that should be able to see through the temporary pleasure of power and divide and be able to live together in peace not just for ourselves but for the next generation of Sri Lanka! Let this be the last time we speak of "Sri Lankans" as Sinhalese, Tamils, Muslims and Burghers."