'Artfelt' response to horror
By Joshua Surendraraj
View(s):
The shock and horror the country experienced with the Easter Sunday attacks has seen most Sri Lankans go through many emotions, and as the days pass they seek different ways of coping with grief and trauma. As most people reach out to their loved ones, friends and colleagues, others are using their special gifts to offer some solace.
Tahira Rifath, an illustrator from Colombo, decided to dedicate her time and energy into creating digital illustrations of the victims who lost their lives during the attack. "It feels as though we've reduced all the lives that were lost during Easter Sunday attacks to just a number. 253. I don't want us to just remember a number," she tells us.
Her aim is to honour and remember the people that were taken too soon. "Say their names and remember their stories. These were human beings, real people with full lives. None of them deserved to die the way they did."
The process isn't an easy one.  Depending on the details of an individual that she has, a drawing would usually take her around one to three hours to complete. She gathers her information "by reading news articles online, browsing through twitter and doing a little bit of stalking on Facebook."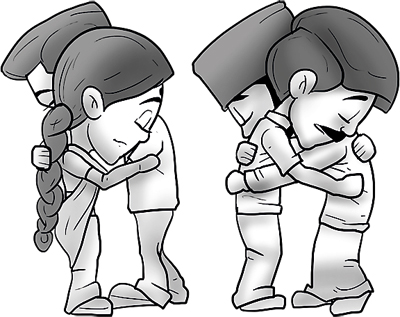 Once she's got enough information about a person, Tahira would message someone who knew them and double-check facts, though this only works for some of the victims.
For the illustrations itself, Tahira incorporates bright colours in the background. She explains this is to point out "these people lived full lives like you and I and must have meant the world to someone."
Tahira aims to create a blog or a book and looks to add stories from the loved ones of the victims as well.  She hopes to start a social impact movement to help people empathize and understand each other's beliefs and perspectives.
"I want to point out how ugly racism and extremism can be and the cost that we all have to pay."
If you have any information about the victims you could email Tahira on – rifathtahira@gmail.com.
She can be followed on- https://www.instagram.com/tahirarifath/?hl=en
Story of a tiny island
When popular theatre personalities Dino Corera and Gehan Blok first heard about the bombs, they were in disbelief. This was soon followed by concern that was replaced by a sense of fear. "It took us back ten years, to the days when no one was sure if we were safe or not and when something could happen next," they told the Sunday Times.
'Punchi Dupathe Kathawa' (the story of a tiny island) is a collaboration of Dino and Gehan with Randy Chriz Perera from Meraki United, Pasan Liyanage and Red Fox Studios, Menike Deshapriya and Portia Dineni Ratnayake.
The video which was uploaded on Thursday, May 2, supports a positive conversation that focuses on "unity and equality." The idea was to write a story about "what could be" and a split narrative that would help a viewer understand, it is they who decide how history will record the days following the aftermath of the bombs.
"The concept came together based on what we felt was a more relatable approach to the message retold as a story, especially given that we wanted to focus on our future and our children's future," they explain.
Both Gehan and Dino hope 'Punchi Dupathe Kathawa' will be shared and spoken of "so as to drown those extremist voices that have a chokehold whenever people are fearful or vulnerable."
Randy Chriz Perera who worked on the animations for the video, and his wife Portia, live less than a kilometre away from the Katana church.
As they heard the ambulance sirens, the numbness crept in, they were terrified. "For the first time in ten years we suddenly felt the fear of death," Randy tells us.
Both he and his wife immediately packed two bags, ready for evacuation if the need arose.
Randy feared for the lives of his children. "For the first time I understood the mortal fear my parents would have felt sending us to school every morning." He was not ready to accept this reality and knew he had to do something to change things in some way.
That's when he and Portia reached out. They were approached by Gehan, who sent in the story which he and Dino had written. Randy was asked if he could do a video for it.
Portia had drawn up the visual script for him and sent all the references needed. The next and final step was the drawing and animating. And instead of making this a mere 2D animation, he created some of the elements in 3D."The interior of the Katana church after the blast was one such element."
The message they want to deliver is that Sri Lankans have an important choice to make. And this would decide the future of their children and the generations to come.
The video can be accessed on- https://www.youtube.com/watch?