Mihin Lanka lost millions of dollars due to CEO Chandrasena's ignorance
By Abdullah Shahnawaz
View(s):
Former Mihin Lanka (Mihin) CEO Kapila Chandrasena's poor directives issued to Mihin's management led to two costly decisions where the airline lost millions of dollars.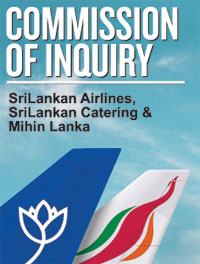 This was revealed by former Mihin Commercial Head Rohan Perera at the Commission of Inquiry (CoI) investigating allegations of large-scale fraud and corruption at SriLankan Airlines (SriLankan), SriLankan Catering (SLC) and Mihin.
The first was a decision to procure Boeing aircraft instead of Airbus, which had been Mihin and SriLankan's "go to" option. Witness alleged that, this move was the product of Mr. Chandrasena's vision and he bypassed Board approval for it.
The aircraft ordered, which would have been Mihin's 4th in the fleet, was later cancelled after Mr. Chandrasena's resignation in 2014. He was succeeded by former Sri Lanka Cricket Secretary Nishantha Ranathunga. SriLankan had then reverted to an Airbus, but the model they sought- A320- wasn't available and hence, they had to settle for an A319.
The decision to revert to Airbus came after Mr. Ranathunga sought a feasibility review of purchasing a Boeing, which favoured the Airbus, citing the engineers' experience with it.
State Counsel (SC) Chathura Gunathilake, who led the evidence, declared that, had Mihin gone ahead with Boeing, without any feasibility study, they'd have incurred significant losses to add to the existing ones.
However, the time spent going after a Boeing aircraft, led Mihin to miss out on an A320, which cost them a lot anyway, the witness revealed. "The A319 wasn't the aircraft we wanted," said Mr. Perera. "It created excess capacity, which we couldn't even load off to SriLankan, when they leased one of our aircraft, because they insisted they didn't want the A319."
The second costly decision, again the product of Mr. Chandrasena's lack of understanding of the trade, according to the witness, was to upgrade a section of its all-Economy Class flight to 'Premium Economy Class', in 2014.
"Upgrading to Premium Economy was seen as a way to attract a segment of the Middle Eastern sector, but soon there were complaints that seats were of poor quality and did not match expectations, so we later upgraded it to a full Business Class," witness stated.
SC Gunathilake argued that the CEO's logic in not upgrading it directly to a Business Class unit had added to the ailing airline's losses. Eventually, the Business Class upgrade was a flop too, as Mihin had expected SriLankan to advertise its destinations on their Business Class, witness said.
"We code-shared our entire network with SriLankan and we were operating to complement each other according to CEO Chandrasena's vision, so we thought they would advertise our destinations to their customers, which would increase our Business Class sales," Mr. Perera said.
Furthermore, according to Mr. Perera, Mihin's senior management had heard of the plan to amalgamate SriLankan and Mihin only from Mr. Chandrasena, and weren't privy to the restructuring plan where this was laid out.
Commenting on Mr. Chandrasena's manner of handling affairs, CoI Chairman retired Supreme Court Justice Anil Gooneratne asked, "Where is he getting directions from? Who is giving him directions if the Board hasn't approved any of these?"