Country raises its guard in face of violent extremism
By Kasun Warakapitya
View(s):
Nearly a decade after Tamil terrorism was ended, checkpoints and increased protection of people, schools, hospitals, and public and private premises have returned to Sri Lanka after the mass murder by Islamic suicide killers in churches and hotels on Easter Sunday.
Long queues form outside buildings because of security checks. Parking is restricted in public places, government departments, and religious places. Eateries are employing their own private security, while the military is guarding some tourist hotels.
Private hospitals have bolstered security, while the military is looking after perimeter protection. The police and the army have put up roadside checkpoints, at junctions and bridges as well as entry points to Colombo. Vehicles are throughly checked. The military is guarding government offices, the Fort Railway Station and the Petttah bus stand.
The Inland Revenue Department (IRD) has strengthened security. There are Civil Defence Force (CDF) and Army Commandos patrolling the pavement around the building preventing illegal parking. The police are checking identity cards and taking notes. People are not allowed to carry bags, helmets, and jackets inside. The CDF officials ask people to place their bags, hats, caps and jackets on the two racks at the sides of the main entrance.
Mohomad Nilam, 44, who works in a private company, said he feels safe after seeing the increased security at the IRD. "Checkpoints are needed to counter terrorists. We must not allow terrorists to attack more people,'' he said.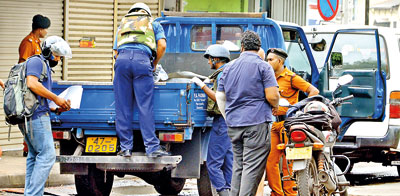 Sujith Kumara Weerasinghe, 45, a messenger, who was at the IRD, said he is subjected to checks at other government offices. "There are a lot of military officials in the building, we feel secure," he said. He feels obliged to co-operate with security checks.
Security at the Department of Immigration and Emigration has been increased. Military officials check bags and pat down everyone at the entrance.
Colombo's port and its environs are being heavily guarded by the navy. There are more than 15 navy officers at the vehicle checkpoint at the port entrance. Other navy officers continue to check parked vehicles near the port wall. More security has been introduced in schools and hospitals.
But not everyone is pleased. The ban on parking near government offices is a major hindrance to those operating three-wheelers for hires.
P Krishna, a trishaw driver who parks near the IRD, said he cannot stay for long at the location. He had not been able to run hires in the past week. It is a struggle to make a living.
Most shops still remain closed at the Pettah market. Shops that are open attract below average crowds. The red mosque, which attracted tourists, is only open for worship.
Mohomad Shafrath, 24, who sells electronic items, phone chargers, power banks as well as pen drives, said business dropped. "We started our business a few months back. Now, no one comes. We are victims of terrorism too. How could we do business like this," he said.
Anusha Willarachachi, 42, a government employee, said she was at the market with a friend to buy essentials. She fears violence more than the bombings. She added that people have continued to live their lives despite the fear.
Gothatuwa resident, Shanai Ranasinghe, said that she still comes to Pettah to buy supplies for her online cosmetics business. She said she is indifferent to who the vendors are.
"The merchants are affected as they were forced to close shops for a week and since opening, few people have come," he said.
Chandrajeewa Liyanagamage, the treasurer of the three-wheeler association, said hires have dried up, even by foreign visitors. "Even the railway authorities won't allow us to park outside the station despite paying Rs1,150 for a three-wheeler. All our 80 three-wheelers are registered and pay taxes to the municipality," he said.
He said they are unable to pick up hires as the three-wheelers block the vehicle park entrance.