From them to us: Celebrities reach out
View(s):

Many celebrities, singers, actresses, sporting giants and those who have experienced the beauty of Sri Lanka expressed their condolences, thoughts and prayers across Twitter,Instagram and YouTube as they heard of the horror that had hit Sri Lanka on Easter Sunday. Here are some of those heartening messages of sympathy and support:

Richard Marx @RichardMarx:

Heartbroken for Sri Lanka. When I performed there three years ago I found it a beautiful place with beautiful people. This is insanity.  [broken heart emoji]

 [7:15pm • 4/21/2019]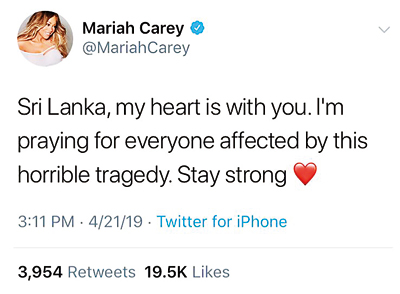 Nick Jonas @nickjonas
Praying for Sri Lanka. Absolutely heart breaking waking up to news like this.
[0.03am • 4/22/2019]
Shane Warne @ShaneWarne
[Retweeting Mahela Jayewardena's tweet]
Thinking of all my friends in Sri Lanka at this very sad time. Still can't believe people would do such horrific and cowardly acts to so many innocent people – sending lots of love & praying for everyone !
 [4:51pm • 4/21/2019]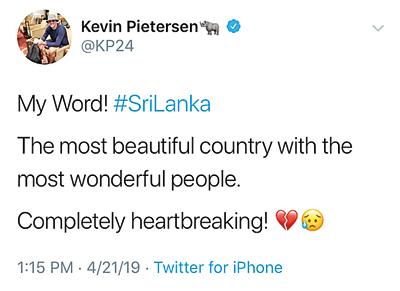 Arsenal FC @Arsenal
Sri Lanka, we are thinking of you [heart emoji]
[2:30pm • 4/21/2019]
Manchester United @ManUtd
[heart emoji] Our thoughts are with Sri Lanka at this sad time.
[3:44pm • 4/21/2019]
Mindy Kaling @mindykaling
This news from Sri Lanka is horrifying. My heart goes out to all the victims and their families. So many people attending church on one of the holiest days, I am absolutely sickened.
[13.28pm • 4/21/2019]
Alia Bhatt @aliaa08
Heartbroken at the news from Sri Lanka. Why do innocent people have to die? What is the point of all this meaningless violence? If only all this energy went into bringing peace, it would unite the world rather than dividing it.
[19.50pm • 4/21/2019]
Vivek Anand Oberoi @vivekoberoi:
Deeply saddened and shocked by the tragic and terrible attacks in #SriLanka. An act of cowardice on a day of prayer, shame on these terrorists. My sincere prayers with the victims and their families. We are all with you #SriLanka. Please stay safe [prayer emoji]
 [4/21/2019]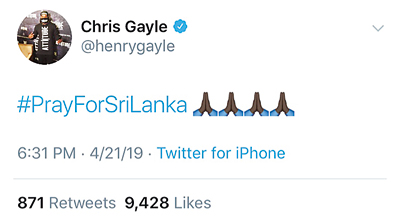 Lucy May Barker @lucymaybarker
Oh Sri Lanka. I just can't get my head around it. Made memories to last our whole lives staying at the Cinnamon Grand & spent Christmas Day in the Shangri-La. I am so heartbroken & so worried for all of the people we met & worked with and all of the friends we made. [broken heart emoji + Sri Lankan flag emoji]
[3:59pm • 4/21/2019]
Lilly Singh @IISuperwomanII
Growing up in a predominantly Sri Lankan community, the people and country have always had a special place in my heart. My heart aches for you. I'm so sorry. This senseless violence needs to stop. [heart emoji]
[12:28pm • 4/21/2019]
Mark Weins via YouTube
(he posted a tribute video from his visit to Sri Lanka)
My utmost condolences and prayers to everyone affected in the horrible tragedy in Sri Lanka.
I'm publishing this video to lift up Sri Lanka, the natural beauty, the amazing people and the fascinating cultures that make it so special. Love, condolences and blessings to all the people of Sri Lanka.
[4/23/2019]