Appreciations
View(s):

With him around there was never a dull moment

Neilan William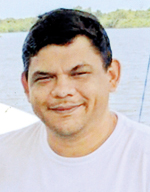 The very thought of not having Neilan around anymore is painful and heartbreaking. We all thought he was recovering after his surgery and were looking forward to the day when he would bounce back with the energy he was so well known to possess. Each time I telephoned him he spoke to me not as a patient but with the same exuberance that he was known for, assuring me that 'everything was fine'! Never did he at any time show anxiety or any doubt with regard to his progress. This makes it even more difficult for us to cope with the tragedy that hit us.
Neilan, was the youngest of three boys and a girl born to Elmo and Ursula William on the day when Neil Armstrong made his historic landing on the moon which prompted his father to coin the name 'Neilan'. Although born to a devout Buddhist family, all three boys Jeevan, Rajan and Neilan schooled just like their father, at S. Thomas' College and as expected were staunch supporters of their alma mater and judiciously lived in accordance with the motto Esto Perpetua which we Thomians respect and believe in. For S. Thomas' there was nothing that Neilan wouldn't do and the draping of the college flag on his casket was very appropriate.
The mischievous one in the family, Jeevan, Rajan and Vanessa the sister could not come to terms with Neilan's impossible stunts. With time, his innocent pranks, diminished and he turned out to be a very responsible young adult. While at S. Thomas' Prep School he was picked to model for a well known household brand of margarine and played a part in the filmlet which was screened in all the leading cinemas. His Sri Lankan cum German parentage gave Neilan a toughness which we all admired! He played rugger for S.T.C. and was well known for his stylish performances.
At a young age he mastered the art of running a company and excelled in expanding its business. As a director of the company he knew exactly how to win customers through his down to earth after sales service. His infectious smile and genuine concern to give his customers nothing short of the best in service was the key to his success.
Neilan was a lover of nature. Camping, fishing and wildlife were his favourite pastimes.
Knowing Neilan was a privilege and with him around there was never a dull moment… he was like a breath of fresh air, always smiling and agreeing with everything that was right. He lived a life that was in conformity with every religion. He was blessed with a loving and understanding wife, a mother who was loving and caring. He had it all, including parents, in-laws and relatives who loved him. I can imagine how it must be for Fowzie and the children to adjust themselves to a life without Neilan. Thankfully there are those who loved Neilan who will always be there for Fowzie and the children at all times.
To Ursula, his mother, Fowzie his devoted wife, his son Avanka and his daughter Raya, the shock of losing Neilan at the age of 49 is something they never expected. His life was exemplary and every virtue he was blessed with, he put to good use. All his friends and relatives will no doubt miss him. The void he has created needless to say can never be filled.
Neilan, you will stay in our hearts forever.
Sri Sangabo Corea
---
The homefront whether children or domestics all came under her loving care
Anula (Tittawella) Navaratne
I sat down several times to write about my mother (Amma) who passed away a year ago. I never imagined that it would be so difficult and painful. If she was still alive, she would have been 91 years old on April 16.
Amma was born on April 16, 1928 in Kandy, to a respectable Kandyan family.  Her parents were Punchi Banda Ratnayake and Tikiri Kumarihamy  Bambaradeniya.
My mother studied at Hillwood College, Kandy and was a boarder, although her parents were living close to the College. She really enjoyed being a boarder and used to regale us with stories about her boarding life. During her time, all the students had to wear saree. She was a good tennis player and even playing tennis, she had to wear saree. Amma was very proud of her school and admired the then Principal Soma Kumari Samarasinghe immensely and always said that she was a good disciplinarian. As she was good in mathematics, she had the opportunity of teaching the subject for a short time.
In 1953, she married my father, Asela (Stanley) Navaratne. He was a Divisional Revenue Officer and rose to become the Government Agent, Colombo in 1978. My mother looked after the homefront including my sister and I. When both of us were schoolgirls, she became the librarian at the Kandy Girls' High School. She really enjoyed working, and always encouraged students to read and resurrected the library which was not functioning.
Whenever my grandparents were ill, she took care of them, until my aunt came back from school to relieve her. Her care extended to when they were in hospital. When my three cousins were born at the Kandy Nursing Home, my mother used to stay overnight with my aunt. Akka and I used to grumble as we were young and lonely without her, but she always disregarded our complaints and thought it was her duty to look after parents, relatives and siblings.
My paternal grandmother died when my father was 13 and he and the other siblings were looked after by their grandmother (my great grandmother). She was looked after by my mother with love and care when she was ill towards the latter part of her life. My mother never complained as that too was considered by her as her duty.
She used to worry whenever Akka, I or  the domestics  fell ill. For Amma, there was no difference between us and the domestics when it came to care and wellbeing. I remember, one of the male domestics had contacted scabies and the doctor advised Amma to send him home as the condition was contagious.  She ignored the doctor's advice and  applied the anti-scabies creams herself, bathed him and washed his clothes, without asking the other domestics to do so, until he was completely cured. None of us developed scabies. I think that is the reason, that when she was ill towards the latter part of her life, there was no dearth of domestics to look after her at any given time. They were all grateful to her, because she was so good to them.
Our house was like a tuition class in the evenings. Amma used to help us in Mathematics. While she was helping us, she taught the domestics how to read and write. They hated the classes as they had to do homework. Amma used to tell them- "At least you must know how to sign." Amma bought books for them. One domestic used to write letters to us and was able teach her son to read and write. He ultimately became a banker.
Amma  was never envious or jealous and encouraged many, including our neighbours' children to do well in their chosen field. A neighbour's child, who came for Amma's funeral told me that Amma was the best aunty in the neighbourhood.  She used to speak to them when going to school down our road, and later in life when they were going for work. For her everyone was alike. Amma together with Daddy did charitable work in silence and helped many.
Amma was fond of gardening and supervised the construction of our Kandy house and did the landscaping, as my father was busy working.  She was a good cook and she taught all the domestics how to make a good meal without any skimping.
She used to give everyone sound advice, including me. I think the credit should go to Amma and Daddy for my achievements in the academic and professional fields.
She led a simple life and  chose to live in Kandy, her hometown, in her old age, in the house she built. The house is empty and the balcony that we used to sit on and enjoyed during the weekend is deserted. But her memory will live in our hearts forever.
Amma, I am proud of you and Daddy, and I will never forget what wonderful people you were to our family, relations, friends and others who associated with you.
The only promise that I can give you is to try to lead the Buddhist path that you lived in, following the teaching of Lord Buddha which you always believed in, and help others when they are in need.
May your journey in Samsara be short, smooth and painless, until you reach the ultimate goal of Nibbana, according to the Buddhist teaching that you always believed in.
Your  youngest daughter,   Anusha
---
Memories of a loving father
STANISLAUS THIMOTHY (SONNY)  OCKERSZ
I write these lines with profound sadness for my dear father Stanislaus Thimothy (Sonny) Ockersz, who was a well-known personality in Batticaloa, who passed away on April 27, 2018, aged 87. My sister, brother and I who live in Colombo visited him last year during the Avurudu holidays and he was in good cheer even cracking jokes with his grandchildren but a few days after we returned he was no more. He seemed to have had a peaceful death.
My father was the fourth of a family of five of whom two were priests. His elder brother, late Rev. Fr. Nobert Ockersz served as a Parish Priest in Batticaloa and Trincomalee and his younger brother, late Rev. Fr. Rex Ockersz, was a Jesuit priest.
My father studied at St. Michael's College Batticaloa. At school he was a star athlete taking part in 100 metres, 200 metres and long jump. After completing his HSC he had joined the then Ceylon Civil Service and served in Batticaloa, Ampara and Trincomalee.  After getting through the Sri Lanka Administrative Service examination he was appointed as the Assistant Commissioner, Co-operative Development and before retirement he was a Commissioner, Co-operative Development for the Eastern Province working in Trincomalee.  After his retirement he worked as a Director at EHED Batticaloa and at NECDO, another NGO in Batticaloa. My father was a Rotarian and a past president of the Rotary Club of Batticaloa, and involved himself in many social service activities.  He was also a past president of the Batticaloa Burgher Union. He was a member of the Provincial Public Service Commission, Eastern Province until his death.
Bradley Ockersz
---
A public servant who did much for the wellbeing of the public
 T.J.P. Ahamat
On that fearful and fateful day of December 26, 2004, the tsunami mercilessly took away the life of Tuan Jainudeen Pakir Ahamat along with his youngest daughter and her kids who lived at 12/3, Galwala, Hambantota.
Mr. Ahamat was an able public servant who served as the Secretary of Matara Base Hospital (now District General Hospital) and Hambantota Base Hospital for a long period.
The people of Matara still recall the remarkable service he has done for them. Apart from his professional commitments he had been engaged in many socio-religious activities as the Hony. Secretary of the Matara Islamic Cultural Movement, an outstanding socio-religious organisation in Matara which pioneered several humanitarian and social activities in the area for nearly three decades.
Mr. Ahamat initiated several health clinics for the benefit of the general public of Matara and its outskirts with the assistance of the health services.
Mr. Ahamat was a man of action who believed in the Quranic saying, "Service to mankind is service to Allah." During his service at Matara Base Hospital, he won the hearts of everyone.
His colleagues still remember the laudable service he rendered for the wellbeing of the general public.
As a loyal public servant Mr. Ahamat discharged his duties with much dedication. After retirement he was engaged in writing to newspapers and foreign journals as a local correspondent. He wrote beautifully– his polished language was of a high standard.
I can still remember the encouraging words he wrote to me when I was working as a secretary in an Arab-American company (KSAL) in the Kingdom of Saudi Arabia during the communal disturbances in 1983.
Mr. Ahamat had been a beloved husband to a loving wife who passed away a few years ago and devoted father to their three children.
May Almighty Allah grant him the Eternal Bliss of Jannathul Firdouse. Aameen!
Dahlan Salahudeen
---