The changing international legal landscape and new opportunities for young lawyers
View(s):

On the legal profession, a popular quotation is from Dick the butcher in William Shakespeare's Henry VI, Part 2, Act IV, Scene 2: "The first thing we do, let's kill all the lawyers." Legal institutions and lawyers form the ultimate bulwark against tyrannical rule. Prior to the enactment of the Republican Constitution of 1972, the then Minister of Constitutional Reforms, Dr. Colvin R de Silva, ensured the abolition of the appeals from Sri Lanka to the Judicial Committee of the Privy Council to avoid the legality of the new Constitution being subjected to close scrutiny by the Privy Council (see, further Jayasuriya, Dayanath Mechanics of Constitutional Change: The Sri Lankan Style, 1981).

With the recent announcement that some 600 new lawyers were admitted to the Sri Lankan Bar, students with an interest in pursuing a legal career as well as concerned parents have been wondering whether the domestic market has not reached its saturation point.

The answer to this is not be found in a simple and straight forward 'yes' or 'no'. When I was enrolled as an Advocate of the Supreme Court in the 1970's, the same question crossed our minds. I believe none of my colleagues ever left the Bar solely because there was not much work for them. Many are still active in the Bar enjoying a lucrative practice and others have pursued a judicial career or entered the world of business.

The international legal landscape has not remained static during the past three or four decades. Much water has since flown under the bridge. We now live in a highly globalized world. No longer is it necessary to use typewriters to type deeds; by the press of a button on the computer you can get a print out of a custom tailored deed. Technology has been the single most influential factor that has changed the international legal landscape. Document automation, e-discovery, artificial intelligence, block chain and data analytics, online dispute resolution, the development of online courts and examination of witnesses even in foreign jurisdictions through video teleconferencing etc. are all features of this century's legal tools. In an article in Forbes entitled 'Modern Day Lawyer', Professor Mark Cohen aptly described the qualities which a modern day lawyer must possess:

"For a long time, simply 'knowing the law' was the sole requirement for lawyers to deliver legal services. Those days are over. The future lawyer must augment core legal knowledge with other skills including: (1) understanding technology's application to and impact on the delivery of legal services (e.g. e-discovery, cyber-security, contract management, legal research, etc.); (2) project/process management; (3) basic business fluency; (4) client management; (5) collaboration; (6) sales and marketing; (7) an understanding of global legal marketplace developments; (8) cultural awareness for what has become a global profession; and (9) emotional intelligence/'people skills.' Emotional intelligence is widely overlooked as a critical legal skill. Top lawyers with high intellect (IQ) and people skills (EQ) will always thrive, no matter how pervasive technology becomes in legal delivery. Future lawyers–like physicians that have morphed from medical practice to the delivery of healthcare– will return to the role of 'trusted advisers.' They will interpret data and apply their professional judgment to solve client challenges. In some ways, future lawyers will be 'returning to basics' and performing only those tasks that they are uniquely trained to do. Technology, process, and other paraprofessionals and professionals will liberate them to focus on these core tasks.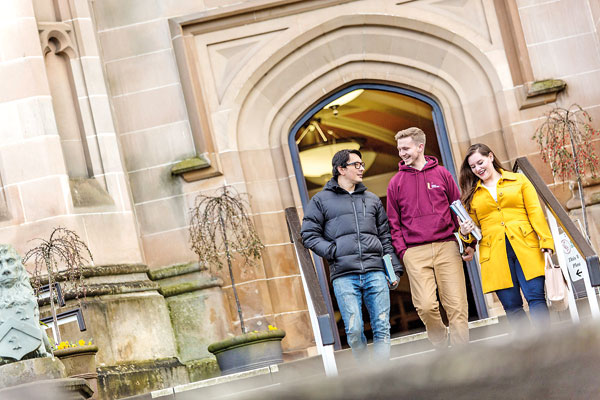 The Nawaloka College of Higher Studies and the University of Ulster offers a 2 plus one LL.B. degree. During the first two years students will study in Sri Lanka and will then proceed to Ulster for the third and final year. This in itself is a unique arrangement which no other local entity now provides.
Whilst closely following the teaching modules at Ulster during the first two years, students at NCHS will be exposed to additional short duration courses on I.T. and the law. Introductory lectures will also be offered on a variety of subjects such as competition law; international arbitration; letters of credit; project finance;  environmental law; international joint ventures; health law; insurance law; privatization of public service functions; intellectual property law; technology law; international contracts; international agency and distribution agreements; international taxation; issues in international litigation; and, international capital markets. These introductory lectures will help students to broaden their horizons so that at some stage in their future career the fundamental principles to which they were exposed would become useful. Each subject-area will be an enriching experiencing.
The Chinese 'One Belt One Road' initiative as well as the new legislation for the Port City in Sri Lanka offer opportunities for lawyers with a broad background to take the lead and play a prominent role in advising U.K. or China based or local companies and law firms.  NCHS-Ulster law graduates will definitely have a competitive edge over their peers.
It is but fitting to end this piece with a quote once more from Mark Cohen:
"The legal vertical, long dominated by law firms, is undergoing a tectonic shift in its buy/sell dynamic. This is a result of remarkable advances in technology, globalization, and the aftermath of the global financial crisis that has radically transformed so many verticals. The legal guild is being replaced by a more client-centric, accessible (24/7/365), technology-enabled, process driven, knowledge management based, cost-effective, collaborative, agile, and global delivery model. This is the golden age of the legal entrepreneur. Regulatory barriers established by the self-regulated legal industry that frustrate competition are either being re-regulated or are being cast aside by clients that are migrating more- and more complex- work to providers other than law firms."
-Dr Dayanath Jayasuriya