Easter Sunday massacres: Where do we go from here?
By Our Political Editor
View(s):
Bureaucratic inefficiency, political mishandling and lack of action on intelligence reports led to the deaths of more than 250 people
Sirisena further isolates himself by hitting out at the UNF government and Rajapaksa's SLPP
Overall Muslim community gripped by fear over the actions of a small group; widespread belief that ISIS chose Sri Lanka because of growing military links with US
Gross bureaucratic inefficiency, scant disregard for intelligence warnings, mediocre and pathetic mishandling by the political leadership caused the deaths of 359 people, revised dramatically to 253, during last Sunday's Easter massacre.
If the injured toll was around 600, it was also lowered officially to 149 on Thursday night reflecting the tragi-comedy that is being played out in the aftermath of one of the worst massacres. That is not all. Police Chief (Pujith Jayasundera) is staying put in his office despite a call by President Maithripala Sirisena to resign immediately. He was to nominate a successor to be confirmed by the Constitutional Council. The choice appeared to be between Senior DIGs D.M. Wickremesinghe (Central Range) and C.D. Wickramarathne (Southern Range).
Heads of Police divisions countrywide were double checking their instructions after they learnt the quit order on Police Chief Jayasundera who survived hopping from one controversy to another. The Police media spokesperson issued a news release about wanted suspects. One of them was a photograph of a Muslim woman living in the United States. She issued a social media statement that she had no links with the suspects here. The blunder was later corrected.
Sri Lanka is still without a Defence Secretary after the last controversial incumbent, Hemasiri Fernando, was asked to quit. This brings to five the number of Defence Secretaries who have served so far under President Sirisena since he took over in January 2015. None of them had any past experience in running the defence and security establishment. They were blissfully unaware of the various nuances that go with their positions.  Ironically, the selections have been based largely on political considerations. One of the qualifications was that they should not have been associated with the previous Rajapaksa administration or his family. This was also the criteria even for the top most slot in the intelligence community – the Chief of National Intelligence (CNI) -where a criminal investigator with little or no knowledge in intelligence gathering was foisted after his retirement. His term was extended annually. Now, purported "top secret" reports they and others had sent warning the authorities over a period of time have been leaked to the social media. This, no doubt, is a last-minute effort to save their own skins. Of course, there is also a predicament for those in the national intelligence network. They lament that they are often forced to "go after" political opponents turning the agency into an arm for witch-hunts instead of collecting intelligence on national security issues.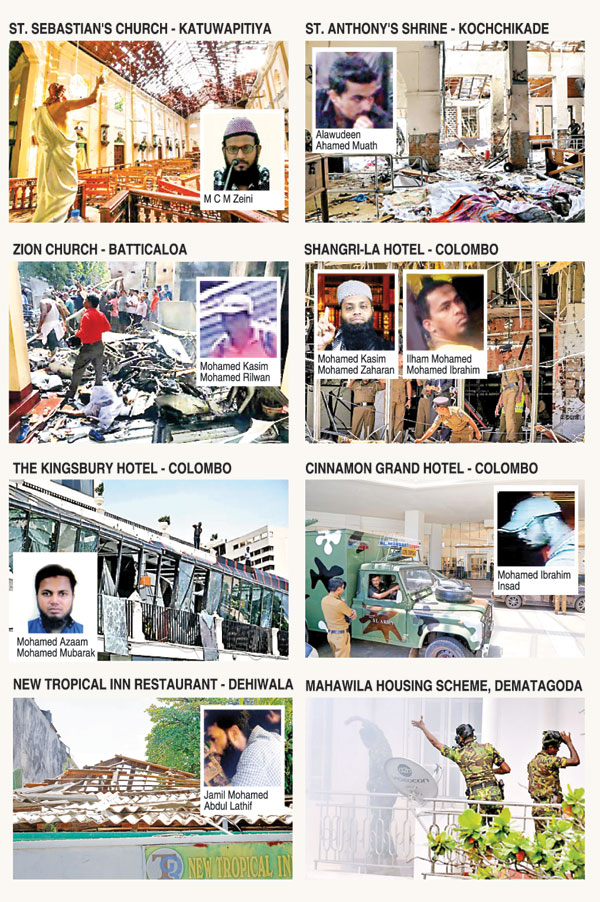 President Sirisena told local media heads on Friday that both Defence Secretary Fernando and Police Chief Pujith Jayasundera looked down at the floor when he questioned them this week over intelligence failures. In the case of former Defence Secretary Fernando, it was worse. Months ago, President Sirisena had met a delegation from the All Ceylon Jamiathul Ulema, the largest body of Muslim clerics, to warn the governmetn of the impending danger from terrorist groups backing the ISIS. This terror group is referred to in Arabic as Daesh and the English acronym stands for Islamic State of Iraq and Syria.They named Mohamed Cassim Mohamed Zahran, as the leader of the local group and gave a detailed memorandum listing their activities. Sirisena in turn handed it over to Fernando and that was the end of the tale. Nothing happened. "The Police chief apologised he could not telephone me. I learnt of the news (of the Easter Sunday attacks) from others in Singapore," President Sirisena revealed.
As far back as January 27 this year, it was reported in these columns that that some deeply worrying developments were taking place on the national security front. This is what was said: "This is at a time when the Police have
been placed under the Ministry of Defence and the entire security apparatus in the country is in one hand – the Secretary to the Ministry of Defence, Hemasiri Fernando.
"He has generated controversy by remarking that war heroes or 'ranaviruvos' are those who have won medals and not others. Those remarks have created some consternation within the tri-forces. There are thousands of soldiers who have died, unsung and unheard without mention and without medals. The Defence Secretary, once a Navy officer, is being accused of hurting those who lost their limbs in the near three-decade-long separatist war and their beloved families. President Sirisena, as Commander-in-Chief, could set the record right…." This has continued to reflect former Defence Secretary Fernando's lack of depth and understanding of the defence and security establishment.
Just this week, he told BBC that the government was not responsible for providing security to hotels. It was the responsibility of the hotel owners and they should look after, he said. Would such remarks by a Defence Secretary inspire confidence in the outside world and draw tourists to the country? Finance Minister Mangala Samaraweera has already declared that since last Sunday's attack, the tourism sector has lost US$ 1.5 billion. This has done no good to either Sri Lanka or the government.
It is likely an official in the Ministry of Defence will act until a suitable candidate for the post of Defence Secretary is found. On Friday, Suhada Gamlath, a former Secretary to the Ministry of Justice and Solicitor General was offered the job. He politely declined it. Earlier, the name of former Army Commander, Gen. Daya Ratnayake was mentioned, but he has not been accepted.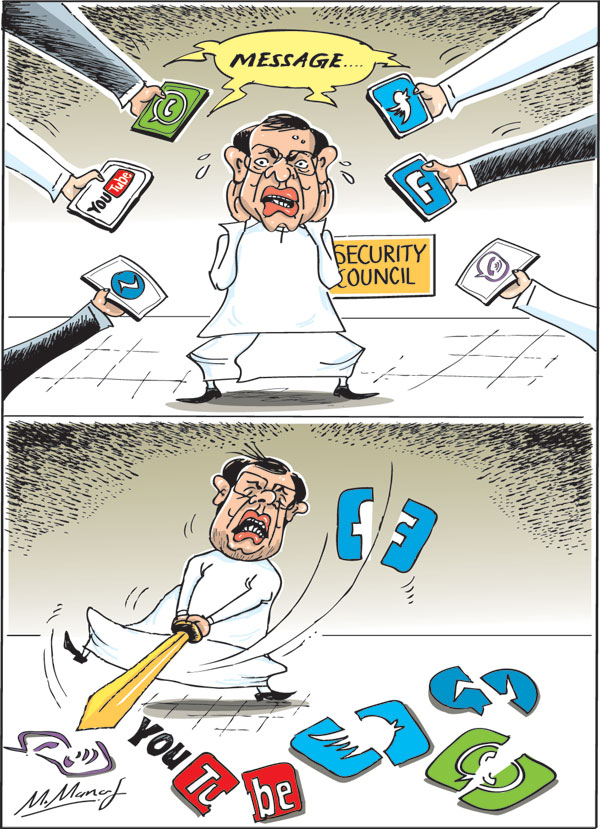 There is a bitter irony in this. The State Intelligence Service (SIS), the national intelligence arm, was unable to convince the authorities, despite three different warnings from their Indian counterparts, to take prompt preventive action. The authorities had also relegated the Directorate of Military Intelligence (DMI), now a highly professional entity, to a virtual secondary role. It is no secret that their work was a major component in the military defeat of the Liberation Tigers of Tamil Eelam (LTTE) in May 2009. They had systematically built a treasure trove of information. According to a security source, the Army Commander Lt. Gen. Mahesh Senanayake had proposed, at successive meetings of the National Security Council, the setting up of a joint intelligence apparatus for unified intelligence gathering. He, however, refused to comment saying "I cannot discuss such issues."
It was only after the dastardly incident by pro-ISIS terrorists that it had received acceptance. It will now function under a newly established Joint Operations Command (JOC). Even those from the Criminal Investigation Department (CID) will be included to ensure prompt probes. Its task would be to deal with the threat of this new form of religious terror. It will also have a two-fold objective – prevent any attempts of elements causing racial or communal tensions and a full-frontal offensive against the terrorists. They will be empowered for these purposes by the new regulations under the Public Security Ordinance (Part II). President Sirisena has already promulgated a state of emergency from April 22. It was endorsed unanimously by Parliament on Wednesday.
Another source said that the NSC meetings did not see the participation of political leaders until sessions were concluded.  "More often than not, they would sit for ten minutes or so and leave saying they had another engagement," the source pointed out. At the last NSC meeting (held after the Easter carnage), President Sirisena who chaired the meeting, directed Justice Minister Thalatha Athukorale to ensure that the Attorney General's Department formulates regulations (under the Public Security Act Part II) to give effect to measures to be taken by the new joint command. That will include the proscription of the National Thowheed Jamaath (NTJ) and its partner group Jamiathul Millathu Ibrahim (JMI). They together carried out Sunday's attacks. The JMI, which is also a backer of the ISIS, has been divided over issues and only a section was involved, Military Intelligence Director Brigadier Chula Kodituwakku told the media at Friday's news briefing held by President Sirisena.
Details of the Easter Sunday massacre and the ongoing probe have been playing out in the local and almost every foreign media this week. They are continuing to shock not only Sri Lankans but those in other parts of the world. What has been appalling for most is that the government and its agencies were not responsive despite positive warnings. They also missed out detailed preparations that were being made for the attacks. Investigations by local teams are being supplemented by teams from the Interpol, the Federal Bureau of Investigation (FBI) and the Central Bureau of Investigation (CBI) in India.
A salutary feature is that the Military Intelligence has identified the network of the pro ISIS terror groups, their leaders and areas of operations. In 2015, the Directorate of Military Intelligence set up a separate 'ISIS Cell' to monitor activities of those backing the terrorist movement in Sri Lanka. It came after they noted an increase in the Facebook posts. They now possess a detailed list of local operatives. "We will not disturb the net until we are legally empowered. We will strike hard, very hard," said a senior intelligence source. A matter that has been made clear to those who will be involved in operations is not to take into account any political considerations but to deal firmly with those who violate the emergency laws, the source added.
President Sirisena told Friday's media briefing that the extremist pro-ISIS NTJ leader, Zahran Cassim, (see photograph on this page) is dead. Confirming the statement, Brigadier Kodituwakku said that a DNA test was being carried out on the remains of his body. Zahran Cassim has been the mastermind of all the attacks. Some of the leaders have been trained in Syria. Training other recruits had taken months and this has gone on under a shroud of complete secrecy.
First to a chronology of how the Easter Sunday carnage took place:
St. Sebastian Church, Katuwapitiya (near Negombo): 8.25 a.m. Mohamed Cassim Mohamed Zeini (brother of Zahran Cassim, leader NTJ terror group) exploded a suicide bomb.
St Anthony's Church, Kochchikade: 8.45 a.m. Alaudeen Ahmed Muath of the Jamathul Millathu Ibrahim (JMI) exploded a bomb.
Zion Church, Batticaloa: 9.05 a.m. Mohamed Cassim Mohamed Rilwan (also a brother of Zahran Cassim) exploded a suicide bomb. He is known to be a member of the National Thauheed Jamaath (NTJ).
Cinnamon Grand Hotel: Between 9.15 and 9.20 a.m. Mohamed Ibrahim Insaf Ibrahim (Brother of Ilham), suspected to be a JMI a member, exploded a suicide bomb.
Shangri La Hotel: Between 9.15 and 9.20 a.m. Mohamed Cassim Mohamed Zahran (Zahran Moulavi) and Ilham Mohamed Ilham Ibrahim carried out suicide bomb attacks. This was an NTJ and JMI joint exercise.
Kingsbury Hotel: 9.15 to 9.20 a.m. Mohamed Azam Mohamed Mubarak of the NTJ exploded a bomb.
New Tropical Inn, Dehiwala: 2.00 p.m. Jamil Mohamed Abdul Latheef was the bomber. There is strong intelligence to confirm he made a failed bid to join the ISIS in 2016.
Mahawela Housing Scheme, Dematagoda: 2.15 p.m. Fathima Jiffry (Wife of Ilham) exploded herself. Two more females and two children were killed in the bomb explosion.
Investigations have revealed that the Taj Samudra Hotel was also a target – a fact which debunks claims that the attackers avoided Indian hotels. Jameel Mohamed Abdul Latheef, it has come to light, wore a suicide jacket to be exploded there. However, the triggering mechanism had malfunctioned. He was then returning to the New Tropical Inn at Dehiwala. He had wanted to stop at St Mary's Church there. When he alighted from a vehicle, he had found that there were Police personnel standing by. They had been deployed after those at the church complained of the loss of money from the till the previous day. He had then gone to the Inn. Investigators believe his attempts to remove the suicide bomb triggered an explosion. That killed him as well as a couple who were at the next room.
Investigators have confirmed that the explosive used by the terrorists was Triacetone Triperoxide or TATP – the same material used in terrorist bombing attacks mounted by ISIS and Al-Qaeda. The white crystal powder (TATP), reports say, have been referred to as "Mother of Satan" by terrorist organisations which have used it in deadly attacks around the world.
The most important question that begs answer in the near simultaneous attacks in different locations is over the time taken to mount surveillance, make plans and execute them. It also requires a large team. Such a process would have taken several months and despite claims of awareness by intelligence agencies, none of them was in the know that such plans were under way. Intelligence estimates place the suicide cadre strength at around 170, a larger number. In predominantly Muslim Malaysia, the strength is said to be 400 whilst in Libya it was 600.
In addition, at least five foreign trained cadres have been assigned to each suicide cadre. That included an electronics expert, a chemical expert and a bomb maker. Though how large stocks of explosives were smuggled to Sri Lanka is yet to be conclusively established, it is believed that they were smuggled in through the Mannar coast. It is believed that, in the Mannar area, several influential persons have helped in this exercise, often talking to the Police when arrests or inquiries are made. They have also provided assistance to family members of Insaf (one of the bombers of Shangri La Hotel) in business-related matters even granting exclusivity for export of copper.
Investigators have found that the Easter Sunday's massacres were linked with the three-day long incidents that occurred in Mawanella area from December 23 last year. Buddhist shrines and Buddha statues were damaged in four different places in Mawanella – Randiwela Junction, Miriskudu Handiya, Hingula (on the Colombo-Kandy Road) and Lindulawatte in the Pahala Kadugannawa region. This was after Zahran and another had preached hate and exhorted those who attended Friday's Jumma prayers to attack Buddha statues in temples and cross signs in churches.
Villagers apprehended one of two attackers in one instance. On questioning him six more suspects were arrested. They are now in remand custody facing charges in courts. It was revealed that they were members of an extremist Islamic group and were being trained to carry out violent attacks against those of other faiths too. The Mawanella group had been led by two brothers identified as Siddiq Abdulla and Shahid Abdul Haq. Both are now missing. Their father, Fazir Mohamed Ibrahim, was later arrested and is now in remand.
Police have found that Fazir Mohamed Ibrahim has been working for an unidentified organisation with links to the ISIS. This was in the eastern Muslim town of Kalmunai. It had come under Cassim Mohamed Zahran who was giving leadership to spread extremist Islamic ideology in Sri Lanka. They had cells in Mawanella, Anuradhapura, Trincomalee, Polonnaruwa and Puttalam. Police then received reports that Zahran is hiding in Kalmunai. A search then proved futile.
Police thereafter raided the house of the two brothers Abdulla and Haq in Hingula on the Colombo-Kandy road. There they found the receipt for the purchase of an air rifle used to teach recruits on firing. It was handed over to CID detectives who took over the probe. They arrested seven suspects and interrogated them. This led detectives to find 150 kilogrammes of explosives and 100 detonators in a coconut estate at Wanathavillu in Puttalam. Further investigations then established that Zahran was the leader of the National Thowheed Jamaath (NTJ).
Why did small Sri Lanka become a target for ISIS and its proxy groups in Sri Lanka? I spoke with several members of Muslim organisations which abhor violence, but were very familiar with the activities of local pro-ISIS groups. In some areas, they co-existed. Some have even been making representations to the defence authorities and expressed frustration that their appeals for action were overlooked. Almost all of them (barring a few who did not know) said that the local terror groups were angry over the increasing American involvement in military activity in Sri Lanka. The ISIS had also been alerting them to the so-called dangers.
Thus, a two-pronged assault – one targeting Christian places of worship and the other leading hotels. The first, as is well known is a standard ISIS tactic. The second is, without doubt, to hit at the heart of the economy, the tourist industry. Hotels are virtually empty and the number of visitors to Sri Lanka is dwindling. It did not take hours for the impact to be felt. A SriLankan Airlines flight from Hyderabad (India) was full and was due to head for Colombo when news reached the passengers. A good number abandoned their flights. Cancellation of hotel bookings flowed.
It is widely known that the US is also talking to the government over different forms of military co-operation and offering training facilities. Paradoxical enough, the attacks by the pro-ISIS groups may sometimes consolidate the US position since the government would need US help in combatting the mounting terror. This in itself has been cause for concern among senior military professionals. So much so, there was one instance when a politician who takes part in the National Security Council meetings asked some military top-rungers "what do you want from the United States?" There was stoic silence after the question with some aghast top brass looking at each other.
For reasons of national security, details cannot be elaborated but the remarks underscore concerns in the military, too. On one occasion, a top US diplomat told me, "We know that the present government is not coming to power the next time. So, what we want to do is get the best from the present regime." It seems that they have got what they wanted, backed unhesitatingly by grossly ignorant bureaucrats who have delivered bonus after bonus. If that is ironic, what is tragic is the fact that even the formal military agreements with the US have not even been presented in Parliament, leave alone being debated.
What has Sri Lanka gained in return? One is reminded of the lament of the present government leaders after they won both the presidential and parliamentary elections. As the economy took a downward slide, they blamed "our western friends" and complained "they have let us down by not helping us." They also complained that there was no foreign investment prompting diplomats of one leading country to say they do not control private enterprise in their country. "It is for your government to ensure that for such activity, the climate is conducive," one of them told a government minister.
The country's predicament has been worsened by the fact that the two former partners who were once in a so-called national government are now bitter enemies. Even a national tragedy which took a heavy toll of human lives has not moved them to talk in one voice, if not on their behalf, for the benefit of all Sri Lankans.
After the Easter Sunday massacre, the first special cabinet meeting saw some heated exchanges between President Sirisena and Premier Wickremesinghe. The President named some newspapers of supporting Wickremesinghe. In the process, he named the Political Editor of the Sunday Times and said he (the Political Editor) was "angry" with him for the President did not "leak secret information." Very strange indeed. One would have to be insane to ask the President of any country, leave alone Sri Lanka, to "leak" secret information. Moreover, I had met him periodically and placed on record faithfully all what he has said. However, I did tell President Sirisena on a few occasions that he should have some mechanism through a confidant, so I may check on the veracity of information I receive about him and his activities. He agreed to do so but it never happened. What prompted me to say this was the numerous telephone calls the President would give me to complain after my accounts appear on Sundays. This is particularly when there was criticism against him. I believed such an arrangement would obviate accusations. Of course, there are other related far more serious issues which I do not want to delve into and cause embarrassment all round.
Public remarks by Prime Minister Wickremesinghe, in addition to what he said at the cabinet meeting, made clear that he and State Defence Minister Ruwan Wijewardene have not been attending NSC meetings since October last year. This was since President Sirisena removed Wickremesinghe and foisted Mahinda Rajapaksa as Premier. With that move he dissolved Parliament – a move which the Supreme Court held to be unconstitutional.
The debate is not whether Wickremesinghe should have attended the meeting or not. It was President Sirisena who is constitutionally the Minister of Defence. In addition, he also has the Police department directly under him. That meant he has singularly presided over the security and defence establishment since October last year. Naturally that enhances his responsibility. After last Wednesday's delayed cabinet meeting, Premier Wickremesinghe accompanied by Minister Kabir Hashim met President Sirisena. Wickremesinghe requested that the Police department be brought under the purview of the United National Front (UNF) government.
Sirisena flatly refused the request. There were also other moments of friction after Wickremesinghe sought to meet the armed forces commanders.
They replied that they would have to seek the permission of the President before they accepted his invitation. Quite rightly so, since the Defence Ministry does not come under the Prime Minister. At the ministerial meeting, Sirisena also gave a lengthy account about his perceptions on the Easter Sunday massacre. He said he would summon an All-Party conference the next day (Thursday). He would appeal to all political parties to put off their May Day rallies.
Then began a heated debate when the All Party Conference was held on Thursday. Mahinda Rajapaksa, the de facto leader, represented the Sri Lanka Podujana Peramuna (SLPP) together with Basil Rajapaksa. He placed a ten-point request and said that there should be professionalism in the intelligence community. Basil Rajapaksa said the SLPP would support any measures to ensure unity among communities. Earlier, Sirisena said that until he left Sri Lanka (to Tirupathi and later from Bangalore to Singapore) he had not been aware of the intelligence warnings. Even the incidents became known to him only after a member of the Sri Lankan community had conveyed it. He had wanted to hire a private jet and return. However, after getting in touch with Colombo, he felt he could leave Singapore on the scheduled flight that arrived in Colombo at night.
For the Easter Sunday massacre, Sirisena pinned the blame on Defence Secretary Hemasiri Fernando and Police Chief Pujith Jayasundera. Communist Party leader former Parliamentarian, D.E.W. Gunasekera, launched a scathing attack on the intelligence services. He said that in other countries, brilliant products from universities, excelling in different fields were recruited and trained. He said Sirisena could not exculpate himself by placing the blame on those below him. The people gave him a mandate to be President and he owed it to the country to ensure nothing went wrong.
A.L.M. Athaullah MP asked, "Who is the President of this country?" – a remark which suggested no one appears to be in full control. There were participants who said he may have been alluding to President Trump's telephone call to Premier Wickremesinghe. Tamil National Alliance (TNA) leader Rajavarothayam Sampanthan and Minister Mano Ganesan both said the Muslims were now facing the same woes they had faced for a longer time.
The Parliamentary Select Committee on National and Religious Harmony convened a special meeting on Friday. Chaired by Speaker Karu Jayasuriya, the meeting was attended by two former Presidents – Chandrika Kumaratunga and Mahinda Rajapaksa. A 'Diyawanna Resolution' was adopted, calling upon the government to set up a separate interior ministry, incorporating the police.
The same (Thursday) night, President Sirisena also chaired a meeting of the Sri Lanka Freedom Party parliamentarians. He was unhappy about the presence of a member of the Buddhist clergy and asked aides why he was invited. He said he had not wanted to invite him. Then he began to explain himself. Also present at the meeting were Eelam People's Democratic Party Leader Douglas Devananda, and Muthu Sivalingam.
This turned out to be a significant event. In his speech, he repeated many times that some people wanted him to resign. He said he would not do so but continue to fight. He said he had not been apprised of any intelligence warnings. He was in Sri Lanka from April 4 to 16 when the warnings came. "This is why I want to remove the Defence Secretary and the IGP. They should have kept me informed," he said. President Sirisena said that the people have forgotten the LTTE atrocities in which thousands had died. In just one attack they had killed 700 police officers. He paid a glowing tribute to Cardinal Malcolm Ranjith, the Archbishop of Colombo for the exemplary manner in which he responded.
President Sirisena charged that an orchestrated campaign was carried out in Parliament by speakers asking him to quit. He was alluding to the UNF speakers. He said Premier Wickremesinghe had asked for the Police department. When it was under them (the UNF), they have committed so many mistakes. He charged that the case involving the murder of national ruggertie Wasim Thajudeen was botched up. Sirisena said that when he refused to hand over the police department, Wickremesinghe and the ministers got up and left. He said under President Mahinda Rajapaksa, he had acted as Defence Minister on five different occasions. He asked SLFP parliamentarians to give him a list of ten names. Those persons will be given different tasks in assisting the proposed Joint Operations Command. He also made a scathing attack on the SLPP, raising serious doubts whether their next round of talks to form an alliance would materialise. President Sirisena said the recent massacre was a retaliation for the anti-drugs campaign he had launched. In other words, pro-ISIS groups were not happy that he was fighting drug abuse in Sri Lanka. He repeated these remarks again when he met the media heads on Friday.
Earlier, Opposition Leader Mahinda Rajapaksa telephoned President Sirisena soon after his arrival from Singapore. He said he would extend his fullest support to ensure a peaceful situation in the country. He also asked Sirisena to address the opposition parliamentary group to explain what had happened. However, Sirisena's heavy schedule prevented it from taking place. On Wednesday night, President Sirisena addressed 300 senior Police officers at the Sri Lanka Foundation Institute auditorium. Army Commander Lt. Gen. Mahesh Senanayake was invited by the President to explain the involvement of the ISIS and the group's actions. Sirisena also gave a briefing to Colombo-based diplomats.
This week's developments make clear that Sirisena is fighting on a number of fronts. Other than the growing menace of religious terrorism, backed only by a very small section of the Muslim community, he has fired new salvoes against the leadership of his government partner led by Premier Wickremesinghe. He has also done so with his would-be common alliance partner the SLPP whose de facto leader is Mahinda Rajapaksa. He is looking for a new Defence Secretary and a new Police Chief. That he is increasingly isolating himself is not good for the people or Sri Lanka. Quo vadis or where are you marching? Not only Sri Lankans but the whole world seems to be asking. So would the vast majority of innocent Muslims who are now gripped with fear and uncertainty.