A pathetic House belittles a national tragedy with its finger-pointing
By Sandun Jayawardana
View(s):
If the country's citizens were looking to their elected representatives to project a unified front and reassure them of their security, they were bitterly disappointed, as this week's special Parliamentary sessions, called in the wake of the barbaric Easter Sunday terrorist attacks, saw accusations and counter-accusations from both sides.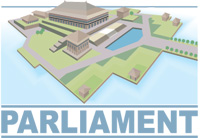 Parliament was originally due to convene only on May 7, after the 2019 Budget was passed on April 5. The Easter Sunday attacks prompted the Government to call for an emergency session on April 23. Only Prime Minister (PM) Ranil Wickremesinghe, Opposition Leader Mahinda Rajapaksa and State Defence Minister Ruwan Wijewardene spoke on Tuesday.
In his address, PM Wickremesinghe said Sri Lanka had now become part of a global community faced with terrorism, but the Government was capable of wiping it out. "The international community has pledged their support to us. We will not allow another 30 years of war to occur in this country," he insisted.
Minister Ruwan Wijewardene acknowledged to Parliament what the entire country and the world already knew – that there was a monumental failure to act on specific intelligence about a planned attack. "Information related to the planned attacks was only circulated among a small group of officials and neither the Prime Minister nor I, the State Minister of Defence, were briefed about it," he claimed.
Opposition Leader Mahinda Rajapaksa insisted that the Government should accept full responsibility for the Easter Sunday attacks, noting that it had failed to act on specific intelligence warnings of an imminent attack.
Mr Rajapaksa claimed there were now attempts to make some security officials the scapegoats for the failure to stop the attacks. "But, if anyone is to resign over this, it should be the Government."
On Wednesday (24), Parliament held a day-long debate on the new regulations gazetted under the state of emergency imposed following the terror attacks.
Prior to the commencement of the debate, Speaker Karu Jayasuriya appealed to MPs to help conduct a productive debate, without blaming each other, and to work together to promote cooperation and understanding over confrontation and division. Many MPs, however, failed to heed his appeal.
Finger-pointing started almost immediately, when Leader of the House Lakshman Kiriella accused the National Security Council (NSC) and some officers of the intelligence agencies of "playing politics." He said that neither the PM nor the State Defence Minister had been invited to NSC meetings since last October, and noted that even after the attacks took place, those of the NSC refused to attend a meeting of the NSC summoned by the PM.
Mahajana Eksath Peramuna (MEP) Leader Dinesh Gunawardena, however, argued that both the PM and State Minister of Defence are leaders of the Government and hence, could not claim ignorance of advance warnings about an impending attack.
Amid the many speeches casting blame on one side or the other, two speeches, by UNP MP Field Marshal Sarath Fonseka and United People's Freedom Alliance (UPFA) MP Kumara Welgama, stood out.
Mr Fonseka did not mince words, when he severely criticised both the Government and the Opposition, accusing them of allowing the intelligence services to deteriorate.
"Governments that have been in power during the past 10 years need to take responsibility for this failure. Immediately after the war, the then Government used intelligence services as instruments of political revenge. They used them to spy on us and our children. Even the new Government did not do what should have been done," he stressed.
Mr Welgama, meanwhile, said all 225 MPs in Parliament should take full responsibility for what happened, adding that it was wrong to point fingers at each other after such a tragedy.
He noted that the intelligence agencies had sent out warnings to the police, who in turn conveyed them to the Personal Security Officers of all MPs. "So, they knew. There is no point now in engaging in a blame game and doing politics with such a national tragedy.
He appealed to Government and Opposition MPs and their supporters to forget their political differences and unite, to eliminate this threat to the country's security, and rebuild the nation.
The Emergency Regulations were passed without a vote. Parliament will reconvene on May 7.