Fear and suspense growing over Gotabaya issue
View(s):
Former Defence Secretary returns with confidence that court cases against him won't stop him from contesting presidential poll
Prospects still nil of President getting the nod from SLPP; second opinion may be  sought from Supreme Court on presidential term
Jayasekera's attacks cause major problems in talks for SLPP-SLFP alliance; it might die before it is born
The first tweet, surprising enough, came from a power centre within the government. It said that Ahimsa, the daughter of slain editor Lasantha Wickremetunge had filed civil action in a Los Angeles Court against Gotabaya Rajapaksa, the Opposition presidential hopeful and former Defence Secretary.
Lasantha's brother Lal Wickremetunga, Sri Lanka's Consul General in Australia, told the Sunday Times on the telephone from Sydney, "The family had waited for five years under the Rajapaksa government and another five years under the present one. They did not get justice. Therefore, they have gone before a US court." The remarks were an about-turn from what he said just two weeks earlier.
Denying moves to file a case against his brother's killing, he then told the Sunday Times (Café Spectator March 31): "Those reports are completely untrue. I have no plans to file any action in US courts. I am awaiting the outcome of what the Sri Lanka courts would do once those responsible are indicted." Now he admits action indeed has been filed in US courts, albeit by "the family". According to other well-informed sources, he played a key role in the ongoing exercise co-ordinating matters.
The brutal killing of Lasantha, Editor of the now defunct Sunday Leader, and one-time politician of sorts, took place on January 8, 2009. Since then, for the past ten years, investigations by the Criminal Investigation Department (CID), have been mired in deep mystery and controversy. One of the main reasons is the pressure on those probing from different arms of the state, some of them very powerful.  Talks on the probe had even extended to five-star hotels. Efforts are being made now to file indictments on some, after the national New Year. This again is on those widely described as being on the outer fringe or, as they say, where the buck has stopped. Thus, a case listing the accused, if as claimed including Gotabaya Rajapaksa, has not yet surfaced in courts. How then is he being allegedly accused of murder? The Sunday Times has learnt that substantial material involving his alleged involvement has been culled from reports filed by the CID in the Magistrate's Courts in Colombo. Though these court reports are considered public documents, both the CID and the court staff, have been consistently protective and have not released them. This has come as a veil of secrecy not only in this case but many high-profile cases.
The US-based Premier Group International (PGI) said in a tweet that their "licensed process (summons) servers teamed up with Ideal Investigations, Inc. to surveil and serve papers" on Gotabaya Rajapaksa for two federal lawsuits filed in California. The PGI is a company dealing with investigations, threat assessment and risk management. It happened when Gotabaya, who was visiting the United States at the time was to drive to Nevada and chose to visit Trader Joe's in Pasadena, California – a large food chain dealing with a variety including many vegetarian items. He is a strict vegetarian. There he was photographed as the process (summons) was served on him in a sealed brown envelope. The photograph shows him accepting a sealed brown envelope. Quite clearly, as admitted in the tweet, he had been under close surveillance and was unaware of it. In Colombo, Parliamentarian Namal Rajapaksa denied such process (summons) was served.
And that surveillance did not end there. Soon, his return flight details from Los Angeles to Dubai (en route to Colombo) from the Tom Bradley International Airport, in Los Angeles at 1.40 p.m. on April 10 by Emirates flight EK 216 became known. As it so happened, the same power centre in Colombo together with a known coterie tweeted the details and caused some confusion for the former Defence Secretary. He had to cancel the flight. He left in another flight and arrived in Colombo on Friday. He was received by a group of MPs, former ministers, retired military officials and well-wishers at the Bandaranaike International airport. There was also a religious ceremony at the VIP Lounge where the Buddhist clergy chanted pirith. Also present were Muslim ulemas and Hindu priests.
Gota makes statement
In a brief statement he made to the crowds; Gotabaya Rajapaksa made a significant revelation – he has NOT handed in his papers yet for the renunciation of his US citizenship. He said he had gone to the US mostly to consult his lawyers over the renunciation of his US citizenship. He said he did this successfully. He said he would move towards this soon – a clear indication that the civil law suits have been filed in the US courts ahead of his handing in documents to end his US citizenship. Rajapaksa said it was unfortunate court action was being initiated ahead of a presidential election and emphasised that it was civil action. He made no reference to receiving the process (summons) directly but said he received them through Sri Lanka's Consul General in Los Angeles. It became clear yesterday that the former Defence Secretary had a meeting with US Embassy officials on March 6 for a preliminary inquiry. It is now that he is expected to hand in documents including his US passport. That disclosure adds a new dimension to the issues revolving around.
The journey to Los Angeles to attend the wedding of a friend was not without some controversy. Members of the Rajapaksa family, top level leadership of the SLPP and those in the Opposition were livid that a controversial personality had accompanied him. He had taken part in all events including personal engagements. Top members of the family had warned Gotabaya Rajapaksa before departure that he should keep a safe distance from the person. Some were also unhappy about his timing to attend a wedding in Los Angeles given the evolving political situation in Sri Lanka. So much so, President Sirisena who planned a pilgrimage overseas called it off. Premier Wickremesinghe, who is known to take an overseas vacation during the National New Year season has also not done so.
Just after the court action by Ahimsa Wickremetunge was made public, the South Africa-based International Truth and Justice Project (ITJP) said it had, in partnership with the international law firm Hausefeld Solicitors, filed a civil damage suit in California against the former Defence Secretary. Thus, both cases have been filed by the same law firm, an indication that they are linked.  The ITJP is a South African NGO run by Yasmin Sooka, a transitional justice expert. She was earlier a member of a three-member UN panel that visited Sri Lanka at the end of the separatist war in 2009. That was to study and advise the United Nations' then Secretary General Ban Ki-moon regarding "modalities, applicable standards and comparative experience relevant to the accountability process, having regard to alleged violations of international human rights law during the final stages" of the separatist war.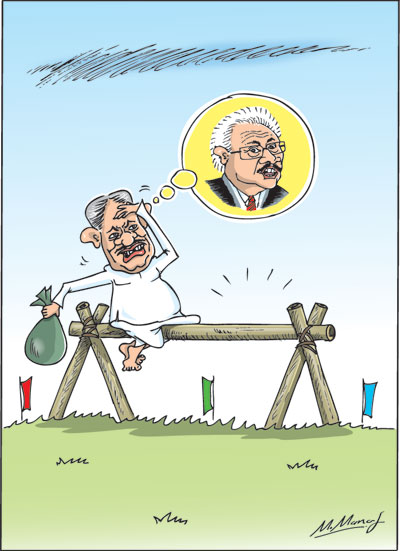 The ITJP case is in respect of Roy Samathanam, now a Canadian national. He was arrested in Colombo in January 2007 and allegedly detained and tortured for three years without access to lawyers. A former Colombo-based BBC correspondent Frances Harrison is also involved in this initiative as a media contact from London.
The case of Marie Colvin
Interesting enough, the two cases are being handled by Scott Gilmore, an international human rights lawyer in Washington DC. He has represented survivors of torture and war crimes from around the world, including the family of ISIS hostage James Foley and Haitian victims of Baby Doc Duvalier. In January 2019, Mr Gilmore won a $303.6 million lawsuit against the Syrian Assad Regime for the killing of (London) Sunday Times correspondent Marie Colvin. She died covering the Syrian war. It transpired later that Syrian Intelligence had identified her location by intercepting calls on a satellite phone. They were accused of precision bombing that killed her. However, the payment of compensation was more symbolic and the Assad regime in Syria rejected the court order.
Colvin, a well-known war correspondent, a US citizen, flew into Colombo from London in April 2001 to cover the separatist war. Since I was reporting to the Sunday Times (UK) then, I met her for a lengthy chat at the Galle Face Hotel just the night before she left in the morning for the war-torn north. Over the years, she had become a personal friend. She entered the area through Mannar entry/exit point and spent several days in Jaffna. She was returning through the forward defended localities ahead of Vavuniya when an Army team ambushed her and her Tiger (LTTE) guerrilla escorts. In a firefight, Colvin lost her left eye. The guerrillas left her almost for dead at the FDL and fled. She was eventually treated at a Government hospital in the North Central province of Sri Lanka. The Sunday Times (London) arranged for an air ambulance to fly her back to the UK, but Sri Lankan doctors later gave her the okay to fly in a commercial aircraft. South Asia Correspondent Jon Swain flew in to escort her to London. She later flew to the US for further treatment. Foreign Editor Sean Ryan once described her satellite phone bills as one of the costliest items for the newspaper. Colvin's encounters, both in Sri Lanka and Syria have now been made into a Hollywood movie.
The law suits against Gotabaya Rajapaksa are clearly intended to delay, if not scuttle, the US government from renouncing his citizenship. The move has been like releasing a nest full of hornets within the SLPP and has led to serious concern. In some ways, it is similar to what a group called Sikhs for Justice filed in New York courts against Congress leader Sonia Gandhi in December 2014. She was accused of "shielding party leaders involved in violence against Sikhs in India in November 1984" following the assassination of the then Prime Minister Indira Gandhi. However, in June 2014 – more than six months after – a US Federal Court dismissed the lawsuit "for lack of subject matter jurisdiction and failure to state a claim."
What is significant here is the time taken – a period of six months. In Gotabaya Rajapaksa's case, too, he would have to obtain US certification that he has renounced his citizenship much ahead of six months – the time by which presidential election is now due. Some SLPP leaders learnt from onetime UNP turned SLFP minister Milinda Moragoda, a close ally of the former Defence Secretary, that it took him only some ten days to renounce his US citizenship. It is now that they are becoming conscious that Gotabaya Rajapaksa's case is a lot different. Questions are now being asked why he could not have applied to renounce his citizenship much earlier despite being advised to do so. Therefore, the suspense, not to mention fears, are growing and so is the propaganda pitch against the former Defence Secretary.
UNP plot, says Allahapperuma
Others in the Rajapaksa camp have, however, spoken out. "This is only part of a vicious campaign by the United National Party (UNP) against the plan to field Gotabaya Rajapaksa as the next presidential candidate," Dullas Allahapperuma, now a frontliner in the SLPP, told a news conference last Tuesday. He claimed that after the Wickremetunge killing, eight Intelligence officers were kept in custody for around two years. The aim was to implicate Gotabaya Rajapaksa. Premier Ranil Wickremesinghe had said that the former Army Commander was involved as reports in the Parliament Hansard would reveal.
Alahapperuma claimed there were parallels to events that unfolded in 1982. President J.R. Jayewardene had planned the presidential election campaign after depriving former Prime Minister Sirimavo Bandaranaike, of her civic rights. Jayewardene's nephew Wickremesinghe was trying to use the same tactics. From last Tuesday, he said, there was only 179 days left for the announcement of the presidential election. The last date on which such an election could be held is December 7 this year. Thus, the final date for calling for nominations will be October 21. A formal announcement would have to come on October 5. At the same news conference, National Freedom Front (NFF) leader Wimal Weerawansa said the purpose behind action before US courts was to create issues over renunciation of the former Defence Secretary's US citizenship. "The cases have been filed after the documents had been handed over. There will be no implications over it as a result of the court action. Lawyers who studied the matter have advised so," he added. The SLPP's nominal leader, G.L. Peiris, argued that there was "no basis for a case" since the incidents referred to had taken place ten years ago.
President Maithripala Sirisena-led Sri Lanka Freedom Party (SLFP) is, however, still vary over Gotabaya Rajapaksa's candidature at the presidential election. Its General Secretary, Dayasiri Jayasekera, who has taken a hawkish stand against the SLPP in recent times, declared, "I don't know whether Gotabaya Rajapaksa is named as the SLPP candidate. We respect that family's decision. However, we believe that the SLPP has not taken such a decision." Those remarks only mean that like President Sirisena, General Secretary Jayasekera also wants to believe there is still hope. That is for prospects of Sirisena becoming the joint candidate for both the SLFP and the SLPP. However, even in the unlikely event of Gotabaya Rajapaksa not contesting, the prospects are zero for Sirisena being backed by the Sri Lanka Podujana Peramuna (SLPP).
SC ruling on presidential term
Noting that "we have great respect for Gotabaya personally", Jayasekera further said, "we should discuss whether the situation he is facing would have an impact on the activities that are taking place in our country", He added; "These are civil cases; not criminal ones. We don't know the future of that". If there was jubilation at the highest levels of the UNP at the turn of events in the US, vis-a-vis court cases being initiated against Gotabaya Rajapaksa, officially they remained silent and non-commital. Outsourced by the leadership, as is the practice, it is only some back-benchers who voiced some comments.
Jayasekera also revealed another significant matter — President Sirisena is toying with the idea of seeking a second Supreme Court interpretation over the term of his office. He claimed the Presidential election should be held after June 21, 2020, if they start counting the five years from June 21, 2015 when the 19th Amendment was signed by the Speaker and became law, thus limiting the term of the President to five years.  He noted that "The Supreme Court was previously asked whether the President's term of office was five or six years. It was ruled (in January last year by the Supreme Court) that the term was five years. The question is when does that five-year term begin and end," Jayasekera argued.
Sirisena's legal advisors seem to believe that contradictory positions in the 19th Amendment provided room to argue that he could remain in office for a further period after January 8, 2020. The idea is being scoffed at by constitutional experts who say there was enough clarity he could not continue. Even if the move does not materialise, it is manifestly clear President Sirisena is exploring every avenue to remain in office for as long as possible. In the event of a SC ruling giving Sirisena an extended term, his close aides, believe it would mean the scheduled parliamentary elections in August next year would come with him in office. "He once sacked his Prime Minister and dissolved parliament. It is after the same so-called legal big wigs who are advising him now," a former SLFP minister who did not favour the move said. He warned that if given effect, the move would bring down whatever esteem that remains for Sirisena now. Another reason that has prompted the consideration of this doubtful effort is that it would give more time to complete his anti-corruption, anti-drugs and other campaigns now under way.
Even if such a move were to succeed, other than a handful of his own parliamentarians from the SLFP, Sirisena would not have any political backing. The United National Front (UNF) is not likely to back the move. Neither is the SLPP. Already, Sirisena's SLFP delegation for the formation of an alliance with the SLPP is on a rough road. Last Wednesday's talks make this clear though some media reports gave a positive spin that they had reached understanding on some matters. True, they did agree on some issues, but those were on matters most political parties would have agreed. Like for example protecting the sovereignty and territorial integrity of Sri Lanka or not to sell state assets.
The meeting at the Opposition Leader's office at Sir Marcus Fernando Mawatha, just next to the Sravasti MP's hostel, began late. Thilanga Sumathipala MP and Rohana Luxman Piyadasa, former General Secretary of the SLFP, were late. They had been at a meeting with President Sirisena. Besides the guidelines Sirisena also gave them an agenda to follow at the talks. This, however, was not followed, and the SLPP delegation ignored it.
The SLPP's nominal leader G.L. Peiris sounded a strong note of caution. He said that the SLPP delegation was coming to the talks despite tremendous opposition from party members. He was bitterly critical of SLFP General Secretary Dayasiri Jayasekera's remarks against them. He said that the SLPP believed in Shista Sampannawa or doing politics in a civilised way.
Alahapperuma joined Peiris to say that it was not only the SLPP membership which was vary of the common alliance but also people in different parts of the country. Yet, he said, their leader Mahinda Rajapaksa had told them to continue the talks to demonstrate their bona fides. He said earlier, in a bid to have the SLFP demonstrate its unwillingness to act against the UNP, the SLPP had called for the resignations of SLFP members who were in control of local councils with the support of the ruling party. This had not been done. Jayasekera intervened to say they (the SLFP) could not proceed with the move. President Maithripala Sirisena who was in India in February last year had telephoned after reading media reports and urged them not to go ahead. It appeared there were issues in this regard in the local authorities in Polonnaruwa and Medirigiriya.
Alahapperuma said that the SLFP should demonstrate its bona fides by getting its members in local councils to withdraw from their tie-ups with the UNP. Meka Ranil Virodayak Arenna, UNP Virodayak Nevei – or this is an Anti-Ranil Protest and not a protest against the UNP.  Even the Janatha Vimukthi Peramuna (JVP) was showing publicly that it is opposed to the government. He said that the SLFP mindset should change. The issue of the SLFP refraining from voting on the Budget's third (final) reading was also raised. The SLPP expressed disappointment over this move and said the SLFP had been reluctant to make a political decision. Earlier, Alahapperuma said the SLFP and the UNP called their budget Neela Haritha or Blue-Green. Is this why they chose to refrain from voting this time, he asked.
What has incensed the SLPP delegation most are remarks made by Jayasekera at a news conference just a day ahead of their talks. Some of the remarks made by him are relevant. He said: "President Sirisena was the one who was at the receiving end after appointing Mahinda Rajapaksa as the Prime Minister. As result of his actions, everyone made negative comments about him. Yet, he took that decision for the betterment of the country. No one said then that they are not sure of the SLFP".
"Who are the ones who destroyed the trust? Hours after appointing Mahinda Rajapaksa as the Prime Minister, when they learned President would prorogue Parliament, they went and joined the SLPP. When that happened the SLFP supporters felt uncertain. The SLFP party supporters at village level said that they felt betrayed, MP's like us who didn't join the SLPP were shocked at what happened.
"I would like to tell the ones who portray us as betrayers for not voting against the budget that, when they took the membership of the SLPP, we felt the same way. When President Sirisena gave leadership and issued Gazettes, their action was like stabbing him. That was also wrong. If they are saying they need trust, we have to say that the ones who joined SLPP are the ones who first breached the trust".
"We are expressing distress over the assault directed against the President and the party. We told the SLFP members that they don't need to be agitated over that as we have no issue regarding the partnership of the both parties in an alliance. However, there is also a conspiracy to bring down SLFP members, to wear them down mentally. We are not ready to surrender to any other party. As SLFPers, we would keep our dignity and identity and work towards forming a government that refrains from making the political mistakes that occurred during the history of politics.
"The SLFP is not bound to protect the ones who made the mistakes and also is not ready to protect them in the future. The SLFP will work hard to create the common alliance that loves the country. We will take great effort to unite our parties and create a force that works for the betterment of the people. Within that alliance, the SLFP will also take effort to create common leaders. No one can resolve their issues by slinging mud at the SLFP….".
It is noteworthy that Jayasekera is the only party frontliner who is taking a more belligerent stand against the SLPP, their counterpart with whom they wish to form an alliance. Whether this is with the approval of President Sirisena, tacit or otherwise, remains unclear. In doing so, wittingly or unwittingly, Jayasekera is projecting that he and his party are in a strong, unassailable position? Is this true? If it is, then he would have to, with those backing him, take the responsibility for the breakdown in talks for an alliance. This only means the SLFP has to go it alone. On the other hand, if it is not, to the SLPP which has now grown in strength, the SLFP would be playing the role of a "big brother." Would anything more have to be said about the future of the proposed alliance?  It could die before it is born.
This the national New Year festival takes centre stage though the suffering people have not recovered from the lengthy power cuts and a water shortage. When the festivities end, the political climate is sure to heat up with the focal point being the question of who and who will be presidential candidates. That there will be shocks and surprises will be no secret going by the recent developments. There can also be turmoil within the major political parties, as a result.