UCL students gain entry to Monash Medicine through MUFY
View(s):

Universal College Lanka (UCL) is proud to announce that for the very first time three of its students have gained entry to follow the Bachelor of Medical Science and Doctor of Medicine degree programme at Monash University in March 2019, having achieved excellent results in the Monash University Foundation Year (MUFY) at UCL.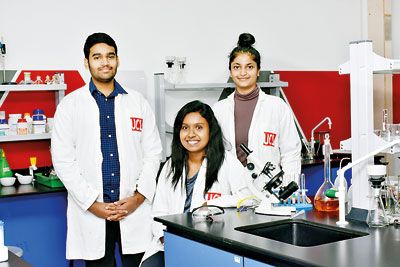 UCL is the only transnational education institute in Sri Lanka that provides a guaranteed pathway to the prestigious Monash University through its exclusive partnership.  Monash University is a Top 60 University in the world and ranked 59th as per the QS University Rankings 2019. It is also one of the Group of Eight Universities (Go8) in Australia and is a highly research-oriented university that regularly updates its syllabus, modules and teaching methodology based on its latest research findings.
Monash University Foundation Year (MUFY) is a pre-university programme that prepares students for entry into their first year at Monash University. The MUFY is a comprehensive programme that allows students to tailor their studies to suit their university degree.  After completing the MUFY, achieving the required marks and degree prerequisites, they will be guaranteed a place in the first year of their chosen undergraduate course. Undergraduate programmes are available in Medicine, Nursing, Pharmaceuticals, Health Sciences as well as Arts, Humanities, Business, Engineering, ICT and Law.
The three students, Chamath Gunawardena and Anjali Ranaweera from Lyceum International School Nugegoda and Uvini Samarakkody from Devi Balika Vidayala, are school leavers having joined UCL just after their Advanced Level examinations.
"Medicine offers a rare mix where the power of science empowers you to directly impact someone else's life and MUFY at UCL has enabled me to pursue what I love" says Chamath Gunawardena who achieved the rare distinction of scoring a top average of 97 at his MUFY examinations. He went on to say that while the Foundation year was intense, it prepared one for the workload at university and the key to securing a strong score would be to heed the lecturers' feedback and remain organised from day one.
Uvini Samarakkody joined UCL in January 2018 and chose UCL because of its exclusive pathway to Monash University. "UCL has the best lecturers and materials required for a student she said. Her recipe for success is making her studies a priority, staying focused and being patient. "Believe in yourself, she says, and most importantly don't give up easily".
Anjali Ranaweera, who aims at becoming a member of the Royal Flying Doctor Service of Australia, said "MUFY presented me with an opportunity to enrol for the MD programme directly, which led me into joining UCL in 2017. Self-discipline, perseverance and drive were the key to securing good results.