Appreciations
View(s):

An illustrious man who treated all with equanimity and humility

Cyril Tennakoon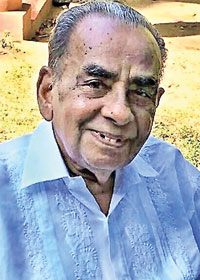 Impermanence, un-satisfactoriness and no-selfness are the true nature of things and if we could internalize these three characteristics of life in perception then we are at a sublime level of attainment. When I write about Cyril Tennakoon I can very well say that he had made it a mental habit to view everything in life with these three characteristics.
He was my 'Kalyana Mithra', my best friend, until he passed away one year ago on March 28, 2018 silently and fully aware. His moment of death was a remarkable occurrence that could happen only to a person of a high level of mindfulness. He had no hesitation in passing away and knew mindfully until he breathed his last at the ripe age of 94 plus. He was my best friend because he confirmed to my test of a true friend and so did I under his microscope.
He lived in Lewella and I in Colombo. I drove to Kandy as often as I could to enjoy the luxury of  conversation with him. These conversations enlightened me. He planned his life and retirement so meticulously that he didn't leave anything for the children or others to worry about even after having devolved all his worldly assets decades before his parting– a role model of parenthood.
He graduated from the University of Ceylon in 1949 and chose to be among the flowers as a professional Botanist and Curator of the Royal Botanical Gardens. One of his best creations is the beautiful Rose Garden at Hakgala Gardens, by requesting the then British HC Sir Stanley Tomlinson to gift seed cuttings from the Kew Gardens of UK. He retired from Peradeniya Gardens in 1975 and thereafter served in Saudi, Oman, in the Royal Gardens and returned to Sri Lanka after about 15 years.
His commitment to the Dhamma was realized when he was invited to be the General Manager at the Buddhist Cultural Centre (BCC) when it was at an infant stage. His skills with people and the in-depth knowledge of the business world made it possible for him to develop the BCC to become the largest publisher of Buddhist literature during a period of 13 years. The BCC is renowned for its  largest collection of Buddhist publications anywhere in the world.
The astounding quality of Cyril Tennakoon was that everyone who came to know him liked him irrespective of 'caste or creed'. He was loved by people who worked for him and by those who employed him. His friends were among the most powerful and mighty to the down trodden, but he associated with all with humility and equanimity. I recall the stories of Prime Ministers and Ministers who visited him and whose doors were open for him. He never even once wanted to live a life owing gratitude to a politician for personal gain. Once Prime Minister Sirimavo Bandaranaike had asked him if he would exchange jobs with her when he was working at the Hakgala Gardens.
He had endowed much of this independent character to his family. His eldest son Dasarath as a kid told Sir John Kotelawala when his driver parked the PM's car at the wrong spot that he would be fined by his father for parking inside the gardens. So, that great PM personally wanted to meet the illustrious father of the illustrious son and met the father to congratulate him for making a son so upright.
His relationships with people were so long lasting that even in his eighties and nineties he had visits for a chat from many people that he had befriended years before. His memory was impeccable with details of dates, names and how things happened.
He was the only brother of late William Tennakoon, the Governor of Central Bank. Both of them along with their humble sister late Anula Herat gifted their land to build the Subodharama Temple at Peradeniya. This temple is a beacon to many today. He was also the loving husband of late Lala Tennakoon who predeceased him but was an equally adorable woman and parented four illustrious children, Premani, Dasarath, Lakshantha and Geethanjalie. He was blessed to enjoy the love of seven grandchildren and five greatgrandchildren.
Both of them worked silently and humbly to contribute to the Sasana that has given solace to many in this Sansarik journey. Life has given me the great fortune of having them as my dearest friends and in-laws. I rejoice in Cyril Tennakoon's virtuous life along with the best gift they have given me, my wife Premani.
Dr. Chandra Embuldeniya
---
Memories of a loving sister and friend
Mallika Sirisuriya (nee Karunaratne)
I write these lines with profound sadness for my dear and only sister Mallika Sirisuriya (nee Karunaratne) who passed away on December 18, last year, after a brief illness.  She was 89 years of age.  My sister was the eldest of a family of five– two girls and three boys.  She began her schooling at St. John's Girls' School, Nugegoda. The Second World War was raging at this time and changes took place in our lives.  My father, H.N. Karunaratne was a lecturer at the Govt. Training College (GTC), Colombo. GTC buildings were taken over by the military and GTC was transferred to Peradeniya so we too shifted to Peradeniya.
My sister and I were admitted to Girls' High School Kandy. Mallika was a bright student and did so well in the then Govt. Senior school certificate that she was exempted from the London Matriculation Exam.  She became the captain of Samson House and won many prizes including the Courtesy prize, a rare prize given to a student. She was successful at the H.S.C. and the University entrance exams. They were the first batch of Arts students to occupy the new buildings of Peradeniya when  Sir Ivor Jennings was the first Vice Chancellor.
Having graduated she took up a teaching appointment at Vijaya College, Matale.  It is here that she met Chandrawansa Sirisuriya who was also a graduate.  They were happily married and settled down at Matale. After a short period her husband was transferred to Tholangamuwa Central College as Principal and for some time they were employed in the same school. Subsequently her husband was transferred to Sangabodhi M.V., Nittambuwa. My sister too was transferred to Ratnawali Balika M.V. Gampaha and after some time became the  Vice Principal.  She taught Geography, her favourite subject for the higher forms.  After some time she was appointed Principal of Nalanda Balika M.V. Minuwangoda.
She was an efficient Principal being a good administrator and disciplinarian, a kindly friend to all and a mother to her students. 1982 was one of the happiest when she saw her eldest daughter Chandani as a bride marrying a wealthy businessman. But her joys were short lived. In 1984, her beloved husband succumbed to a massive heart attack.  The burden of the family fell on her with four school going children. Three daughters travelling from Gampaha to Visaka Vidyalaya and son Rajindra to Ananda College, Colombo.
She was a knowledgeable devoted Buddhist who faced life with fortitude.  She gave her children the best of education and today Deepthika, Anoji and Chinthani are all graduates doing very well in life.
In 1988 it was time for her to retire. After 12 years of yeoman service as Principal of Nalanda Balika M.V. Minuwangoda, the school she loved and nurtured, it was really difficult for her to leave. The farewell speech she made was so emotional that no one was left dry eyed. The parents, old girls and students regretted the departure of a loving Principal who treated everyone with kindness and impartiality.
After retirement she devoted most of her time for social activities.  Being well versed in both languages, Sinhala and English she contributed various literary articles to the papers and conducted English classes for teachers and students free of charge. She loved travelling and fulfilled a lifelong wish by making a pilgrimage to Dambadiva.  She visited Australia to spend a few weeks with her eldest grand-daughter Dilini and family. She made it a point to meet her schoolmate and long-time friend Stella David  in Melbourne.   She loved her two brothers Lionel and David and in-laws and their children.  Later in life she was very attached to her grandchildren and was delighted when her grandson Pamuditha passed out as a Doctor.
She had an inborn sympathy for the feeble and elderly and spent a lot of her time attending to their needs. She freely gave big donations for the improvement and maintenance of the home for the elders at Pahalagama, Gampaha.  She also helped to build a Buddhist temple at Pottuvil.
My husband Raja and children will cherish the happy times we spent together with her family.
Goodbye dear Akka, I miss you very much both as a loving sister and moreover a friend too who was very dear to my heart always.  May you attain the bliss of Nibbana in the shortest time.
- Sujatha Panditaratna