Start-up looks to get young moms back into the workforce
Ruqyyaha Deane speaks to the founders behind 'Moms Do Digital'
View(s):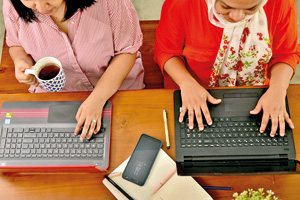 "The work keeps us on our toes because apparently kids are not difficult enough," laughs Varuni Seneviratne as she and her business partner Riyaza Jaffar talk about how they built their digital marketing agency 'Moms Do Digital'.
Having been introduced by their husbands, Riyaza and Varuni have remained  friends and shared a lot of journeys together. Thus it comes as no surprise that they went into business together.
Having left behind 9-5 jobs to focus their undivided attention on their newborns, Riyaza and Varuni never looked back on leaving the workforce. However Riyaza having established a reputed name for herself with digital marketing had old clients requesting for her services once again. Not being the best content writer, Varuni was pulled in to join in on the action and from 3 clients to 10 clients, the agency grew and the rest is history.
"Digital marketing is completely different to what traditional marketing is all about," shares Riyaza who is qualified in SEO techniques and comes from a marketing background. Their agency 'Moms Do Digital' is flexible and works right throughout the day so that any urgent matters can be handled right away. "For example, all our customers are usually online after 5 so that's when we come onboard. We work around the clock," adds in Varuni who used to be in the IT and Business field.
"We look at the customer and their needs, we sketch out a position plan, with goals as to where they need to be and how we need to market it.  It's mostly our success stories that have gotten us this far." Riyaza comments on their success.  They claim that it is their status as moms that make clients comfortable with them as well as place their trust in them.
Even though they are called 'Moms Do Digital', they do have "non-moms" working with them.  "The reason why we call it Moms Do Digital is because as founders and as moms its a part of our identity and we bring that into our work as well."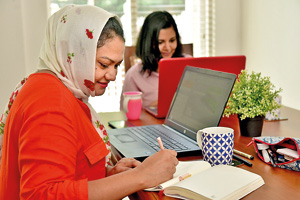 Majority of their workforce are stay-at-home moms from different diverse backgrounds. They each have strength in different areas, such as writing skills, analytical skills and designing.
Moms Do Digital also see a future of helping and encouraing  other moms become entrepreneurs and teach them how to do digital right.
"We want to help them up and provide a platform for them. That's where we want to be. To be in a position to help them make a difference. It's more than being digital. It's about helping people up and supporting them."

For more information on their agency you can visit their website www.momsdodigital.com