Teacher unions demand less admin work, salary equity
View(s):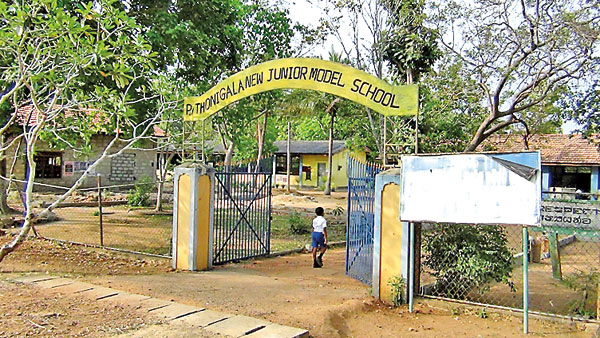 Providing more quality time for teaching instead of overburdening teachers with unnecessary paper work was among the demands made by unions during this week's token strike that crippled classrooms.
Ceylon Teachers' Union General Secraetary Joseph Stalin told the Sunday Times that education authorities demand reports on matters not related to teaching and that creates more administrative work for teachers.
This includes demands for reports on examination results, requirements to have complex databases of students attending classes, forms to be filled for various projects in schools, and forms to be filled on school fees and uniforms.
He stressed that when these demands are made separately by district, zonal and provincial education offices, in addition to various ministries, the overall burden on teachers and principals is overwhelming.
"It is easy to say such reports should be prepared, but doing them is difficult. Decision-makers do not think about it."
Trade unions said the heavy burdens caused a breakdown of teacher-student communication.
The demand for less paperwork came alongside demands to address an anomaly in teachers' and principals' salaries — which has lasted from 1997 — and a demand for higher government allocations for education.
The authorities failure to respond led to the Wednesday's strike in which an estimated 185,000 teachers stayed off work, according to unions.
The impact of the strike was felt in various areas around the country, with varied levels of teacher and principal participation.
Richmond College Principal Sampath Weragoda, along with Trincomalee Zonal Education Director J. Arulananthan and Northern Province school officials, said that the impact was minimal with few teachers taking part.
However, schools in the Western and Central Provinces reported activities being delayed or interrupted.
A leading girls' school in Colombo reported that of the 200 teachers, only 20 turned up. There was also a drastic drop in student attendance in school. The children of some schools were asked to return home.
A high participation was recorded in Nuwara Eliya. Zonal Education Director Amarasiri Piyadasa reported that about 90% of the teachers and principals in the area and in surrounding areas had taken part in the token strike.
Referring to the salary anomaly, Ceylon Mercantile Industrial and General Workers Union Secretary Sanjeewa Bandara said that before 1997, education officers and teachers were paid equally.
He said that since 1997, salaries of education officers had increased in comparison to the salaries of principals and teachers.
He said unions are demanding the implementation of a salary scheme similar to the one that existed during the 1994-1997.  Ceylon Teachers' Services Union General Secretary Mahinda Jayasinghe said he had his suspicions about promises by the Education Ministry to address union demands.
He questioned the decision to wait until March 13, to provide solutions when the complaint had been filed at the beginning of the month.
The Ministry, responding to allegations in a statement, said as soon as the suggestions were made, they were forwarded last September to a special committee established to discuss state sector salaries.
The statement said that once instructions were obtained, the teachers' and principals' salary anomaly would be addressed.
The ministry said union protests were unwarranted and an effort to cause friction within the country and further boost their political strongholds.
But several trade unions said further action would be taken if the demands were not met by April 22, the start of the next term.