Serious consequences feared from rising heat
By Kasun Warakapitiya
View(s):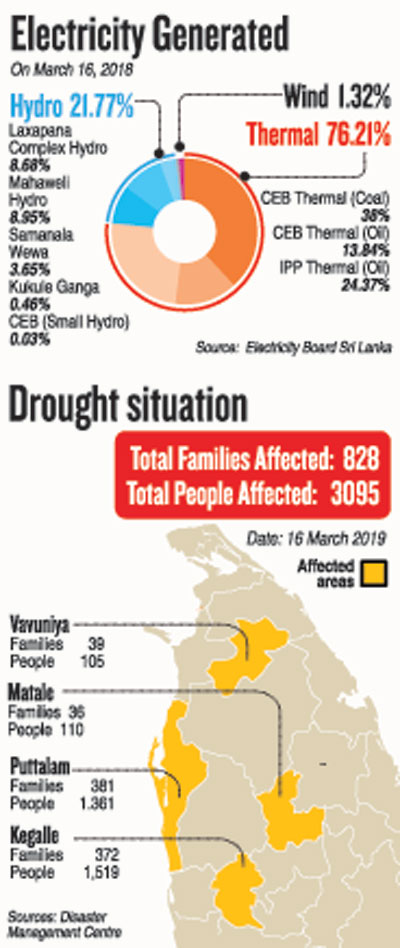 The worsening hot weather is impacting the health of people, depleting drinking water supplies and has reduced hydropower generation.
It is also set to badly affect agricultural production, including vegetables.
Kurunegala is among the areas which reported the highest temperatures last Friday. The Meteorology Department issued an 'extreme caution' warning for most parts of the Northwestern Province.
Kurunegala Teaching Hospital Director Dr A M S Weerabandara, urged people to stay out of the sun. He advised people to drink more water and shower more frequently. "People with kidney issues should drink more water,'' he said.
Dr Weerabandara also said people must not undertake heavy activity during the hottest time of the day and should stay away from direct sunlight at mid-day.
"People should drink more water, wear light-coloured clothing,'' he said.
The Meteorology Department and the Health Ministry cautioned people through heat advisories. Meteorology Department Director Anusha Warnasooriya told the Sunday Times the current weather was normal for the months between February and April.
She said the warm weather was due to lack of winds blowing through Sri Lanka, causing a rise in humidity.
"The warm weather can vary as the temperature can increase or decrease according to the amount of wind flow. So the weather will not stay the same every day," she said.
Ms Warnasooriya said that, because of the lack of winds and cloud formation, the sun's radiation could directly hit Earth and raise the temperature at day time.
She said heat warnings had been issued.
According to its heat index, the Department has issued an amber advisory urging people to be extremely cautious of the heat as people can get dehydrated, suffer from heat cramps, and exhaustion as well as heat strokes.
The production of hydropower is also affected as water levels of the six main reservoirs are declining, Power and Energy Ministry Director Sulakshana Jayawardena said.
He said it would be difficult to generate even 20 percent of electricity through hydropower because of dropping water levels in the reservoirs of Castlereagh, Maussakale, Kotmale,Victoria, Randenigala and Samanala Wewa.
The Castlereagh reservoir's water level is the lowest, currently at 9 percent of its capacity, while other reservoirs have 20 to 39 percent of water.
Mr Jayawardena explained that, in the short-term, thermal plants would be used alongside self-generated power if needed.
He said they would also get two expired power projects running after obtaining cabinet approval.
He said customers should not waste electricity. "If we preserve energy we can supply uninterrupted power to meet the increasing demand.''
Meanwhile, farmer associations expect a price increase in agricultural products including vegetables.
The National Water Supply and Drainage Board said it was barely managing to provide an uninterrupted water supply, and asked that users preserve drinking water.
NWSDB Chairman K A Ansar said drinking water was being provided uninterrupted, even though water levels were dropping.
"The demand is rising as people need to drink more water to hydrate themselves and have showers and baths to reduce the effects of the heat," he said.
He explained that the salinity of the Kalu Ganga has not changed even though the water level has dropped. They are managing to provide water from the river as well.
"The tube wells are drying up, so we are offering pipe-borne water to people who have no drinking water by water bowsers," he said.
The Irrigation Department website statistics showed declining water levels in the Kelani, Mahaweli, Gin, Kalu rivers and Mee Oya.