Politicians ran SriLankan airlines, while employees simply followed orders: Witness
By Abdullah Shahnawaz
View(s):
SriLankan Airlines is an autonomous company that has the right to take independent decisions in the airline's best interests, but a senior employee claimed they simply followed orders issued by politicians through the board of directors. These orders inflicted damage on the airline, choking it to this day.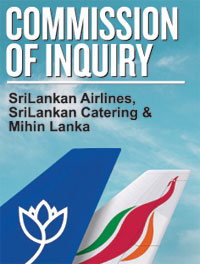 Appearing before the Commission of Inquiry (CoI) investigating allegations of large scale fraud at SriLankan Airlines, Sri Lankan Catering and Mihin Lanka, the airline's finance chief, Yasantha Dissanayake made this claim, when Additional Solicitor General Neil Unamboowe questioned him on SriLankan's irresponsible and damaging decisions. SriLankan had last managed to make a profit (Rs. 4.42 billion) in 2008, when it was under the management of Emirates Airlines. Since Emirates' departure, the national carrier has been incurring losses totalling Rs. 148.7 billion upto2017.
The witness said the crisis aggravated, with the airline continuing with the operation of loss-making routes and purchasing aircraft, instead of leasing them.
Assisted by Senior State Counsel Fazely Razik, State counsel Leshan Rathnayake and Chathura Gunathilaka, Mr. Unamboowe asked Mr. Dissanayake who was responsible for making such detrimental decisions.
"You have to ask that question from the government policymakers at the time," Mr. Dissanayake responded. He said that most decisions were made by the board, but instructions were issued by politicians and other top government officials.
Mr. Unamboowe retorted that there was no documentary evidence showing that politicians had issued orders to the airline or made decisions on behalf of it, while Commission Chairman and retired Supreme Court Justice Anil Gooneratne pointed out that SriLankan was an autonomous entity and could take independent decisions in the interest of the airline.
"This has to be asked from the board of directors as they're the ones who took all major decisions," Mr. Dissanayake said.
He said he could do nothing as he was a mere employee, while all decisions, even the ones that did not follow procedure and the guideline manuals, had the board's approval.
Responding to a question, the witness said that the airline's former CEO Kapila Chandrasena was responsible for most of the decisions, because he was a board member, too.
For the past two weeks, the Commission has been hearing evidence presented on the procurement of aircraft from 2013. The Commission was told procurement was made disregarding the recommendations found in two of the company's Business Plans — one was prepared by S.A. Chandrasekara, the airline's former Chief Financial Officer, and the other by Via Capital, a US-Based consultancy firm.
Mr. Chandrasekara's business plan, which was approved in May 2010, had recommended that the aircraft be obtained through an operational leasing method. Via Capital, which was initially brought in to validate Mr. Chandrasekara's plan, ended up producing a new plan that recommended a blended system of both purchasing and leasing.
Responding to another question, Mr. Dissanayake said that operational leasing was more costly in the long-run, but owing to the airline's dire financial situation, he, too, had recommended leasing and informed CEO Chandrasena many times that the airline could not afford to go for the purchase option.
"If you have cash, the cost effective way is to buy your own aircraft. Any successful airline has a combination of both purchased and leased planes," he said.
Retired Justice Gooneratne noted that SriLankan was not a successful airline. "Where was our success?" he asked. "If we were financially sound, we could have bought aircraft, but we had a huge debt accumulated over a decade," he observed.
The Commission was told that SriLankan had decided to go ahead with flight procurement even in instances, where there was no government guarantee. On top of that, the board had decided to buy A350-900s, which were not mentioned in either of the business plans. Mr. Chandrasekara's plan listed A350s, but did not specify the type.
Mr. Dissanayake said SriLankan had not made any request from Airbus regarding A350-900s but the Airbus, as a marketing approach, had shown the available aircraft and promoted the A350-900.
The Commission Chairman, once again, drew attention to the incongruity between the airline's financial position and the manner in which it went about procuring aircraft, especially without a government guarantee.
"If I have only Rs. 100, I can't go to Hilton and eat," he said. "I will have to go to a roadside boutique." Mr. Dissanayake replied with a laugh, "We didn't even have Rs. 100."
According to the witness, the board had concluded that re-fleeting was the best way for SriLankan to wriggle out of its financial mess.
Mr. Unamboowe pointed out that the airline had 'periodically obtained aircraft, but it showed no signs of improving the company's position. Commissioner and Supreme Court Justice Gamini Amarasekara intervened to say that public money had been used in an irresponsible manner.
The Commission is to summon former CEO Suren Ratwatte to appear shortly, over the cancellation of A350-900 lease agreements in 2016, and Chairman Gooneratne instructed Mr. Unamboowe to take further steps in this regard.
The CoI comprises retired Supreme Court Justice Anil Gooneratne (Chairman), Supreme Court Justice Gamini Rohan Amarasekara, retired High Court Judge Piyasena Ranasinghe, retired Deputy Auditor General Don Anthony Harold and Sri Lanka Accounting & Auditing Standards Monitoring Board Director General Wasantha Jayaseeli Kapugama. The sittings will continue from Tuesday.