Mixing old school elements and modern metal sounds
Constellation band members chat with Joshua Surendraraj about creating an authentic sound and releasing an album this year
View(s):
In a bid to create a unique sound 'Constellation', Sri Lanka's upcoming progressive metal band has come a long way since winning the coveted TNL Onstage trophy in 2014, and this week we got a chance to catch up with them.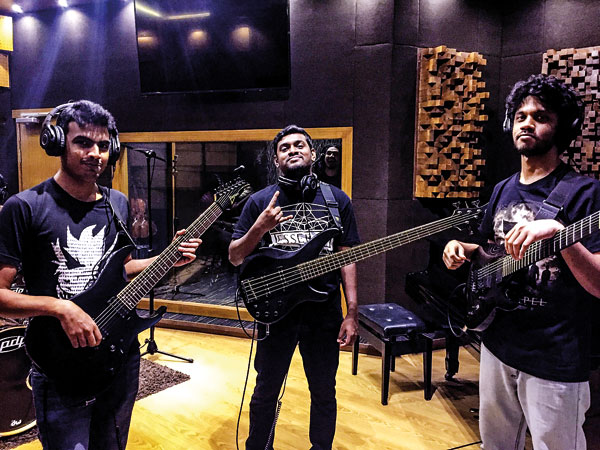 Since winning Onstage, 'Constellation' played live gigs consistently and kept recording new material. "Ever since then, the lineup has gone through quite a few changes, and funnily enough, it's only now, in 2019, that the lineup feels perfect to us," Eshantha Perera, the band's vocalist tells us.
'Pillar of light,' their latest single had the heavy metal community in the country a buzz, ever since it was released in November last year (2018). So we thought it apt to begin our chat with an insight into their music.
The aim was to set a standard for the recording quality in Sri Lanka, Eshantha recalls. This was simply founded on a belief that the metal music produced in Sri Lanka, not just by Constellation, but by any other band can set high standards in the international arena.
The underlying themes for their music have always revolved around being somewhat anti-political, and also challenging the concept of organised religion." It's not that we're against religion by any means; some of us are Catholics. But we like to challenge the delusion that a lot of people have within organized religion," Eshantha says.
'Pillar of light' is the perfect example of what their material is like. Eshantha tells us, the single has acts to it. In a sense, different parts of the song signify a variation of moods and decisions. Their other tracks are also a mixture of heavy music and incredibly mellow parts.
"We also take great care with the composition of our guitar solos, wanting each one to be memorable and melodic," Eshantha says.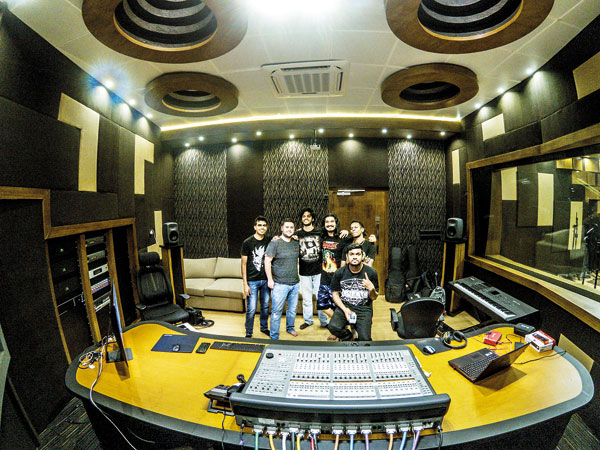 He  adds that each band member comes from different musical backgrounds and they manage to bring all of these influences together in a collaborative effort, which form that unique sound Constellation is known for.  wHowever, the biggest impact to their sound came through Sasith Gamage (iClown) who assumed duties as the band's producer in 2016.  Since joining 'Constellation', Sasith's aim was to ensure they sounded their best both at their live performances as well as on record. His first job was to understand the musical tastes, writing styles and techniques of each member (especially the guitarists who initiate the writing process).
"I realized that we have the perfect blend between old school elements and modern metal elements in our style of writing in the band," he shares.
Sasith also decided to incorporate backing tracks and click tracks to their performances, which enhances the live shows and at the same time maintains discipline. "We currently play to a click track where our drummer is synced to play to a click while the rest of the band follows him."
The band records, mixes and masters their music themselves."Our music has always been on the technical side, so we don't exactly expect a crowd to immediately head bang to it, even though it inevitably happens, thankfully," Sasith adds.
Constellation's dream has always been to release an album, and that's just what they're working towards right now and hope to release it this year. They will also be hitting the stage very soon to showcase their new lineup which features Chaturanga Pitigala (Piti) on drums, Dihara Wijetunga and Shehan Kaleel on guitars, Eshantha and Shalinda Jayawardena on frontline vocals, and Sasith on bass.
"We're super excited to be taking stage at this year's first Mosh Scream Rock, happening early May, and a much bigger gig later on during the year as well, not to mention our launch, which will also happen later during 2019," Eshantha tells us.
Aside from all of this though, the underlying backbone of the band will always be to create authentic Sri Lankan music "that will be remembered and fully showcase the talent we have within the band."
Follow them on -
instagram.com/constellationsl/
UCHRS1mnfXHNHLYEETw3Zs3Qw