An epic fall from grace
View(s):

My dear Sanath,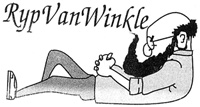 I thought I must write to you when I heard the worrying news that you had been suspended from all forms of cricket for the next two years – and more disturbingly, that you had accepted those charges without challenging them or defending yourself, because of your 'love for the game of cricket'.
We have all heard of the 'glorious uncertainties of cricket'. We saw that recently when young Kusal – who, ironically, is called 'Podi Sana' – blasted his way to an improbable win in South Africa and then, the other Kusal did the same in the next game. Your suspension too is similarly unexpected, Sanath.
Sanath, you know that this country loved you dearly and adored you for your daring exploits with bat and ball, for blasting bowlers out of sight and winning games for us. You, and of course, Kalu, were an integral part of the team that won the World Cup for us – and we were all very grateful.
You captured our imagination because you were then an unspoilt, not so sophisticated youngster from Matara – and not a 'posh' product of an elite school in Colombo. For many youngsters playing the game in rural villages, you were an inspiration – the success story that they too could aspire to emulate.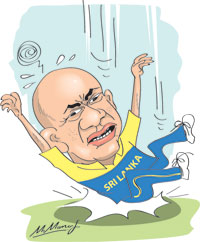 And what a success story you turned out to be: arguably our first cricketing 'superstar', in the league of Lara and Tendulkar. You blasted many bowlers and broke so many records for over 20 years. In that time, you went on to achieve greater deeds, first as a player and then as a captain.
In what was probably another record, you took to politics while still a player in the national team, joining Mahinda maama's camp. You were successful in entering Parliament from Matara. After that, there were times when ministers ordered the selectors to recall you to the national team!
You were a brilliant cricketer but that didn't necessarily mean that you would shine in politics, though having a well-known name might have helped to get you elected. Your skipper Arjuna, the Field Marshall and actor Ranjan are others who excelled in their professions but are mediocre politicians.
I am not sure how you see yourself now, Sanath, but with the benefit of hindsight, many felt that entering politics marked the beginning of the end for you. It is true that you became a deputy minister, but since then, you have lost your most valuable asset – the love and respect people had for you.
For some time, we had been losing faith in our cricketers, particularly those who valued money above all else. You were among the first to be lured by the IPL. Why, you even sold yourself to an Indian dancing contest! The trend you began hasn't helped our cricket, because many chose to follow you.
So, when the story emerged that you were being suspended from cricket for two years for not co-operating with investigations into match fixing that is alleged to have occurred when you were a selector, some people were not surprised at all. That is a sad reflection on you, don't you think?
You are not the first international captain to be tainted with match fixing allegations. Pakistan's Saleem Malik, India's Azharuddin and South Africa's Hansie were also implicated but that was 20 years ago. It seems you want to revolutionise cricket again – just like you did with your batting!
What is even more interesting, is your excuse, Sanath. You say you don't want to defend yourself and that you accept the penalty because of your 'love for cricket'. Surely, if you love the game so much and have nothing to hide, isn't it best that you clear your name and that of Sri Lankan cricket as well?
Or, is it that it is far better to take the punishment that is meted out – because it doesn't affect you in any practical way as you now play no role in cricket in our country? After all, if you assisted with the inquiry and handed over your phones to the ICC, who knows what details might have come to light?
Anyway, Sanath, your rise from village lad to global superstar was like a fairy-tale. Then, towards the end of your career you tried to use your political influence, first to remain in the team and then to get involved in its administration. Thereafter, your fall from grace from hero to zero was spectacular.
Those who witnessed your exploits in cricket will still want to remember you as their hero. They will now hesitate to do so when they realise that the man they once cheered when he won matches for us is also alleged to have been responsible for us losing some games. That is really sad, isn't it, Sanath?
Yours truly,
Punchi Putha
PS: Your response to the ICC is intriguing. I hope others will follow you when they are charged with an offence. Imagine Ravi, Gota, Wimal and Gammanpila saying that they accept the charges made against them because of the 'love for their country' and staying away from politics for two years?