Eateries endangering public health slip through legal loopholes
By Kasun Warakapitiya
View(s):
They hid a bin what would have been the night's kottu roti – chopped bits of godamba roti in a polythene bag.
Below what would have been a meal for a customer, lay rotten vegetables, pol kudu (waste of scraped coconut) rancid, stale meat, stinking carrots and peeled skin of onions.
This is not a scene from a garbage dump or an uncleared drain. This was what was found in a restaurant at Bloemendhal, Colombo 13.
I accompanied a team of six Public Health Inspectors and Dr. Sasanka P Ranasinghe, medical officer at health for Colombo north on a routine raid.
Our presence triggered off hectic activity among the waiters, cashiers, cooks and others. The cook was sweating and was wearing a T-shirt which had seen many better days.
They had taken away godamba slices and hidden them in a dark room. There was a bin full of waste that had just been dumped out from the freezer.
The humid kitchen was dark and had no ceiling; the fire place was lit up with fire wood while emitting toxic smoke. The charred wood littered the broken tiled floor.
Discarded vegetables also lay on the floor. But a worker hurriedly swept it up just as Dr Ranasinghe was making remarks on cleanliness.
The smell of blood emanated from the freezer in the kitchen, where raw meat was stored. The freezer had been switched off. There were also vegetables in polythene bags in the freezer.
The tea being served was made from water drawn from a tube well in the kitchen, which is near the washroom. The pipes too were unclean.
Unsanitary food establishments of Sri Lanka serving up decaying, putrid and adulterated food and beverage are putting putting public health at risk, while health inspectors say they do not have the powers under the Food Act of 1986 to immediately shut them down.
Unsanitary food establishments, many unregistered, are widespread. But a recent inspection the Sunday Times witnessed, also showed the limitations that public health officials face in ensuring compliance with regulations and the inadequacies of existing laws.
During an inspection by a team of six Public Health Inspectors accompanied by Dr Sasanka P Ranasinghe, medical officer of health for Colombo north, what was found was nauseating.
Another eatery at Wasala Road in Bloemendhal was also a breeding ground for bacteria. Food was prepared in an unclean kitchen, which was behind a small passage from the eatery.
The PHI found chunks of beef on a tray on the floor. The meat attracted swarms of flies. When the PHI asked that it be removed from the tray, the cook placed the tray on a chicken curry that had just been cooked and it got contaminated with dust from the floor on the base of the tray.
The salt pot was kept in a location where the roof was leaking.
There were two baskets that had not been cleaned in months. One had rotten carrot, a portion of leeks, and peeled onion skins — ingredients for the next meal.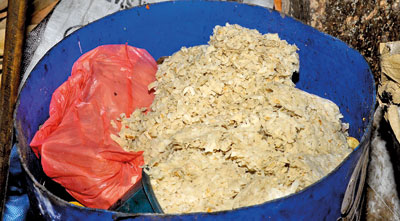 The coconut scraper had not been not cleaned in months and had a brownish, oily substance on its blade. Below was a bucket with some freshly scraped coconut.
The PHIs found rotten, frozen dhal and meat in the same freezer.
Even the dates to be used for buns as well as a wattalappan in the fridge were beyond redemption.
These were just two restaurants that served food unsuitable for human consumption.
"These eatery owners had violated most of the rules and regulations in the Food Act. They were not registered with the municipality," he said.
He explained that there are raids every week and owners are advised to clean up and register their premises. They are told they may face prosecution.
He said a closure order can be sought from a court of law against premises that do not comply.
The worst practice is the use of tube wells. Using such water sources are prohibited as ground water in Colombo's suburbs are contaminated with faecal matter. Those who use tube well water are also at risk of being infected with hepatitis A, typhoid fever, and diarrhoea.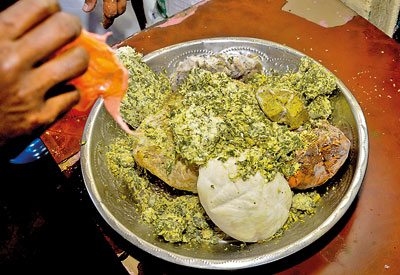 To improve the quality of eateries within the Colombo Municipality, the chief medical officer of health has organised educational programmes.
Meanwhile, the Sunday Times learned that eateries cannot be closed down immediately as the PHIs do not have legal powers under the Food Act.
The Public Health Inspectors Union said amendments to the Food Act should be speeded up to empower PHIs and food inspectors.
Union president, M.G Upul Rohana said PHIs do not have power to immediately shut down premises that sell food unfit for human consumption. Officers can get a closure order through a court, but that can take years.
"The eatery owners rectify the faults, change ownership, or get political support and evade court action," he said.
He said that in most cases the offenders are released after a fine of between Rs 2,000 and Rs 5,000.
"According to the act, the highest fine that can be imposed on an eatery owner is Rs 10,000, which is less than a day's revenue."
He said there needs to be a law to make the owner of the building, or restaurant, accountable.
Mr Rohana said a licensing system is needed for eatery owners and cooks.
Meanwhile, the Colombo Municipal Council's chief medical officer, Dr Ruwan Wijeyamuni, said that the public health department of the Colombo Municipal Council continues to check premises and action would be taken against offenders.
He also said that he had suggested an amendment to the Food Act that if an eatery or a canteen sells unhygienic food, a team including the chief medical officer, area medical officer of health, area food inspector as well as PHI be given powers to close the premises for three weeks with the approval of the municipal commissioner.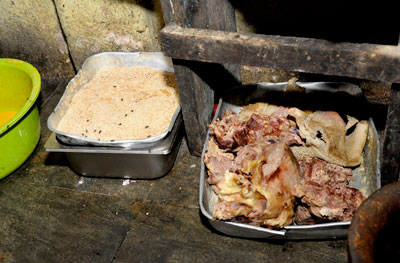 The eatery or canteen can only reopen if the team is satisfied that it meets hygienic conditions.
He added The Colombo municipality had inspected 220 cases within one and half months. Of them, 48 cases were prosecuted. The fines collected from the offenders from January last year total Rs. 200,000.
Heath Services Director General Dr Anil Jasinghe, said that discussions are being held at the Health Ministry to amend the Food Act No 26 of 1980.
There is a proposal on allowing a Public Health Inspector to bring the area medical health officer to an offending eatery and destroying food unfit to consumption in the vicinity of the restaurant, he said.