23rd Eliyakanda Hill Climb today in Matara
Text and Pics by P.D. de Silva
View(s):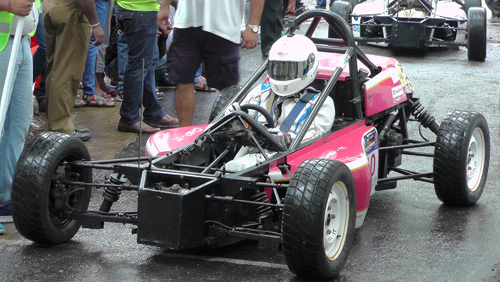 The 23rd Eliyakanda Hill Climb organised and conducted by the Southern Motor Sports Club (SMSC) will take place today at Browns Hill, Matara. This is the 1st event of the SLAS National Championship for 2019.
The 540-metre Eliyakanda track is famous for its unique competitiveness and comprises some difficult corners including single tree corner, residency corner, southern corner and tower corner which are a challenge to both man and machine. Dilan Senevirathne has been the fastest to cover the course on four wheels clocking 32.422 sec., while Dushan Mudalige who clocked 35.07 sec. is the fastest on two wheels.
The main sponsor for this year's event is Sri Lanka Telecom (SLT) while Mobil Lubricants, MBSL, CEAT, Wurth and Harischandra Mills are the co-sponsors. SLT's sponsorship check was handed over to SMSC officials by Corporate Branding General Manager Rohana Ellawala, at a media briefing held in Matara last week. As of Tuesday, 115 Drivers and 87 Riders had submitted entries for the undermentioned motorcycle events and motorcar events.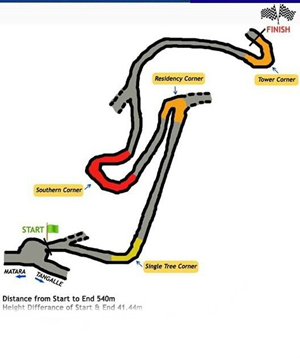 Events Lined up for the Day
MOTORCYCLES
GROUP O – TARMAC CIRCUIT / HILL CLIMB
1. Standard Motorcycles – Over 100cc up to 125cc – 4T (Mono Cylinder Air Cool) Open for Novices
2. Standard Motorcycles – Over 125cc to 160cc 4T
3. Street Trail Motorcycles – Over 125cc 4T and 250cc 4T
GROUP M – TARMAC CIRCUIT / MOTOCROSS / HILL CLIMB
4. Standard / Modified Motorcycles – Over 100cc up to 125cc 2T
5. Standard / Modified – Over 175cc Up to 250cc 4T four cylinders
(Tarmac only)
6. Standard/Modified – Over 400cc Up to 600cc 4T
7. Standard/Modified – Super sport Motorcycle Over 900 cc Up to 1000cc 4T
GROUP MX – MOTOCROSS / HILL CLIMB
8. Racing Motorcycles – Over 65cc Up to 85cc (2T)
9. Racing Motorcycles – Over 175cc Up to 250cc 4T and Over 100cc Up to 125cc 2T
10. Racing Motorcycles – Over 175cc Up to 250cc 2T and Over 290cc Up to 450cc 4T
GROUP SUPER SM – SUPERMOTO / SUPERMOTARD
11. Motorcycles – Over 100cc Up to 125 cc 2T and Over 175cc Up to 250 cc 4T
12. Motorcycles OPEN – Over 125cc Up to 500cc 2T and Over 250cc Up to 750cc 4T (Mono or Twin cylinder)
MOTORCARS
1. Group N Production Cars
1.1. Ford Laser / Mazda 323 up to 1500cc – BD, BE, BF Hatchbacks and Sedans
2 Group F (FORMULA CARS)
2.1. Formula McLarens 1300cc CARB
2.2. Formula McLarens 1300cc EFI
2.3. Formula Cars up to 1600cc (Ford Formula)
2.4. Formula Cars Modified (Up to 1665cc)
3. Group TandJ (Trucks, Jeeps, Double Cabs, Single Cabs, SUV's. (Estates and station wagons are excluded)
3.1. Diesel up to 5500cc
3.2. Open for Diesel and Petrol Vehicles (SUV's Allowed)
4. Group A (Modified Cars)
4.1. up to 1050cc
4.2. Mini 7 – (One Make) – no upgrading allowed
5. Group H
5.1. SL H Cars up to 1618cc (One make – Honda 3 door Hatch back Cars only)
5.2. Subaru Legacy cars up to 2000cc
6. Group GT (Grand Touring Cars) (Engine interchange allowed as per SL-H regulations)
6.1. Up to 3500cc
7. Group E (Group E)
7.1. Cars up to 1000cc – one make Nissan March (Entry Level)
7.2. Ford Laser/ Mazda 323 up to 1300cc – BD, BE, BF Hatch backs and Sedans (Entry Level)
7.3. Mini up to 1275cc – One Make (Entry Level)
8. Group S (Group S)
8.1. Cars up to 1500cc