Cinnamon City Weddings: When venues turned into dream weddings
By Ruqyyaha Deane
View(s):
Getting married is that special moment that all couples dream of. The journey to the aisle however can become quite nerve-wracking with issues of venue, decor, attire and so much to sort out. Cinnamon City Weddings, the first grand-scale wedding showcase by Cinnamon in collaboration with over 25 vendors — leading stylists, decorators, wedding planners and florists aimed to make the wedding planning process easier.
Cinnamon City Weddings, was held on February 10 at two Cinnamon city properties Cinnamon Grand and Cinnamon Lakeside. Emphasising the versatility of their hotels, over 19 venues within the properties were arranged in the styles of the different Lankan traditions.
Poruwas, bridal parties, bachelor parties and proposal spots were all set up for guests to get an idea of what the hotels could offer. From mehendi ceremonies, sangeets to engagement parties, Cinnamon had gone all out to provide a glimpse into how breathtaking your 'I do' moment could be.
Over 1600 guests attended and Cinnamon offered anyone who registered for their wedding on the day of the event a 15% discount and a further 50% discount for those who confirmed their wedding date by paying half the cost. The discount would be valid till December 2020.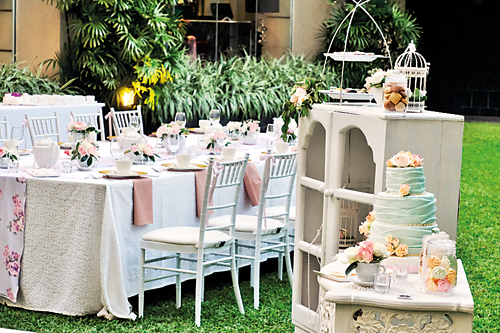 A voucher booklet offering 15% off from all their partners affiliated with the event and coupons worth over Rs. 200,000 were gifted to the couples who registered and over 100 bookings were made at the two properties.
The beautiful decor that was artistically displayed was curated by leading partners that included  Lassana Flora, 2nd Chance flowers, Fab, Wed in style, 90F Wedding, Frances Decor, Red Floral Eventz, Flowery Decor, Heshran, Blooms, Lanka Chandani, Kandian Floral Edge, Arty Weddings, Flowers By Shé, Poru Weddings, Chamathkara Flora, In House, Weddings by Shero, Designer Blooms, Shine by 2nd Chance, Cane Furnishing House and Poru Creation.
Cinnamon had partnered with salons that included Ramani Fernando Salons, Nadine's Salon and Manjula Handapangoda Bridal Salon. The official menswear clothing partner was Hameedia, while official wedding attire partners included GeeBees by Aslam Hussein and Wedding Dreams. Jewellery partners included Zam Gems and designer boutique Trunk.
For more information visit their website http://www.cinnamonhotels.com