New drift in human smuggling takes boats to Reunion Island
By Chris Kamalendran
View(s):
Human smugglers are turning their boats in the southwest direction to take scores of people — lured by the promise of highly paid jobs — on a 4,238 km journey across the rough seas to Reunion Island, a French overseas territory near Madagascar in Africa.
In recent weeks, at least two botched attempts to reach Reunion Island have been reported. Significantly, the new drift in human smuggling comes in the face of Australia successfully taking tough measures to prevent illegal immigrants from reaching its territory. Sri Lanka's Navy also plays a key role in thwarting vessels carrying illegal immigrants to Australia.
Three weeks ago, a multiday fishing trawler carrying 70 people sailed off from Karukupane, a coastal area five kilometres off Bangadeniya in the Puttalam district.
They were to reach Reunion Island, an outermost region of the European Union, and find jobs in the sugarcane plantations where plantation workers of South Indian origin have been employed.
But, their vessel was intercepted by French coastguards on Monday. After interrogating those on board, they detained six of them, but the others were put on a plane and deported to Sri Lanka on Thursday.
Upon their arrival, they were produced before Negombo's Chief Magistrate Rajindra Jayasuriya and most of them were granted bail. A few who had previous criminal records were remanded.
The deportees included residents from Chillaw, Batticaloa, Negombo, Trincomalee and Kurunegala.
According to a relative of one of the deportees, the trip was shrouded in secrecy and even family members did not know that they were leaving the country. "Some of them had left home saying they were going to work or visiting someone," said the relative who came to witness the court hearing.
He said that halfway through the journey, those on the fishing vessel had run short of drinking water. Fortunately, it had rained and they had collected rain water to drink.
The Sunday Times learns that the people who undertook the journey had paid amounts varying from Rs. 100,000 to Rs. 1 million, the cost of the journey. Those who had paid less were to pay the balance to the smugglers once they reached the destination.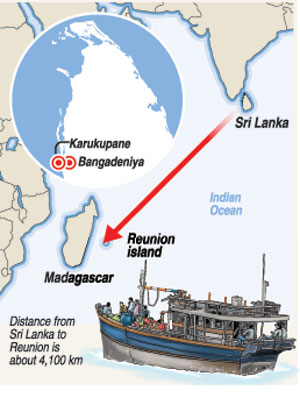 According to what transpired in court, the trawler belonged to a Negombo resident. Two days before the journey began, the owner had complained to the police that he could not trace his trawler and had lost contact with the man who was operating it.
He said that, since his daughter fell sick, he had been renting out his vessel on a profit-sharing basis. It was revealed that the vessel operator had taken his family as well as on board.
Hard on the heels of this incident, a Police Special Task Force team busted another human smuggling attempt this week, when about 20 people had gathered at a Siyambalanduwa house, reportedly to go to tiny 2,500 sq. km Reunion Island. They were to board a vessel in Arugam Bay. Two suspects who were organising the trip were arrested. The main suspect was arrested in Meerigama on Friday.
He had reportedly collected Rs. 500,000 from each person for the trip and had planned to buy a trawler from Chillaw or Negombo and to sail off from Arugam Bay.
The STF found stocks of fuel, medicine and food items that the racketeers were planning to take on the sea voyage.