Blind spots allow drugs to pour into Lanka
By Sandun Jayawardana, Asiri Fernando and Kasun Warakapitiya
Evil trade directed from jails, aided by VIPs captured through campaign funding
View(s):
thousands of unmonitored high-seas vessels are weak points in Sri Lanka's maritime security, buoying a multi-billion-rupee drug smuggling trade despite an increase in interceptions and detections by authorities.
Poor border management and rampant bribery and corruption have proved to be major stumbling blocks in curbing smugglers.
Police estimate that nearly 95 per cent of illicit drugs are smuggled into the country by sea – heroin largely from Pakistan and Afghanistan and "Kerala ganja" from India.
"Heroin is plentiful in Pakistan and Afghanistan and prices are far lower, so drug traffickers in these countries are always eager to earn bigger profits by supplying to countries like Sri Lanka," a senior officer at the Police Narcotics Bureau explained.
It is the island's fishermen who fall prey first to the influence of drug traffickers. Traffickers pay the fishermen handsomely to bring drugs into the country. Large consignments of drugs are transferred from foreign vessels to Sri Lankan deep-sea fishing trawlers in international waters.
The trawler crews proceed to engage in fishing as a cover and, as they enter Sri Lankan waters, transfer the drug consignments to small motor dinghies.
The dinghies offer the advantage of allowing smugglers to offload drugs at any point along the coast.
Once unloaded, the drugs are promptly distributed by road to safe houses. The trawlers, meanwhile, proceed to fisheries harbours with their catch so as not to raise suspicion.
While syndicates use genuine fishermen to smuggle heroin in this manner, the north and northwestern coasts are assailed directly by smugglers pretending to be fishermen.
They bring in large volumes of Kerala ganja and synthetic drugs. Officials have come across consignments of Kerala ganja fixed with GPS trackers to allow traffickers to pinpoint their location.
Sri Lanka has around 3,000-3,500 deep-sea trawlers, commonly known as multi-day fishing boats, according to Shanaka Jayasekera, Programme Coordinator of the Global Maritime Crime Programme of the United Nations Office on Drugs and Crime (UNODC).
Given the number of vessels capable of rendezvousing with drug smuggling vessels on the high seas, he said, Sri Lanka needs to expedite regulations that would make it mandatory for such vessels to have ship location-emitting transponders.
A centre should be established to track these vessels and report suspicious activity to the navy, coast guard and relevant law enforcement authorities, Mr. Jayasekera said.
With such a system in place, the monitoring of Sri Lankan fishing fleets, not only for suspicious activity but also for their safety and national security, would become more effective due to the current situational awareness of all registered vessels.
Navy media spokesman Lieutenant Commander Isuru Sooriyabandara agreed location tracking systems for deep-sea vessels was important to prevent not only drug trafficking but also illegal migration and illegal fishing and said the Fisheries Department was modernising the existing Vessel Monitoring System.
He said the navy and air force conduct joint surveillance patrols and that, closer to the coast, the navy has a network of coastal radar that has been effective in deterring and mitigating the trafficking threat.
The air force has given priority to combating drug smugglers in its acquisition plans and said the re-establishment of the No. 03 Maritime Squadron was a major step in that direction.
"It is our expectation that the Sri Lanka Air Force will play the major role in the surveillance of the maritime domain and routes to prevent smuggling and other illegal activities," air force spokesman Group Captain Gihan Seneviratne said.
The UNODC's Mr. Jayasekera described the route by which the bulk of heroin comes into the country. Traffickers load the drug, grown in Afghanistan, onto dhows (traditional sailing boats) at points along the Markan Coast, a sparsely populated stretch along the Iranian-Pakistan coast.
The dhows carry the drugs to transit countries such as Sri Lanka, the Maldives, Tanzania and Kenya.
The Markan Coast route, which begins in the Arabian Sea and runs into the Indian Ocean, is increasingly popular with traffickers and is known as the "Southern Route" to law enforcement agencies.
Cocaine, Mr. Jayasekera said, is primarily trafficked in via Bandaranaike International Airport. He points out that, while every piece of luggage is checked in the Departure Lounge, only a small portion of baggage arriving at the airport is checked with scanners.
The recent detection of cocaine in Dehiwela, in several items of luggage with concealed compartments indicates that the measures in place at the airport are inadequate to meet the challenge, Mr. Jayasekera noted. Two Bangaladeshi nationals were arrested in that raid.
Customs officers said there was an urgent need for dogs trained in drug detection.
Police Narcotics Bureau sources noted that most people smuggling drugs through the airport are simply "mules" – individuals from poor backgrounds from countries such as India, Pakistan and the Maldives employed to carry drugs.
"Traffickers exploit their poverty-stricken backgrounds to their advantage, promising them good money for smuggling the drugs and handing them over to local contacts," a detective explained.
Within the country, the drug trade flourishes due to bribery and corruption, particularly within the prison system.
President Maithripala Sirisena recently alleged in parliament that Welikada Prison, where many convicted drug traffickers are held, was the centre of the narcotics trade in the country, and he threatened to use the death penalty on smugglers found to be directing drug trafficking from behind bars.
The president has good grounds for his claims that corruption within the prison system aids drug traffickers: a three-member fact-finding committee that probed the 2017 ambush of a prison bus at Ethanamadala in Kalutara stated that there was widespread corruption within the country's jails and accused the Prisons Department of doing nothing to root it out.
The Kalutara prison bus ambush resulted in the deaths of five prison inmates and two prison guards. Among the dead was alleged drug trafficker Aruna Udayanga Pathirana alias "Samayang".
Authorities say the ambush had been planned and carried out on the orders of Samarasinghe Arachchige Madush Lakshitha alias "Makandure Madush", the alleged drug trafficker currently held by authorities in Dubai.
The fact-finding committee's report revealed that Samayang had maintained a Facebook account while incarcerated and had even posted photographs of himself posing with prisons officers. He had freely used mobile phones given to him by friends and relatives and had even sometimes used phones belonging to prisons officers.
The committee observed that the ambush could not have been so successful without information having been passed on to the attackers from within the prison.
While plans to install CCTV cameras and jamming devices within prisons in a bid to crack down on such activities have been contemplated for a long time, there has been little progress.
Prisons Department officials acknowledged that there were still no CCTV camera systems at the Welikada and Magazine prisons, while attempts to install jamming devices had failed.
There is a nexus between drug traffickers, corrupt police officers and politicians, retired senior deputy inspector-general H.M.G.B. Kotakadeniya claims.
Drug traffickers establish close connections with politicians by funding their election campaigns, Mr. Kotakadeniya said, alleging that candidates funded this way had even been elected to parliament and provincial councils.
"Corruption persists at every level," Mr. Kotakadeniya lamented, but added that recent large drug busts and high-profile arrests were encouraging signs of change.
"The president's personal involvement in these efforts seems to have had a positive effect," he said.
Service police officers were reluctant to speak on the nexus between politicians and drug traffickers.
"We can't rule out the possibility of politicians being involved, but we can't take action simply based on allegations. We need evidence," a senior police source pointed out, though he agreed that the first point of contact between any politicians and drug traffickers would probably be through campaign financing.
The arrest of Makandure Madush by Dubai authorities while he was hosting a poolside party at a hotel has also shone a spotlight on how well-financed traffickers are.
While their main source of income is through drugs, they also engage in the trafficking of illicit firearms, bank robbery, extortion and even contract killings, a senior narcotics bureau officer said.
"Such criminals transfer their wealth out through money laundering activities. They have been known to use informal banking systems such as 'Undial' and 'Hawala' to do this," the officer revealed. The Undial system is mainly used to transfer funds from Sri Lanka to India while Hawala is used to transfer funds to Middle Eastern countries.
Local drug traffickers are believed to hold funds in countries such as the United Arab Emirates, Pakistan, Thailand and Malaysia.
Some undeclared assets and funds belonging to drug traffickers are held by relatives and friends in Sri Lanka, according to police, who recently launched a probe under the Prevention of Money Laundering Act aimed at confiscating identified assets belonging to 24 alleged drug traffickers. Some of these traffickers are in jail while others have fled overseas.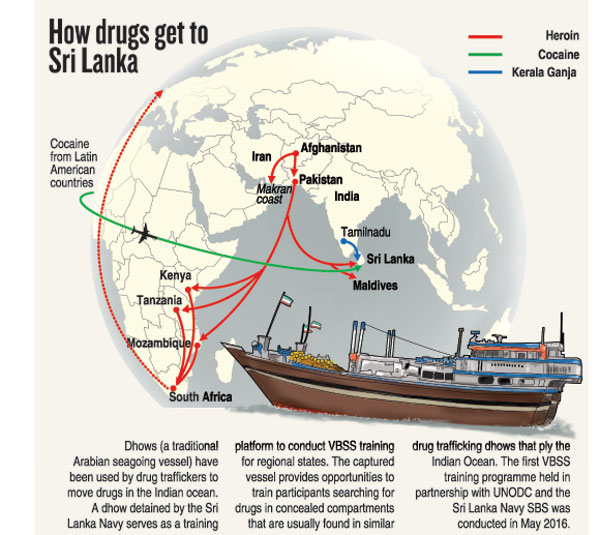 Police spokesman Superintendent Ruwan Gunasekara said the courts have ordered a temporary freeze of assets belonging to two of these alleged traffickers.
Narco-predators targeting youth from Grade 7  

Youth now experiment with so-called "gateway drugs" at a much earlier age – 12-13 years compared to 17 years, recent studies conducted by the National Dangerous Drugs Control Board (NDDCB) show.

A researcher at the NDDCB's Research Division said this did not necessarily mean that those who experimented with drugs at this age (in Grades 7 and 8 in school) went on to become addicts, but it was a concern that children so young were exposed to narcotics.

Most were experimenting with tobacco-based products, egged on by peer pressure.

Arrest records of those taken into custody by police for possession of drugs such as ganja and heroin show that, although most are aged 30 and above, a significant number are between 19-24 years.

While ganja and heroin continue to be the drugs that are being used widely, 2018 also saw a record number of suspects arrested for possession of methamphetamines, commonly known as ice. Officials said this indicates that the market for methamphetamines has grown.

Within the education system, particularly in some leading public, private and international schools in Colombo, students begin to experiment with cannabis because they want to be "with the 'in' crowd", Alcohol & Drug Information Centre (ADIC) Executive Director Pubudu Sumanasekara said.

A 16-year-old student from a leading international school who spoke to the Sunday Times on condition of anonymity claimed that, in order to be granted a position in a sports team, senior students made it mandatory for him to smoke cannabis with the team.

Mr. Sumanasekara cautioned that tackling the drug problem in educational institutions needed to be carried out sensitively to avoid giving unnecessary publicity to the market names of new synthetic drugs.

Users of synthetic or party drugs are a niche group and number no more than a few thousand, he said.

Ostracising children over drug use was not the answer: schools needed to have a well-thought-out policy on how to deal with such students and use qualified councillors and student-teacher groups to counter the narco-image narrative.

"Most students who resort to the use of drugs have some other grievances or problems that they are facing," Mr. Sumanasekara pointed out. "We need to identify those vulnerable youth and offer them a support network before the drug dealers identify them and exploit them."

The Director of the Presidential Task Force for Drug Prevention, Dr. Samantha Kithalawalaarachchi, said there was a trend of drug traffickers trying to spread drugs among schoolchildren. Special committees and counselling services had been set up in schools.

"Principals are appointed as heads of committees and they identify students addicted to drugs," he said. "We rate schools according to the activity levels of the committees and take action against officials who fail to carry out the programme."

The Education Ministry has introduced a suggestion box called "Letter to the Police" in every school where students, parents and teachers can make drug related complaints or tip-offs to police. Even letters sent anonymously are considered, the Director of the ministry's Health and Nutrition Division, Renuka Pieris, said.

"We have identified children in Grades 7 to 8 as potential risk groups for drug addiction," she said.

---

Negombo police warn children of threat
Negombo police, last week, held a seminar in Kochchikade to help school students understand the nature of the drug threat. Chief Inspector Chandra Padmalal of the Kochchikade Police Station warned that drug dealers were to be found among three-wheeler drivers, traders and people involved in "wellness" spas. He conceded that the police could do better in cracking down on illegal drugs.
K.L. Richard Walter Perera

---

From terror to drug rehab – the bureau's work

After the Bureau of the Commissioner-General of Rehabilitation ended its task of rehabilitating former LTTE cadres in 2013, it was handed the task of rehabilitating drug addicts.

Some 1,300 recovering addicts are housed at the bureau's Kandakadu Treatment and Rehabilitation Centre in Somavathiya, while a further 700 are being given vocational training in Navasenapura, Welikanda and will receive an NVQ Level 3 professional qualification on completion of their courses.

The bureau is rehabilitating the largest number of drug addicts in the country, said Major-General Janaka Ratnayake, Commissioner-General of Rehabilitation.

"In 2015, courts were sending 35-40 people a month for rehabilitation. Today, they are sending 200-250 people a month to us. Our main challenges are lack of adequate space and resources," Maj-Gen. Ratnayake said.

He said the bureau could not recruit staff to rehabilitate drug addicts. "That would duplicate the work being done by the National Dangerous Drugs Control Board, so we can't do that, so we are essentially stuck in one place without an ability to recruit staff," Maj-Gen. Ratnayake said, adding that its centres are run by armed forces personnel.

Nevertheless, he said, the bureau plans to rehabilitate 3,000 drug addicts this year at the Kandakadu centre.

Post-rehabilitation support is essential to ensure that those who are rehabilitated do not relapse into addiction, he said. The bureau has Post-Rehabilitation Assistance Branches in eight districts: Colombo, Gampaha, Kalutara, Puttalam, Hambantota, Anuradhapura, Polonnaruwa and Kurunegala.