Childhood cancer: Sooner the treatment, sooner the cure
By Kumudini Hettiarachchi
View(s):
Chemo and radiotherapy treatment specifically tailor-made for children, assures Consultant Paediatric & Adolescent Oncologist, Dr. Sanjeeva Gunasekera
Says families with cancer-affected children need empathy not 'aney -paw'
Childhood cancers are "highly curable".
This is the strong and clear message that Consultant Paediatric & Adolescent Oncologist, Dr. Sanjeeva Gunasekera, is shouting from the rooftops as International Children's Cancer Day was marked on Friday (February 15).
So give heed and adhere to treatment regimens laid down by the doctors, stresses Dr. Gunasekera who is attached to the Apeksha Hospital, Maharagama, reiterating that some parents are fearful of chemo and radiation (radio) therapy.
He dispels such fears with the assurance that both chemo and radiotherapy treatment protocols have been specifically tailor-made for children and that they are not administered the same therapy given to adults.
While chemotherapy is the oral or intravenous administration of a medication to kill off cancer cells and shrink tumours, radiotherapy is the use of high doses of radiation to do a similar job, MediScene understands.
"Don't be scared. Such treatment protocols are not just to cure children with cancer for a short time but for a very long time without any disability. These protocols, with minimal long-term side-effects are for specific cancers," he says, explaining that the harm caused by the cancer "far outweighs" these side-effects.
Many patients from all over the country are treated at the Apeksha Hospital which is the centre of excellence for paediatric and adolescent cancers and we meet mothers with children from Mannar, Anuradhapura, Matara, Puttalam, Kandy, Kalutara and Matugama, all individually remembered by Dr. Gunasekera.
There are four wards with 100 beds, a dedicated operating theatre where bone marrow biopsies are performed under general anaesthesia, an Intensive Care Unit as well as an outpatient department (OPD) clinic for all those below 18 years.
Currently, Dr. Gunasekera and his colleague Dr. Mahendra Somathilaka are looking after the patients in the Paediatric and Adolescent Section of the Apeksha Hospital with Clinical Oncologists Dr. Wasantha Rathnayake and Dr. Thushari Hapuarachchi.
Bringing the child for treatment early to the hospital is very important without going here and there, hoping for quick-fixes, points out Dr. Gunasekera, as the sooner treatment is begun, the sooner the child can be cured. "Early presentation is the key to curing childhood cancer."
According to Dr. Gunasekera when a child is diagnosed with cancer, it has a major impact on the whole family with everyone becoming very emotional. As such, relatives, friends and even society at large should support that family and share the burden. What such a family needs is not sympathy with exclamations of "aney paw" but empathy.
Citing the scenario of the mother of a child-patient having to spend days and sometimes even months at the hospital, he says that others can help out by getting the meals of any brothers and sisters of the child who may remain at home, sorted out. They can support the father who has to go to work, by helping to manage the home affairs.
He is also quick to point out that sometimes parents blame themselves when a child gets cancer but there is nothing that the parents have done which may have caused this illness. Cancers being hereditary are in about 10% and parents should not beat themselves up about it.
"Getting cancer is a random chance and there is nothing parents could have done to prevent it. The important thing is to seek treatment as soon as the cancer is diagnosed and follow the treatment protocols to the letter," he says.
Referring to hereditary cancers, Dr. Gunasekera says that if a parent, either the father or the mother, has had retinoblastoma, the child should be screened very early. Consanguineous marriages (marriages between relatives) should also be avoided as much as possible.
Meanwhile, he lauds the numerous charities which are helping the Apeksha Hospital.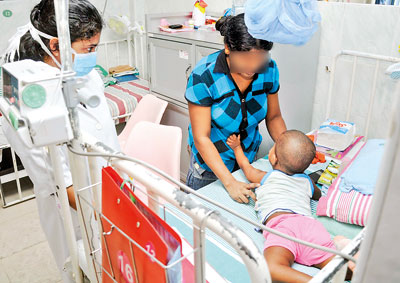 Leukaemia the most common in childhood

Leukaemia or blood cancer comprises about 50-60% of all childhood cancers, with the balance 50-40% being solid malignant tumours, says Dr. Sanjeeva Gunasekera, adding that it is a prevalence pattern seen worldwide.

Leukaemia starts in blood-forming tissue, usually the bone marrow, and results in the over-production of abnormal white blood cells. White blood cells are the part of the immune system which fight any intruders like germs and defend our bodies against infection, he explains. Tumours, meanwhile, are swellings (abnormal growths) without any inflammation which can occur in any part of our bodies, MediScene learns. Brain tumours are commonly linked to age and children are vulnerable.

The usual symptoms of cancer are:

Weakness, tiredness, shortness of breath, noticeable pallor of the skin (paleness of the skin) and enlargement of lymph nodes (glands).

Frequent infections which last longer than usual and are more severe than usual.

Fever and feeling ill.

Small bruises on the skin, heavy periods, nosebleeds or bleeding gums.

Unusual bleeding and bruising.

Headaches and early-morning vomiting are the sinister features of brain tumours.

However, as some of these symptoms could also be due to other illnesses, Dr. Gunasekera advises parents to take their child to a doctor without delay so that the root cause could be investigated.

Of leukaemia or blood cancers:

70% are Acute Lymphoblastic Leukaemia (ALL) which begins from young blood cells – lymphocytes – in the bone marrow.

30% are Acute Myeloid Leukaemia (AML) which affects both the blood and the bone marrow.

Dr. Gunasekera explains that for adults who may be suffering from cancer, environmental factors may have played a major part, but it is not so in children as they have had minimal exposure to the environment due to their age.

With regard to solid tumours, he says that in children, brain turmours head the list. Any other organ can also be affected by tumours. With the exception of some cases such as brain-stem gliomas and Stage IV neuroblastomas, a vast majority of childhood cancers are curable.