SLPP tension builds up over presidential candidate
By Our Political Editor
View(s):
Influential sections want Gotabaya named, but Basil avoids crucial meeting while Mahinda ponders on how he could tell Sirisena of the decision
Ranil fails in bid to form broader alliance, takes his Ministers on four-day tour of the North
Tensions are growing rapidly within the Sri Lanka Podujana Peramuna (SLPP)-led 'Joint Opposition', now set to form a common alliance, over delays in declaring its candidate for this year's presidential election.
A formidable section, staunchly backing former Defence Secretary Gotabaya Rajapaksa, now the front-runner, is locked in a battle with the leadership. They say the delay is preventing them from making preparations and formulating a strategy for his victory. Though President Maithripala Sirisena is in a position to legally declare a presidential election at any time now, he has publicly declared that Provincial Council elections would come first. Yet, such polls would have to be before the end of this year, before a possible deadline of July. Thereafter, the Election Commission will begin preparations for a presidential poll.
In a strange twist, they are blaming SLPP architect Basil Rajapaksa, who wields considerable power, over what they call "the protracted delay." Adding to their chagrin is a bizarre accusation by this section that he had a meeting, weeks earlier, with Prime Minister Ranil Wickremesinghe at the residence of one of his brothers to discuss the current political situation.  Basil Rajapaksa vehemently denied the accusation and told the Sunday Times, "It is absolutely false.
There was no such meeting." He said on Friday that he could not elaborate on the matter further since he was entertaining his lawyers to lunch after a Gampaha Court case in which he is the first accused. His senior counsel left for Bangalore on Friday afternoon. A witness told the High Court on Friday that Basil Rajapaksa had given him Rs 100 million to construct a house with a swimming pool in 16 acres of land in Malwana.
Further hearings have been put off for June 9.  Just two days before this case, (on Wednesday) Basil Rajapaksa appeared at the Magistrate's Court in Matara in a case where he is charged with purchasing a Browns Hill property valued at Rs 50 million allegedly using illegally acquired money. The case has been adjourned for February 19 after Court issued notice on his sister-in-law, Punya Kanthi, who is described as a co-owner of the property. In separate remarks to the Sunday Times Wickremesinghe too denied he met Basil Rajapaksa.
Probes on corruption cases
Though not of direct relevance, this week both Premier Wickremesinghe and Justice Minister Thalatha Athukorale met the Attorney General Jayantha Jayasuriya and senior department officials for a discussion. Among matters discussed was the status of some of the high-profile cases and the progress being made. One official was to point out that at least two cases were weak in view of there being insufficient evidence. The prospect of forwarding some of the completed investigations to the special courts was also examined. For this purpose, the Attorney General is required to recommend them to the Chief Justice, who, in turn, determines which cases should be heard by the special courts.
This meeting also had an interesting paradox in the wake of the strained relationship between President Sirisena and Premier Wickremesinghe. The President has set in motion a string of investigations, particularly with regard to alleged bribery and corruption by two former senior UNP ministers. Mounting evidence is being gathered by investigators, though the findings have not yet reached the Attorney General's Department. Thus, it is a case of one-party conducting probes as a prelude to prosecution and another becoming privy to them before indictments seems intriguing.
The accusation over the Basil-Ranil meeting, true or false, from those within his own side, no doubt, is a slur on the former. This is at a time when he is riding the political high wave and is most sought after for the new power cum influence, he wields. His political acumen is widely acknowledged. More so, when his brother and de facto SLPP leader Mahinda Rajapaksa also considers him the topmost among strategists and ideologue of the party, a fact widely respected in opposition circles and resented on the government side.
To add to that reality is another minus factor — President Sirisena is once again livid with him. He believes it is Basil Rajapaksa who stymied his efforts to become the joint SLFP-SLPP candidate. The weeks and months before he sacked Premier Wickremesinghe and foisted Mahinda Rajapaksa in his place, the 'Basil factor' was at play. At first, Basil resisted moves by Sirisena, even through leading Buddhist prelates, for a one-on-one meeting, a precursor for the two sides to get together. These were repeatedly revealed in these columns.
Sirisena kept the pressure on and did not give up. Basil who was in Los Angeles, his home away from home, returned earlier than expected. He joined brother Mahinda as the only partner in three different rounds of talks with President Sirisena and three other SLFP parliamentarians. Prominent among them was former minister S.B. Dissanayake, the interlocutor who repeatedly denied that the meetings had taken place. The outcome is now political history — an unconstitutional government for 52 days. They planned for parliamentary elections. That, too, was declared unconstitutional by the Supreme Court. Ranil Wickremesinghe became Prime Minister again. Basil had a personal protection group. That ended and Basil, who sometimes works for nine to ten hours from his Battaramulla office, went back to further build the SLPP.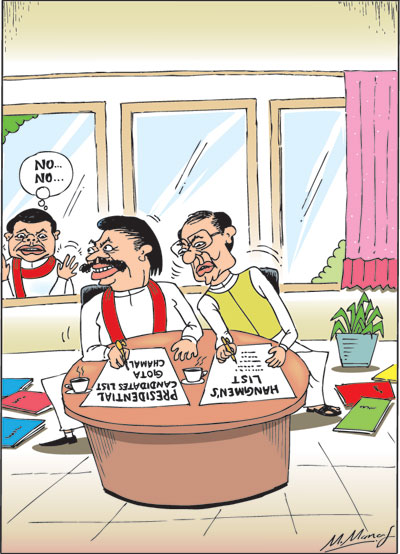 This widely touted Basil-Ranil meeting, is not a stand-alone issue. Displeasure over his role has been building up over a period of time. Not surprisingly, a source close to Mahinda Rajapaksa, said when he was a powerful minister, he had the habit of offending MPs by bluntly refusing to meet them or hurling what was described as insults. Some complained this was despite prior appointments. In the run-up to presidential election in January 2015, this became a cause for concern for the then President Rajapaksa, said the source.
His antagonists say there is a similar parallel now and the purported meeting between Basil and Ranil was not only the last straw that broke the camel's back. There was a more important one, just days before Mahinda Rajapaksa went to India to take part in a conference organised by the Chennai-based The Hindu newspaper. It was held in Bangalore and the Sri Lanka's Opposition Leader received wide publicity. His remarks soothed the Indian establishment. The invitation, originally, was for Premier Wickremesinghe but he had regretted his inability to attend.
Dinner at GL's house
A dinner had been arranged at the Bernard Soysa Mawatha (formerly Kirulla Road at Narahenpita) residence of Prof. G.L. Peiris, the nominal leader of the SLPP. It was to be preceded by a meeting of the SLPP and leaders of parties that constitute the 'Joint Opposition'. Prof. Peiris had been asked by other participants to ensure that Basil Rajapaksa would be present and to fix a time. It was at this meeting that a decision was to be made on the proposed alliance's candidate for this year's presidential election. Thereafter an official announcement was to be made.  It was first fixed for 6 p.m. Later, a source said, Basil had agreed that it should be pushed back to 8 p.m. and it was agreed. Mahinda Rajapaksa had arrived at 8.15 p.m. At 9 p.m. Basil had telephoned Prof. Peiris and conveyed that he was late and would turn up at 9.30 p.m. However, he did not turn up at all, angering most of the participants. Thus, there was no formal decision on the candidate when Rajapaksa left for India.
Basil Rajapaksa later explained that his absence was because he was too busy, firstly talking to SLPP district representatives. He has also said that he spent long times at legal consultations for cases he faced both in the Gampaha High Court and the Matara Magistrate's Court. Yet, his antagonists claim that the time required for a discussion was at the most an hour and this concerned the future of all those in the opposition. Hence, they claimed that more transparency was needed and they should be trusted without being kept guessing. One staunch backer, who did not wish to be identified, declared, "otherwise, things that happened during the previous Rajapaksa administration will continue to recur. This will only strengthen a weakened government.
Needless to say, this has become a dilemma for Mahinda Rajapaksa. On the one hand, he was set to meet Sirisena tomorrow at a meeting of party leaders of the United People's Freedom Alliance (UPFA). However, Sirisena informed the SLPP yesterday that the meeting has now been put off for February 22. This is essentially to discuss both Sirisena and the SLFP joining the proposed common alliance. The drafting of the constitution for the proposed alliance, done by a Technical Committee headed by Dullas Allahapperuma, is not complete yet. It is likely that he would submit a report through the SLPP's de facto leader Mahinda Rajapaksa on the broader outlines. It is only after this constitution is in place that that the proposed alliance could receive a request from the SLFP for membership. However, the prospects of the two sides engaging in talks for each other's shareholding of power and future electoral arrangements are not in doubt. This, of course, does not mean that there are any prospects for Maithripala Sirisena to be the joint candidate. Basil Rajapaksa has also put paid to this with public remarks that the candidate would be from his party. However, the party's de facto leader Mahinda Rajapaksa, who holds the key, has refrained from making such remarks.
Last week, the report that MEP leader Dinesh Gunawardena was also present at the meeting in a businessman's house in Borella is not correct. He did not take part in this meeting but attended the UPFA leaders meeting together with National Freedom Front (NFF) leader Wimal Weerawansa. That meeting was presided over by President Sirisena. The businessman in question has also claimed that he is representing his own political party and was not present in his individual capacity.
On the other hand, there are also concerns for Mahinda Rajapaksa over the proposed alliance taking a hard-line posture. This is in the wake of some partner leaders, now in the 'Joint Opposition', making public speeches that may cause communal disharmony. If they are not reigned in, he fears, the proposed alliance would assume the character of an extreme nationalist grouping thus isolating the minority communities. Perhaps, conscious of examples during his earlier regime, Rajapaksa does not want to earn the same brand name both locally and internationally. Even if Basil Rajapaksa has succeeded in enhancing SLPP membership, and ensured a resounding victory at the local polls in February last year, he is yet to focus on both the Muslim and Tamil votes. Particularly in the north, the SLPP footprint is non-existent and there are no prominent leaders in their membership.
Ranil's visit to the North
It is noteworthy that Prime Minister Wickremesinghe has begun to focus more attention on the Tamil community. He spent four days in the peninsula and suburbs embarking on development projects. The focus was on projects related to resettlement, housing and the development of the Palaly Airport. There, he has the assistance of the Tamil National Alliance (TNA) parliamentarians and has made an impact on the Tamil community. That he has their backing was demonstrated once again. However, there are many other issues that plague him.
At the highest levels of the party, there is disenchantment that they are not being consulted on many issues including the appointment of party's would-be candidates. Some are also accusing Wickremesinghe of only taking along his favourite ministers to the north in Air Force helicopters.  The ministers who accompanied him included Akila Viraj Kariyawasam, Sagala Ratnayake, Rishad Bathiudeen and Rajitha Senarathen. Mangala Samaraweera was there for a day.  Yet, that remains an internal party issue and he is reaping the dividends and that would be to his advantage should he be the UNF presidential candidate. It is almost likely he would be. It is also almost certain that Gotabaya Rajapaksa will eventually be named the proposed common alliance candidate. However, the delays are haunting their supporters.
The first sign Gotabaya has now embarked on his own preparations came when an office of Viyath Maga, a body of professionals under him, was opened by Mahinda Rajapaksa at Kirullapone on Wednesday. If the others partook in the breakfast after the auspicious hour that morning, Basil, who arrived somewhat late, opted for a cup of coffee. This professional body is now making its own preparations for the presidential poll. Yet, behind the scenes, Gotabaya has told confidants he would be happier if a formal decision of his candidature is announced. The matter clearly rests in the hands of his brother, Mahinda.
An unenviable task for Mahinda Rajapaksa is to formally break the news to Sirisena that his party's proposed common alliance would field its own candidate. Herein lies an interesting aspect. This week, at public events, Sirisena declared that he would ensure Provincial Council elections were held first and that the presidential elections would follow. How could he do that without the support of the UNF government? Whether this would end up as another of Sirisena's unfulfilled pledges remains the question.
The likely scenario, it appears, is for President Sirisena to take over the provincial councils' portfolio from the current UNF Minister, Vajira Abeywardena. The question is whether he could get involved in another major controversy that could force the UNP to go to courts again. First to the remarks made to the Sunday Times by a prominent minister of the UNF. For reasons unknown, he said that the UNF ministers had approved a cabinet memorandum forwarded by President Sirisena that Provincial Council elections should be held before May 31. Though it was not attributed to him directly, he made the assertion in these columns and claimed anonymity. It has turned out to be totally misleading and false. There was no such decision. It is not clear whom he was trying to place in bad light, the President, the Prime Minister or the UNF? That ministers "plant" their own accounts to meet their secret agendas is not new, but has now become a common feature be it for politics or self-promotion.
PC election conundrum
It has come to light that UNF ministers (including the one who made the wrong assertion) did not vote for President Sirisena's memorandum. Minister Vajira Abeywardena had wanted a week's time. This was why when President Sirisena raised issue after a week, he asked for more time. He declared he would give a further week. And last Tuesday, when the issue was raised, Premier Wickremesinghe deftly handled the issue by saying that it was a matter for the Speaker and Parliament. Will that reply satisfy President Sirisena or does he have any other option?  Whilst his next move is being awaited, the UNP still remains reluctant to go for PC polls and is focusing entirely on this year's presidential election. One of the key requirements – the presentation of the Delimitation Commission Review Committee headed by Premier Wickremesinghe – is not ready.
The National Election Commission Chairman Mahinda Deshapriya told the Sunday Times, "We cannot do anything more regarding the decision to hold provincial council elections. We had made the best possible intervention in the past to call for the conduct of the PC elections as scheduled. It is now left in the hands of the Cabinet of Ministers and the Parliament to decide when the elections can be held.  We still have hope that the Cabinet of Ministers and Parliament will make their decision soon and enable the conduct of the elections. We expect that the President and the Prime Minister will also pay attention.
We need to complete the Provincial Council election process, if the Presidential election is to be held later this year. If the Presidential election is to be held later this year the process should begin around September. This would mean the PC election process should be completed about one month before we start the presidential election process."
The 'Joint Opposition's Parliamentary Leader, Dinesh Gunawardena, told the Sunday Times, "The PC elections cannot be held until amending legislation is brought in Parliament. It is not possible under the existing new law since the delimitation procedures have not been completed. The Prime Ministerial Review Committee has not submitted its report. If one were to hold the elections under the previous (proportional representation) system, amendments to the law are needed." He said the amendment process could take anything over a month. A Bill has to be presented in Parliament. Thereafter, it could be contested by someone at the Supreme Court for its constitutionality. He pointed out that all this would be time consuming.
Gunawardena's Mahajana Eksath Peramuna (MEP), which he leads, will have its annual sessions at the New Town Hall today. Expected to attend are President Sirisena, Opposition Leader Mahinda Rajapaksa and leaders of partner parties of the 'Joint Opposition'.
UNP's dilemma
As pointed out earlier, the move by President Sirisena for the conduct of PC elections before a presidential poll is intended to deal a strong blow to the United National Party (UNP), particularly its leader Wickremesinghe. Sirisena would expect a defeat for the UNP, which is a near certainty, would debilitate the grand old party and thus trigger a serious leadership crisis. This is ahead of the presidential election and will raise controversy over who the party's candidate for the presidential election would be.
Some UNPers feel that Wickremesinghe should, with the announced backing of the 'Joint Opposition', go for parliamentary elections first. They say he could do so whilst he is Premier of a caretaker government. Mahinda Rajapaksa has declared that he would support a resolution by any party in Parliament, calling for parliamentary polls. Here again, Wickremesinghe appears reluctant, for fear of losing both the leadership and the presidential candidacy. His priority now appears to be gearing the UNF machinery, after he failed to form a National Democratic Front (NDF), for the presidential poll. He is strongly staking his claims to be the candidate at this year's presidential election. He has not met with any new serious opposition so far. His deputy, Sajith Premadasa, touted once as a likely contender, has faded away from the scene. The only leader heaping praise on Premadasa now is President Sirisena which is less than a qualification, almost the kiss of political death.
It seems so ironic that the two Yahapalanaya or good governance partners four years ago, are moving in completely opposite directions. President Sirisena is now investigating his former UNF Cabinet ministers and is insisting on a Provincial Council election first. This has clearly led to an impasse. If he does not succeed in his endeavours, it will be another defeat for him and one up for Premier Wickremesinghe. His Sri Lanka Freedom Party (SLFP) is also in crisis with increasing doubts over how many of his MPs will support the endeavour to join the proposed common alliance. That, too, after losing all the prospects of becoming a common candidate with the SLPP.
In turn, Wickremesinghe has launched his presidential election campaign with the four-day tour of the north. Even if his efforts at forming a National Democratic Front (NDF) had to be abandoned thus denying him strength to claim he is leader of a broad front, he has so far chartered a less obstructive course to become the UNF's presidential candidate. Yet, there is more in this journey for him. Even if it received less play in the Colombo media, Wickremesinghe's remarks in the north that he would follow the previous All-Party deliberations in working out a devolution package, it was still significant. It was only weeks earlier that TNA parliamentarian M.A. Sumanthiran and the UNF's "advisor on constitutional reform," MP Jayampathy Wickremeratne brought out a draft constitution which they titled "a report." That it had the tyre tracks of the TNA all over was evident from the different provisions. Now, Wickremesinghe has laid that to rest.
For the SLPP which leads the 'Joint Opposition', the tensions within could well exacerbate. That can turn out to be the biggest challenge for Mahinda Rajapaksa, the de facto leader. He has so far kept his supporters with different hues together and guided them. He cannot afford blunders ahead of an election that would put his rank and file in disarray. This would naturally be a challenge for Basil Rajapaksa, too. He has to ensure there is humility and thus transparency among partners in the opposition side. Otherwise, the SLPP will break before it makes an impact at a forthcoming major election.
In essence, all major political parties are now focused on elections and all other issues including economic development have become subjects of less priority.