Basil's edict turns screws on Sirisena hopes
View(s):

Politicians by nature are open-mouthed people. That is not necessarily bad, if what emanates from that space surrounded by teeth is sensible and it is helpful to the people who helped elect them in the first place.

But often it is unadulterated crap. Listen to the screaming contributions of Wimal Weerawansa from public platforms and the almost daily sermons of Udaya Gammanpila, the leader of some nondescript political party, preached at media gatherings that would only add to the accumulated garbage that provided a mountainous scene to passersby at Meethotamulla.
As though the garrulity of these two is not enough to make Sri Lanka's politics the No 1 smell in the civic nostril, up comes a veteran of political loquaciousness S.B. Dissanayake, who considers himself a darling of the electorate, which rejected him at the last parliamentary elections.
It used to be said that one cannot keep a good man down. Unfortunately, it is not only good men that reappear. Dissanayake so decisively dismissed by the people surfaces in Parliament like a cork stopper in a bucket of water, thanks to a device called the national list and Maithripala Sirisena's desire to project himself as a great leader and a man of numbers by adding political has-beens seeking asylum and providing ballast to a boatload of discards.
I thought that S.B. Dissanayake had crept back into his lair after that disastrous exercise in simple arithmetic that led President Sirisena to puff up his chest and repeat after Dissanayake that his curious appointee as prime minister late last October would produce the necessary parliamentary numbers to justify his position, turned out to be a double bluff which only served to embarrass Mahinda Rajapaksa.
Fortunately, Mahinda Rajapaksa resigned from that dubious position as the new prime minister which he tenuously held. Thereby he saved himself a lot more embarrassment and political flak brought on by the machinations of power hungry politicians no longer trusted by the Sri Lankan people who had misplaced their faith in hoping for a new order that was so erroneously floated as yahapalana governance.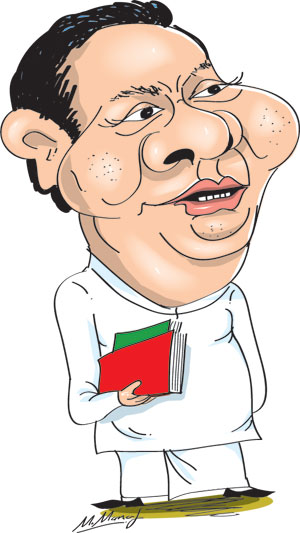 When I thought a harassed and harried Sri Lankan people would now be able to take a deep breath and continue with their daily chores without calling daily on the deities to eliminate certain types of politicians who refuse to accept the peoples' verdict after being discarded by them, what does one read about in the media and see on TV but the pleasing visage of SBD with even more prognostications that would belittle Nostrodamus and shock Mahinda Rajapaksa's own astrologer of yesteryear.
There are some politicians who have crossed from one party to another, then double-crossed and even treble-crossed them, leaving themselves and the people of Sri Lanka in a state of permanent confusion.
Some wake up in the morning not knowing which party they owe allegiance to as though it makes an iota of a difference. So what was SBD doing on this fine day for predictions? Why he was in the residence of former Deputy Speaker Thilanga Sumathipala who seems to have given up the idea of becoming president of Sri Lanka Cricket, if not Sri Lanka itself.
If Sumathipala is a betting man, which he is not–now at least–one wonders what wager he would have made on SBD's rejection of Basil Rajapaksa's claim the other day that any candidate contesting the presidency would have to be a member of the pohottuwa party (SLPP) if he wants the support of the SLPP.
Here is what Basil Rajapaksa reportedly said a week ago according to one daily newspaper.
"Sri Lanka Podujana Peramuna (SLPP) national organiser Basil Rajapaksa yesterday said the Party members will not support anyone outside the party as a presidential candidate under any circumstance, and the candidate would have to contest under the Party's flower bud symbol.  Rajapaksa expressed these views during a meeting held at party headquarters between Gampaha District Local Government members of SLPP.  The SLPP commenced a series of meetings between Local Government members of the party from 5 February. The meetings were held based on the Districts.
"During Monday's meeting, Local Government members raised their concerns over the presidential candidate and the statements of certain Sri Lanka Freedom Party (SLFP) MPs over the possibility of naming President Maithripala Sirisena as the presidential candidate.
"SLPP Local Government members said they would not support a non-member as presidential candidate under any circumstances. The Local Government members also pointed out that contradictory statements of the Opposition MPs had created doubt in the minds of the voters, which could be used by other political parties for their advantage.
"During the meeting, Rajapaksa said priority would be given to the party and the party would not take any decision without the consent of the members."
One must, of course, concede that anything is possible in the politics of the country. The most impossible things have happened and equally impossible things are likely to happen as the time for presidential nominations draws closer.
So if some place bets on SBD's prediction/expectation/hope on having an outside chance it would come as no surprise to a betting man which I am not.
Said Mr Dissanayake, the failed seer of political predictions, after the meeting at the Sumathipala household: "The United People's Freedom Alliance (UPFA) still has not ruled out the possibility of a common candidate for the Presidential Election, despite Sri Lanka Podujana Peramuna (SLPP) National Organiser Basil Rajapaksa's earlier statement that the party will not support anyone outside the party as a presidential candidate under any circumstances.
"The final decision on the common candidate will be taken after a lengthy discussion between President Maithripala Sirisena and Opposition Leader Mahinda Rajapaksa. I can assure that there will not be any disagreement over the common presidential candidate and no decision will be taken without both their participation," UPFA MP S.B. Dissanayake told reporters at MP Thilanga Sumathipala's residence.
He noted that the UPFA would not change its stance, even though SLPP members had on several occasions said they would prefer to field their own candidate, and not someone from a different party. Defending Basil Rajapaksa's statement, Dissanayake said Rajapaksa's statement was only targeted at SLPP members in order to strengthen the party.
"It is obvious that Basil Rajapaksa targeted his party members, and it is fair from his point of view as he is the National Organiser of the party," he added. Oh why so gentle with dear Basil. Fearful that the SLPP would strike back?
SBD pointed out that every party has its own preferences for presidential candidate, but at the end of the day, the final call would be made as a group that would involve both the SLFP and the SLPP. He noted all progressive forces would join with them to defeat the United National Party
A couple of things sage SBD has said here need some examination. He says that "all progressive forces" will join them to defeat the UNP. That is fine and that development is to be expected. But if SBD considers himself a "progressive" then may the deity help the progressives to keep a healthy distance from SBD. Those who consider themselves progressives might find the learned Dissanayake a trifle to the right and whatever and hardly a reincarnation of Marx – I mean Groucho.
The problem for those who might even consider admitting Sirisena to the fold is: can he be trusted and if so how far? Surely a person such as Basil Rajapaksa whose spade-work built the SLPP and brought it to a position that makes it a threat to the UNP and Sirisena's political ambitions, would trust him only as far as one can throw an elephant.
Hark back to 2014 when Sirisena stabbed his leader in the back–speaking metaphorically. Since that day Sirisena feasted on hoppers and then hopped off to catch Mahinda by surprise, then promised to abolish the executive presidency and return to civilian life after one term and then stabbed his own prime minister–metaphorically speaking once more–and is quite ready to dump the current constitutional provisions in the presidential dustbin, politics has increasingly become a dirty game.
Not that it was clean all the time. But today's corrupt political conduct and the money to be made in this vocation makes it a worthy pursuit. Even if now and then one is accused of assaulting a policeman or demeaning some public official and helping some poor, lowly school principal or gramasevaka of taking two thousand rupees while remaining silent on all the ongoing corruption is what makes today's politics a disgrace. Do our politicians care? Like hell they do.
Sirisena cannot go it alone despite all his moral platitudes. The question is who will join him and on what conditions? Or will Sirisena go on bended knee asking for help and then do what he has done before?