Prasanna moves to Troubled past on a Road Movie
By Susitha Fernando
'Gaadi' to be released in mid-2019 on CEL circuit
View(s):

Completing another moviemaking journey, seasoned filmmaker Prasanna Vithanage is on the final stages of his historical road film, "Gaadi"-'Children of the Sun'. A Bollywood-Sri Lanka co-production, the film is ready for release in the CEL circuit cinemas from the middle of this year.
The 10th feature film project by Prasanna is co-produced by Ajay Rai an
Alan McAlex of Mumbai based Jar Pictures, an Indian motion picture production company which is well-known for its independent filmmaking and from Sri Lanka H. D. Premasiri for Sarasavi Sineru and Sandya Salgado for 'Film Island', the newest local film production company. Jar Pictures was responsible for making 'Liar's Dice', India's official Entry for the Best Foreign Language Film for the 87th Academy Awards. 'Gaadi' is a juncture in the Sri Lankan film industry as this is also the first time a Bollywood based picture production company joins for a Lankan film production.
One of the highest budget films made in Sri Lanka, 'Gaadi' will be the first film with the rich Dolby Atmos sound system. "While we capture the beautiful landscape, we needed to capture the soundscape as well," Prasanna said describing the importance of adding latest sound system to the film. 'Gaadi' has captured some of remote beautiful locations in Balangoda, Dambulla And Trincomalee.
Set in the Kandy of 1814 during the dark days of a rebellion by Sinhala nobles against the Tamil king, 'Gaadi' discusses about a peculiar law that required women whose husbands were gone missing to walk to a river and make one of the two choices on offer. One, they could jump into the water in a sacrificial ritual. Two, they could marry one of the scavengers waiting across the river.'
'Gaadi' revolves around a young girl, who decides to wed a low caste young man instead of giving up her life. Yet she is not willing to become part of her husband's community that will, among other things, require her to go about bare-chested. On the other hand her husband, who has developed an attraction to his newlywed wife, decides to run away from his community. 'Gaadi' narrates this journey .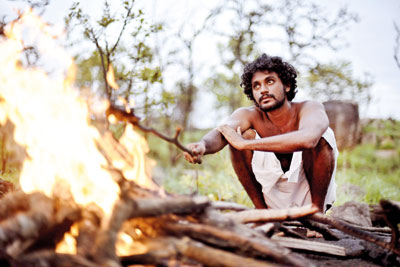 The film introduces Dinara Punchihewa to the cinema and others in the cast include Sajitha Anuththara, Shyam Fernando, Ashan Dias, Irangani Serasinghe, Damayanthi Fonseka, Ravindra Randeniya, and Kalana Fernando who plays with over 500 actors and actresses.
Behind this India-Lanka co-production, a number of renowned Indians crew are to play a major role. Rajeev Ravi joined the team as the cinematographer, while A. Sreekar Prasad who won the National Film Award for Best Editing seven times edited the film and Tapas Nayak handles sound designing. Among the local crew are Dhammika Hewaduwaththa as art director and Kalpana Ariyawansa and Vindana Ariyawansa work as assistant script writers.
"I am grateful to CEL for undertaking to release this film and I have a long lasting relationship with it," said Prasanna whose eight (out of ten) films are released by Cinema Entertainment Limited (CEL).