Love and life in Ramya's Frangipani garden
By Renuka Sadanandan
View(s):
In Ramya Chamalie Jirasinghe's new book 'Love Poems from a Frangipani Garden', a garden that seems so inviting 'bursting out in white, clustered, flowers',  is, one soon discovers, a tortured garden. "It's in a way ironic this title," the poet says wryly, reflecting on the fragrant image that  grows increasingly fraught in the poem 'The Frangipani garden I grow'.
So this promise of romantic verse that the title hints at is something of an illusion. While Ramya's first book of poetry covered many themes, she thought of focusing this collection differently, on one particular area – that of romantic love, but found as the poems took their own shape, that the aspects of love she was writing on encompassed far more- taking in the human connection in everyday life. "I call them love poems- they're no longer romantic poems," Ramya says. Finding poems that echoed this thread, placing them in a way that made sense- the people, the animals, the natural world, one's inner self was a big process of the book.
"Love Poems from a Frangipani Garden' has been in bookshops since December and this week, Ramya will be at the Fairway Galle Literary Festival (January 16-20) where she will conduct poetry workshops for both adults and teens and read her work over tea with Trinidadian-British poet Vahni Capildeo at a Saturday evening session.
An accomplished writer and poet, curiously Ramya has achieved more accolades abroad than at home where she has been twice shortlisted for the Gratiaen Award in 1998 and 2008, her first collection of poetry 'There's an Island in the Bone' becoming joint winner of the State Literary Award in 2011.  Ramya's poem 'Lagoon Lotus' was chosen by the Times of London in 2009 for its selection of contemporary war poetry and 'The Price of Mustard in Nepal' (which appears in this book) was longlisted for the Fish Poetry Prize of Ireland in 2011. Ramya was also joint runner-up in the UK Guardian newspaper's Orange First Words Prize of 2009 (lines on Dona Isabella Kathirina Fernando, 38 years old, of the sacked Galle Fort and the memory of a lost lover's kiss). She also has three non-fiction books 'Rhythm of the Sea' (on the tsunami), 'Trinity' (a history of Trinity College Kandy) and 'When Life Touches Life' (a biography of Leonard de Alwis) but poetry, one gets the feeling is where her heart is, and in this slim volume are also musings on the human condition, one's inner self and the questions that come to us all at some quiet place- what is life all about. This is one of the book's binding threads- mortality and surely, how our connections with people, fragile and fleeting though they be, define our lives.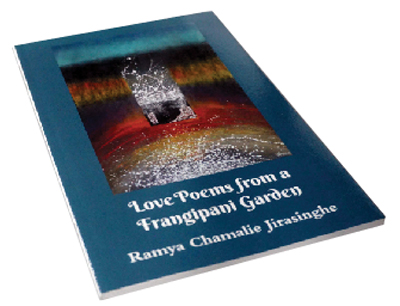 The death of a parent, a child's stumbling question about your private life, living in a city – all experiences commonly encountered figure in Ramya's collection, as she seeks to explore how we navigate our inner experience in the ebb and flow of all the things happening around us- the inner life which is never quite separate from our outer life– "but at the end of the day we do have a side to us that no one ever really sees."
There are the poems of intensely personal experience like scattering her father's ashes in 'The River and My Father' and hospital anxiety – 'On waiting with a friend having his heart tested' but her poet's imagination is given rein in writing of the many facets of love – the first waking, a lover's touch, the pain of betrayal. There's so much unspoken even in couples who may have been together for close to a lifetime, she adds. "They may never ask these questions of love, but when you are a writer you have the chance to add another dimension to that experience."
'Love Poems from a Frangipani Garden' is released under the imprint of Mica Press, an independent UK publishing house. Aware of the difficulties of publishing poetry here, Ramya sent off her manuscript to several UK publishers, pushing away the depressing thought that 'no one looks at unsolicited manuscripts'. A poet himself, Leslie Bell, was not unfamiliar with Sri Lanka, having visited years ago and Ramya was elated when he picked it up – an email attachment, from someone completely unknown.
In parts editor and publisher, Bell provided invaluable critical input, filling to some extent the role her friend and mentor, the poet Anne Ranasinghe who died in 2016 had played for so many years. "I would write a poem, send it to Anne and she would tell me 'this doesn't make sense' – she was always very straightforward," Ramya says adding that most Sri Lankans are too nice –they don't want to offend by being critical of one's work but that lack of objective feedback is a huge drawback for writers.
The book's cover image is a painting by Anoma Wijewardene, the artist having collaborated with Ramya earlier and generously offered her a painting for her next book. When Ramya sent Bell the link to Anoma's website, he found the perfect painting for the book- 'Earth touching body through skin'.
Conducting creative writing and poetry workshops (with writer Ameena Hussein at the Fulbright and more recently the Fairway Creative Writing Workshops) is something Ramya finds immensely rewarding – to have people discovering through the techniques they learn that they too can unlock the creativity within themselves. "People think you have to be born a writer. I don't think so – you read, you acquire a love for words, you practise a craft. Imagination can be cultivated- people can learn to look at things a different way," she says.
As a youngster reading and writing were always part of her days and not surprisingly Ramya chose to study literature in the UK, following up her first degree with a Masters in Comparative Literature from the School of Oriental and African Studies of the University of London. Then in a drastic but stimulating switch from the humanities to the social sciences, amidst her busy working life as Deputy Director of the Sri Lanka Fulbright Commission, in 2017 she earned a doctorate from the Faculty of Graduate Studies, University of Colombo. Her thesis, a critical look at liberal peace, examined how the war ended and the government's conflict with the international community.
What Bell calls her 'courageous protest' is seen not just in her poems but in her writings on the divisive social issues facing us as a people still searching for identity, speaking too for those who have no voice. In 'Love Poems in a Frangipani Garden' she hopes, readers will find something that will resonate, give them solace in their different heartfelt experiences in this journey that is life.
'Love Poems from a Frangipani Garden' is available at the Barefoot and Vijitha Yapa Bookshops priced at Rs 1,000 and overseas from the Mica Press. The book will also be on sale at the Fairway Galle Literary Festival.