Appreciations
View(s):

A Lankan pioneer at the United Nations

Lakdasa Hulugalle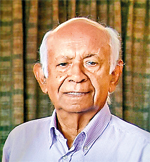 Lakdasa Hulugalle, who passed away on Christmas day,  in Colombo, was one of the earliest Sri Lankans to join the United Nations. Most of his career in the United Nations was with the United Nations Conference on Trade and Development (UNCTAD) in Geneva, where he lived most of his life. As a senior economist, his main concern was with international trade and particularly in primary commodities. He played an important role in the 1970s and 1980s when UNCTAD was at the centre of the North-South dialogue. He had a special place for Sri Lanka right through his career and was much involved in assisting his country, formally and informally, in formulating its international trade policies in the 1970s and 1980s.
Lakdasa Hulugalle (Laki) was born in 1932 in Colombo, to a well-known Sri Lankan family. He had a lifelong interest in family history and genealogy, and I should be remiss if I did not describe his family background. Lakdasa's parents were H.A.J. (Herbert) and Lilian Hulugalle. He had six siblings – Damayantha (who married S.K. Wickremasinghe), Upatissa, Harris, Arjuna, Lilamani and Ranjan. Laki was extremely close to his siblings throughout his life. His father, Herbert, was one of the early Editors of the Ceylon Daily News in the 1930s and 1940s. Herbert was also a popular historian who wrote many books, including biographies of D.S. Senanayake and D.R. Wijewardene.
Herbert Hulugalle had his roots in the Kandyan aristocracy (Kurunegala branch) and was a descendant of Adigar Hulugalle. One of Herbert's sisters married a brother of D.R. Wijewardene of Lake House. On his mother, Lilian De Soysa's side, Laki had low-country upper class connections. His maternal grand-mother was Regina Perera Abeywardena of Closenberg, Galle, from one of Galle's leading families. His maternal grandfather was a De Soysa, a son of C.H. (Sir Charles) De Soysa, one of the great philanthropists of Sri Lanka. Laki married an English girl, Moira, and they had two daughters, Tamzin and Natasha, and a son, Tikiri. In his later years, his great joy was to be in the company of his twin grand-daughters. His wife Moira, pre-deceased him.
Laki had his early education at St. Thomas' College, Bandarawela, then Guruthalawa, and later at Mount Lavinia. He talked of his early influences and St. Thomas' had been a great influence on him. He had a great regard for men like W.T. Keble (Head Master of St. Thomas' Prep.) and Warden, Canon R.S. De Saram. Laki was at the University of Ceylon, between 1952 and 1955, and read for a special degree in Economics, which he passed with honours. Then he proceeded to the University of Oxford, where he was at St. Catherine's College. He read for a post-graduate degree, B'Phil., and his supervisor there was Prof. Sir John Hicks, the Nobel Laureate in Economics.
After leaving Oxford, he joined the Food and Agriculture Organisation (FAO) in Rome, in the late 1950s. At that time his father was Sri Lankan ambassador in Rome. Laki was one of the earliest Sri Lankans to join the FAO and the United Nations. His spell in Rome was brief, and he moved to London to join the International Wheat Organisation. Then in 1965 he joined UNCTAD, in Geneva, at its very inception. The famous Latin-American economist, Raul Prebisch had been appointed as the first Secretary-General of UNCTAD, and he was looking around for bright young economists. Along with Laki, economists like Manmohan Singh (later Prime Minister of India), Liaquat Ali (India), Lal Jayawardena joined the UN at this time. Laki remained a friend of these early UNCTAD associates throughout his life.
Throughout his career at UNCTAD, Laki's major interest was in international trade in primary commodities. UNCTAD is now a backwater. It was not so from the 1960s to the 1980s. At that time UNCTAD had the task of organising negotiations on international commodity agreements. (With the establishment of the World Trade Organisation in the 1990s, UNCTAD had lost its key negotiating functions). In the 1970s UNCTAD emerged as the key UN organisation for negotiations between developing and developed countries. UNCTAD and Geneva were at the centre of what was referred to as the North-South dialogue. Laki was actively engaged in these negotiations and specially in the Integrated Programme on Commodities (IPC), which was the centerpiece of the North-South dialogue.
In 1974, Gamani Corea, from Sri Lanka had become the Secretary-General of UNCTAD, and for the next ten years Laki worked closely with Gamani on international trade issues. During this period, Laki was particularly concerned with the international tea negotiations, which were jointly sponsored by UNCTAD and FAO. This brought Laki into a close relationship with Sri Lankan tea delegations in Rome and Geneva. Laki had a close relationship with developing country delegations to the United Nations in Geneva. He was of great help to them and guided them through some of the intricacies of the commodity negotiations.
One particularly notable experience I had with Laki at this time, was in the context of the Non-Aligned Summit held at Colombo in 1976. One of the key issues of that Summit was international trade. I had been appointed as the secretary of the Economic Committee of the Summit. Many of the delegates attending the Summit's Economic Committee were also designated to UNCTAD in Geneva. I requested Laki to assist me in the Economic Committee and he had no hesitation in doing so, spending some time in Colombo. Laki's familiarity with the issues and the people involved were of great value. Laki was always eager to be associated with Sri Lankan issues and be of assistance.
Laki was unusual for an economist. He had inherited from his father, a deep intellectual interest in the humanities and especially in history, biography, politics and literature.  He had a great interest in the British political and social scene. He was much interested in the history and politics of Sri Lanka. He had close friends like Sena and Janaki Wijewardene, (Vienna) Walter Perera (Geneva) and several others with whom he enjoyed talking of things sublime and ridiculous, particularly in his long retirement, which he spent in Geneva and Colombo.
Although he was interested in his upper class ancestors as a part of social history, he was a truly humble person, very much concerned with the plight of the poor, especially in Sri Lanka. One of his great pastimes was walking, and he walked miles and miles in the Swiss countryside and by the shores of the beautiful lake of Geneva. He was a close friend of 50 years and we had much in common. I shall miss him enormously.
Leelananda De Silva
---
He was one of the last gentleman politicians
Dr. Ranjit Atapattu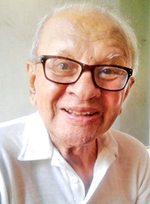 It is just one year since my close friend Dr. Ranjit Atapattu passed on. Our bonding and friendship was formed and cemented over 80 years since he and I joined Royal Primary School at the tender age of 5. I recall with nostalgia how we both took part in the historic play Hiawatha by H.W. Longfellow at the age of 8 staged by the Royal Primary.  Since then, we both moved onto Royal College in 1945 and our paths went different ways in 1954 when Ranjit entered Medical College Colombo to pursue his medical studies and self to Peradeniya to join the University of Ceylon there.
Ranjit hailed from a renowned family in Tangalla where his father carved a name for himself as the Member of Parliament for Beliatta in 1960 and 1965.  Many were the occasions when I visited Ranjit in his stately ancestral home on our way to Kataragama. I had the good fortune of associating with his father when he  functioned as a Junior Minister of State to the late President J.R. Jayewardene.
Our paths crossed again when Ranjit was returned to his father's old seat at Beliatta in August 1977.  It may be mentioned in passing that he was the only one who was able to defeat Mahinda Rajapaksa at an election in the Hambantota district. He had a long term of 12 years until 1990 as an MP having served in different Ministerial appointments beginning as a Minister and in the Cabinet, followed by being Minister of the Colombo Group of Hospitals then by being  Minister of Health and followed by Minister of  Labour and Social Welfare.  During this span of 12 years, I had the privilege of enjoying his company, as between Parliament sessions, before and after, he used to frequent my room and chat reminiscing of our college days, memories and vagaries of Parliamentary politics and our own personal lives.
My wife and I had the privilege of attending Ranjit's wedding when he married Dreda de Silva, a graduate teacher in her own right – they were truly blessed with the birth of their only son Druvi.
When he was serving as Health Minister, President Premadasa very reluctantly allowed Ranjit to vacate his seat and portfolio to accept a position in New York, USA as a consultant to UNICEF. I know for one that Ranjit sacrificed his portfolio  to enable him to have his son to pursue medical studies abroad after Druvi's studies were interrupted by the closure of the North Colombo Medical School. Druvi justified his father's expectations and made him proud by passing out as a full fledged Doctor now practising with the Oasis Group of Hospitals.
During his Ministerial appointment, Ranjit  developed some heart probems  and I recall Prime Minister Premadasa getting down  a top heart specialist from USA to see Ranjit at the cardiac centre in Colombo, telling me that  he was even ready to fly Ranjit abroad for further medical treatment .
Ranjit did not accept this kind offer but went ahead at his own expense. Fortunately he retired soon after having completely recovered. It was thereafter that he accepted the UNICEF appointment in New York.
After his return we continued  to associate very closely with each other and a few of his Royal College Batch of 1945 joined each year to go to Kandy to witness the Royal Trinity rugger matches, as Ranjit had played  for this match in his College days.
I can say without the slightest hesitation that Ranjit was one of the last generation of gentleman politicians of our troubled times. The other was another Minister of Health Gamani Jayasuriya. He was totally devoted and committed to his work , honest to a fault and was always available to his colleagues, to his friends and above all to his constituents whom he cared for with genuine kindness and sincerity. He was simple, affable and never ever lost his head.
During the last 10-15 years, I associated closely with him, visiting him and Dreda at their Bagatalle Road residence and then later on when he moved to stay with his son and wife Dr Himali at Bullers Road who both truly cared for and looked after him in the last few years.
I recall with pleasure just before his sad demise, I was able to take him to a lunch Speaker Karu Jayasuriya hosted for past Members of Parliament and he immensely enjoyed that occasion reminiscing with his erstwhile colleagues. The other was when I took him again to a memorial oration for my late brother Dr. Nissanka Seneviratne, Professor of Physiology whose student he had been at Medical College and I recall my brother always having a high regard for Ranjit as his student.
My Royal College batch and self will truly miss him, his company and the friendship we enjoyed.
May he attain Nibbana.
Nihal Seneviratne
---
Our big-hearted, generous little brother
GAMINI Amaresekere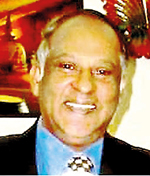 Gamini (more widely known as Gamit), the baby of our family is no more. He passed away peacefully in London on January 1.
He was a courageous, kind, generous, caring, fun loving person and an affectionate brother. Incidents come to mind reminiscent of these qualities. When he was just nine he had the misfortune to be taken to the General Hospital because of a severe abdominal pain. Doctors suspected appendicitis and he was warded overnight. As we were getting ready to visit him the next morning, to our astonishment he came home carrying his little suitcase of clothes and with his appendix intact. Treatment for worms had cured his pain. He had been wheeled in on a stretcher the previous evening but on being discharged, he had taken a bus to Mount Lavinia and walked half a mile to get home.
Gamit was a very sensitive person. Our mother's dying request to him was that he should take care of our father. As a schoolboy made motherless at 17 years of age, there was nothing he could do. He had his opportunity when our father went to England and lived with Gamit and his wife for nearly two years. He was also very fond of animals, especially dogs. We had two dogs (brothers) as family pets but they were his dogs. The family was very amused to hear him talking to them for hours in a "dog language" that he had invented.
There were early signs that Gamit wished to be an entrepreneur. Our father wanted him to go to university but Gamit refused, saying that he wanted to be "a self-made" man, which aspiration he achieved successfully.
Several relatives in Sri Lanka benefited from Gamit's munificence. He supported two of our aunts for many years, paying nursing home fees for one and for medicines for the other. He even paid quite a large sum to re-roof a cousin's house and provided months of accommodation in his home in London for visiting relatives.
On a visit to Sri Lanka, a few years after he had settled in the UK, Jayalath's wife served Gamit some home made cake and on his inquiry she told him she had mixed the ingredients by hand. About two weeks later he sent them a brand new Kenwood mixer from UK through a friend. He had said no word but he had noted and acted so generously.
Gamit was always full of fun and loved to engage in practical jokes. All three of us were at one time hostellers at the college hostel in the fifties. He had once had the whole hostel staff in an uproar by playing an April fool's joke. Together with a few friends he had got the "clapper" of the hostel bell removed one night and placed it in the room of one of the Hostel Masters. The following morning there was no wake up bell, no PT bell and no bell rung to indicate morning studies; thus causing great confusion. No culprit was traced and no blame ascribed as the device was finally discovered in the room of a Master.
Gamit's loyalty towards his Alma Mater, Royal was another marked quality. It was his idea to set up the Old Royalists' Association in the UK with the primary objective of raising funds for the College and secondarily as a means of bringing together Old Royalists socially. His efforts on behalf of ORAUK are well known.
We have lost a third of a very united family. Rest in Peace little brother, the void you have left cannot be filled.
Ranjit and Jayalath Ameresekere
---
She will always be remembered for her ready smile and outgoing nature
Onitha Wiratunga
Lalani Shireen Onitha enjoyed a privileged but conventional upbringing. A product of Ladies' College Colombo, her natural charm, outgoing nature, ready smile and artistic talents won her many admirers and friends both in school and outside.
After enjoying the beauty of a few 'Roman Springs' in Italy when her mother Loranee Senaratna was Sri Lanka's ambassador in Rome, Onitha decided to reside in the UK. Later she travelled extensively in Europe. Living in Geneva, Brussels, and in the US and the Caribbean over several years, she met and mingled with the best of society in these countries and many interesting  and high profile personalities including members of European Royalty.
Onitha was the mother of three sons- Sanjive, Salintha and Nishan, all professionals in their respective areas of specialisation. While it must have been problematic to keep close contact with her two elder sons studying in the US due to logistics, she monitored and watched over the education of her youngest son very closely from nursery to University level.
Onitha was a fastidious homemaker who enjoyed entertaining, cooking and organising parties. She was a keen and able bridge player who was ever ready for an evening of bridge with short-eats and cocktails for good measure.
The daughter of pioneer eye surgeon Dr. O.L.F. Senaratna, who was also head of the national Eye Hospital, Onitha rarely consulted a doctor. The illness which led to her death was from all accounts her first  and only bout with serious illness.
Although living in Sri Lanka in her later years, Onitha spent much of her time with her son Nishan and his family in the UK. This was perhaps the happiest and most fulfilling time of her life when the fruits of her labour tending to Nishan's needs in his youth bore fruit. It was possibly fitting that she spent her last days in his care and gaze as she slipped away peacefully, swiftly and without pain to greener pastures in the arms of her Lord.
A view from afar
---