Kilinochchi's special vice squad disbanded: Smokescreens from Police Spokesman and Sumanthiran
View(s):

Authorities have disbanded a special unit which operated under the Kilinochchi Deputy Inspector General and conducted raids to crack down on drugs, illicit liquor and other criminal activity in his area of authority.

The personnel attached to this unit have been transferred to other police stations. There will be no such unit which has been keeping tabs on how effectively the area's police stations tackle vice by conducting their own raids.

This is the outcome of the exclusive revelation last week in these columns that the unit's members who were on a raid to arrest a notorious suspect operating under the pseudonym 'Prem' was in an area near Palai. An authoritative Police source confirmed to the Sunday Times yesterday that 'Prem' was indeed known as a main dealer for 'Kerala Ganja' in the area and was a supplier to smaller agents in and around Kilinochchi.

The Police had stepped up their anti-drug operations following instructions from President Maithripala Sirisena. It is well known that Kerala Ganja is smuggled into Sri Lanka from the south Indian coast and transported to various other parts of the country.

The Sunday Times revelation, however, drew contradictory assertions from Police Spokesperson Ruwan Gunasekera on the one hand. On the other, Tamil National Alliance (TNA) parliamentarian Abraham Sumanthiran, who was not named in the report, however owned up that the references in our report last week were to him. He had a different version though.

Superintendent Gunasekera had this to say; "In a report submitted to me, DIG Kilinochchi Range has stated that on January 3, 2019, a team of officers from the said unit, including its Officer-in-Charge (OIC), had gone to Palai Police division following a tip-off regarding a Ganja and illicit liquor racket being operated in the area. They were on patrol in the Championpattu area when they had come across four youths who were behaving in a suspicious manner. They were taken into custody and produced before the Kilinochchi Police as their identities could not be established.

"The DIG's report further states that the OIC briefed the Kilinochchi Range DIG over the phone regarding the incident and that the DIG issued instructions to have the suspects released on police bail once they establish their identity. Accordingly, the Headquarters Inspector (HQI) Kilinochchi, took measures to release the suspects after their identities were established.

"As such, your news item claiming that suspects who were arrested along with Ganja were released without enforcing the law against them due to pressure from a senior TNA politician is completely false. Moreover, I emphasise that the suspects were not arrested for possessing Ganja but because they could not establish their identities. Therefore, I kindly request you to publish this clarification in your next issue while giving it the same prominence as the said news item."

Even if one is to accept the claim that the four persons were released on police bail, it was purely for the reason that they were unable to establish their identity. That indeed is very funny because Police could end up arresting hundreds, if not thousands, for not establishing their identities and give them bail. He is completely silent on the allegations by the Special Unit members that they were assaulted. Mr. Sumanthiran has revealed that there have been accusations from the Police officers that the youth had assaulted them. Why then does SP Gunasekera, an attorney-at-law, remain silent about a complaint from his own men? If he wants to tell the truth, why not tell the whole truth. Is he trying to hide something?

If these do not show that his slip is showing. It is showing very badly. His bold claim that there was "no pressure from a senior TNA politician is completely false" is a blatant lie. At whose instance did he say so?

The reason – TNA parliamentarian Abraham Sumanthiran admits that "I spoke to the DIG,….." in a statement made in Parliament. He also issued a separate statement and has also written to the Sunday Times.

Of course, Mr Sumanthiran gives his own version of the incident. As is clear, it is based on what he has heard. Here are excerpts:
"On the 3rd January night, around 8.00pm, there was a vehicle in the Championpaththu area suspiciously going up and down that was noticed by the youth of the area…….

"I was to go to an event the next morning at 8.30 in the Championpaththu School and because of this, the area youth were a little vigilant. When an unidentified vehicle with men in civil clothes was moving about, the youth of the area stopped the vehicle and checked to see who they were. They claimed to be from the police. They were in civil attire. They were asked to show their identity cards. They refused to show the identity cards but they pulled out their pistols, got into the vehicle and fled.

"The youth gave chase behind them on their motorcycles and it was a youth who informed the Army checkpoint ahead that a suspicious vehicle was coming that way and to stop that vehicle. It was the Army who actually stopped that vehicle. So, contrary to what is being spread, the youth were not arrested or apprehended. It was the other way around. It was the Army who stopped this vehicle of men, and of course, when they were stopped, it was found that they were actually from the police. They were from the Vice Squad under the directions of the DIG of the area, and then, when it was found that they were from the police, the local police was called and they were handed over to the local police.

"But, at that point, they made allegations that these youth had assaulted them, and therefore, four youths were also taken into custody. That is what happened. There was no Ganja that was taken into custody. There was no raid on that. It was a case of mistaken identity because of the extra vigilance that was exercised by the area youth and it was they who gave chase and with the assistance of the army, apprehended these police personnel who were in civil clothes. But, they were taken into custody.

"Therefore, I spoke to the DIG, naturally, in an area where people had acted with vigilance for the sake of my own security in an area where there were supposedly two assassination attempts. In that area, they had exercised extra vigilance and they caught these people. There was no Ganja involved. So, I spoke to the DIG and I explained to him what happened. I did not ask the DIG to release them. I told him, this is what had been reported to me. He said 'I will make inquiries and take appropriate action,' and I heard that the next morning, he had released these four youth.

"Now, this is being portrayed as me interfering in some kind of law and order situation and me interfering to have Ganja smugglers released. Far from the truth, and it is a matter of regret two newspapers of repute have also published this in their gossip columns, and I request those newspapers to please carry this clarification."

So here we have two versions from the Police and the MP of the same incident and the only common theme is that no TNA MP was involved in the release of a Ganja gang. The authoritative Police source in the area also told the Sunday Times, however, that one of the youth the Special Unit spotted was "Prem."

This incident comes at a time when Police Chief Pujith Jayasundera wants to set up his new brand of community policing. However, his own official spokesperson is trying to keep the truth away from the public. Do the public believe such smokescreens?
---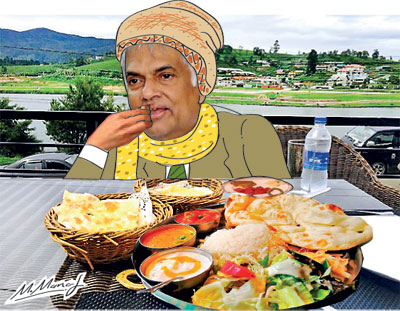 Indian Summer stale in Colombo, but good for Ranil in Nuwara Eliya
If he was pleased with the Indian meal he had at 'Indian Summer' in Nuwara Eliya, a restaurant which has its main outlet in Colombo, his close associates heaved a sigh of relief.
The main restaurant in Colombo was raided by Colombo Municipal Council (CMC) health officials who found meat and vegetables unfit for human consumption. Surprisingly this restaurant is one of those set up as a foreign investment.
CMC health officials found rotten vegetables, stale meat and other unclean food items.
After the 52 day political turmoil ended with his being sworn-in as the Prime Minister, Ranil Wickremesinghe flew by SLAF helicopter to Nuwara Eliya for a holiday. One day he had chosen to try out the Indian cuisine at a branch of the 'Indian Summer' restaurant in Nuwara Eliya.
---
Another row over police transfers
A top Defence official was rapped by President Maithripala Sirisena for approving a list of transfers of police officers without his knowledge.
These transfers had been ordered by Police Chief Pujith Jayasundera. As a result of the move, the transfers were put on hold by the Police Commission.
---
Like Mahinda, Nasheed to contest Maldivian parliamentary poll
Former Maldivian President Mohamed Nasheed, following in the footsteps of his Sri Lankan counterpart, Mahinda Rajapaksa, is preparing to contest parliamentary elections in the island nation in April this year.
Nasheed is founder-head of the Maldivian Democratic Party (MDP) and his party sources confirmed that he would be contesting the poll and lead the party in parliament. He started his career as a parliamentary MP.
The sources said that like Sri Lanka's former president Rajapaksa contested the parliamentary polls and became an ordinary member, Maldives' former President Nasheed would also contest a parliamentary seat.
Mr. Nasheed was forced to resign as president in 2012 and subsequently convicted under the Anti-Terrorism Act of unlawful arrest of a Maldivian judge. In 2016, he was given asylum in Britain, while he underwent medical treatment there. He returned to the Maldives from exile after MDP's Ibrahim Mohamed Solih was elected President in November 2018, defeating Abdulla Yameen whose presidency was tainted by allegation of human rights abuses and political victimisation.