CBL wins Gold at Singapore Quality Convention
View(s):
Ceylon Biscuits Ltd (CBL), one of Sri Lanka's largest FMCG conglomerates, was recently awarded a prestigious Gold at the 43rd International Convention on Quality Control Circles (ICQCC) in Singapore.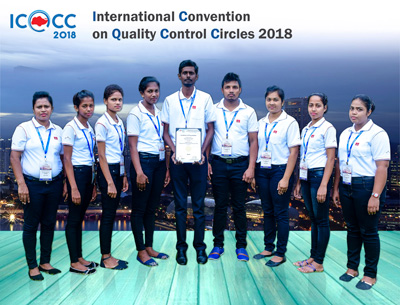 Winning a coveted Gold at ICQCC 2018, CBL's Synergy team emerged victorious from a pool of 475 competing teams that represented 13 countries. The team was led by Malkanthi Herath from CBL's Production Sector and included Renuka Malkanthi, Nadeeka Nilmini, Sachintha Kamali, Tharanga Sandamali, Priyavi Madhushankha, Ashan Tharindu, Upeksha Senarathna and Manjula Prabath.
Hosted at the Resorts World Sentosa Convention Centre, ICQCC 2018 was organized by the Singapore Productivity Association. It is a de facto international event for work improvement teams to pitch their projects to an independent pool of international assessors, with the intent of attaining international recognition and cross learning. Annually, ICQCC attracts an average of 1,500 delegates from more than 330 teams across the 13 economies and beyond, and this time, it had a recorded participation of more than 2,000 delegates representing 475 teams across 13 countries.
CBL's Synergy team presented a fascinating case study that outlined CBL's successful reduction in wastage for one of the biscuits production lines simultaneously improving the quality of final product which was achieved by factory floor employees utilising highly advanced quality control tools and methods.
The team presented the methodology used and the results of this accomplishment, to a distinguished international audience of experts to successfully win Gold, the company said in a media release.
Congratulating the winners, Nalin B. Karunaratne, CEO, Ceylon Biscuits Ltd (CBL) said, "Victory at this prestigious, and longstanding, quality focused-event truly benchmarks CBL's production processes among global leaders from Japan, Korea, Taiwan, China, etc."
Importantly, he said this win is evidence of CBL's enduring family culture, wherein management and employees work together closely to achieve business excellence, which in turn positively impacts its strong orientation towards superior quality and productivity, as seen by employees even on the factory floor striving to improve product quality and process efficiency.